Trying to make sense of the passenger traffic data for 2020 at airports is a nigh on impossible task given the dramatic declines reported across the globe.
For an industry coming off the back of a decade of non-stop growth, at largely above-trend rates, the levels of traffic falls are difficult to comprehend.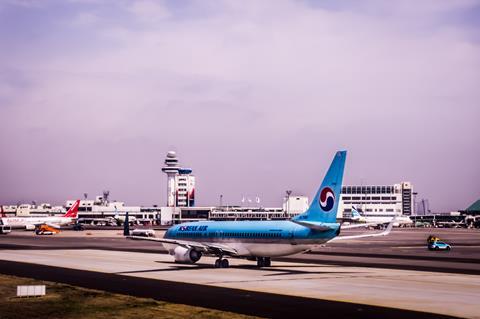 Passenger levels for some have fallen to volumes last seen a decade ago. And they have fared better than most.
Traffic at other airports requires a trip through the archives to recall similar passenger volumes. Traditionally Europe's biggest hub, London Heathrow airport, for example, last saw passenger numbers of 22 million in the 1970s.
The slump in passenger flights also had a knock-on impact on overall cargo volumes at airports because of the lost bellyhold capacity. This though has in turn fuelled increased demand for dedicated freighter services, provoding consolation for some.
While sharp falls in traffic levels are a common thread across airports, there is a wide disparity as the location, business model and government handling of the pandemic all contribute to differing operating dynamics.
In some some cases that is evident even within the same city. Traffic data for Seoul's two airports in 2020 shows the extent to which the global pandemic has upset traditional travel patterns.
The city's primary hub at Incheon ranked as the 14th busiest airport in the world in 2019, in handling 71 million passengers. That, however, plummeted 83% to just over 12 million last year as the pandemic brought international scheduled traffic to a virtual halt, hitting both incoming travel to South Korea and transit passengers.
Traffic was down too at Seoul's smaller Gimpo airport last year. But while a 31% fall was still sizeable enough to put passenger levels of a par with what it handled in 2010, it marks a relatively good year compared to most airports. Indeed, in handling 17 million passengers, Seoul's smaller domestic and regional facility was the city's biggest airport in 2020.
At the heart of Gimpo airport's stronger traffic performance last year was the resilience of South Korea's domestic market, in volume terms if not necessarily in yields. While international traffic collapsed, domestic travel – especially in the months when the virus was relatively suppressed – held up strongly. Data from the South Korean transport ministry shows that while the number of international flights was down by two-thirds, domestic movements were only 10% lower.
Indeed, Cirium schedules data shows overall capacity on the busy Seoul Gimpo-Jeju domestic link was virtually flat last year compared with 2019.
PASSENGERS FALL TWO-THIRDS AT LEADING AIRPORTS
While Seoul marks an unusual case where traffic at a primary hub is overhauled by a secondary airport in the same city, it does highlight the different extent to which traffic fell across airports.
FlightGlobal analysis of preliminary traffic data collated by Cirium – covering 63 of the 100 biggest airports that have so far published figures for 2020 – shows collective passenger numbers down by 66% versus 2019.
Snapshot: 10 biggest traffic falls at airports of those to so far report 2020 passengers
City
Airport
Country/territory
2020 pax (000)
2019 Pax (000)
change v 2019
Global ranking 2019
Source: Cirium collated data, based on preliminary 2020 figures released so far. 2019 global ranking based on pax
Hong Kong
International
Hong Kong
8,835
71,538
-87.6%
13
Taipei
Taoyuan International
Taiwan
7,438
48,689
-84.7%
36
Seoul
Incheon International
South Korea
12,050
71,170
-83.1%
14
Singapore
Changi
Singapore
11,800
68,300
-82.7%
19
Osaka
Kansai Int'l
Japan
6,556
31,911
-79.5%
68
Palma de Mallorca
Palma de Mallorca
Spain
6,108
29,721
-79.4%
77
Dubai
International
UAE
17,900
86,397
-79.3%
4
Kuala Lumpur
International
Malaysia
13,156
62,326
-78.9%
23
London
Gatwick
UK
10,165
46,568
-78.2%
42
Rome
Fiumicino
Italy
9,831
43,533
-77.4%
51
That is in line with ACI World's December forecast for traffic across all airports in 2020. That estimated there would be a reduction of more than 6 billion passengers across airports in 2020, a drop of 64%.
Unsurprisingly given the relative strength of domestic recovery, airports in China – particularly those with less reliance on international routes – reported far smaller falls than those in many other countries.
Snapshot: 10 biggest Asia-Pacific airports of those to so far report 2020 passengers
City
Airport
Country
2020 pax (000)
2019 Pax (000)
change v 2019
Ranking 2019
Source: Cirium collated data, based on preliminary 2020 figures published so far: 2019 global ranking based on passenger numbers. *reported locally
Guangzhou
Baiyun International
China
43,768
73,378
-40.4%
11
Shenzhen
Baoan International
China
37,916
52,932
-28.4%
27
Beijing
Capital
China
34,513
100,014
-65.5%
2
Xian
Xianyang Int'l
China
31,084
47,221
-34.2%
40
Tokyo
Haneda Int'l
Japan
30,965
85,326
-63.7%
5
Shanghai*
Pudong International
China
30,500
76,153
-59.9%
8
Zhengzhou*
Xinzheng Int'l
China
21,400
29,129
-26.5%
79
Jeju
International
South Korea
21,055
31,316
-32.8%
72
Changsha*
Huanghua Int'l
China
19,220
26,911
-28.6%
88
Seoul
Gimpo International
South Korea
17,446
25,448
-31.4%
97
Passenger levels at Shenzhen, Zhengzhou and Changsha all fell by less than 30% last year, while Guangzhou Baiyun airport carried more passengers than Altanta Harsfield – which has long been the busiest airport in the world.
Passenger numbers fell 40% to just under 44 million at Guangzhou, which had been the 11th busiest hub in 2019. By contrast, passenger levels were down 60% to just under 43 million at Atlanta in 2020.
Guangzhou also outranked Beijing Capital airport – the world' second largest airport in 2019. Passengers levels slipped 65% at China's leading international gateway to just under 35 million. Passenger growth was already impacted following the transfer of some routes to Beijing's new airport at Daxing, which opened in 2019.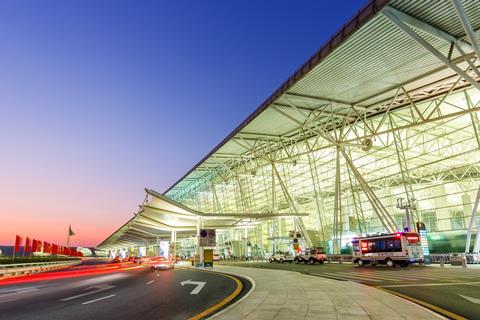 The data includes all bar Chicago and Dallas/Fort-Worth of the 10 largest airports in 2019, which have still to disclose traffic figures. Four of the five biggest airports for which passenger numbers are so far available are based in mainland China.
But the data illustrates how many of the major transit hubs in Asia were particularly hard hit in 2020, reflecting both that the region was affected earlier by the pandemic and that states have deployed some of the most stringent travel restrictions.
Passenger numbers slumped nearly 88% at Hong Kong airport from over 70 million in 2019 to less than 9 million last year. Singapore, Taipei and Seoul Incheon also endured falls of more than 80% in passenger numbers, while Osaka Kansai, Kuala Lumpur and Melbourne were also sharply down.
Dubai, the biggest airport in terms of international traffic in 2019, was also hard hit. Passenger numbers fell almost 70% at the Emirates hub to 25.9 million.
The major European hubs also largely recorded higher than average traffic declines, and most airports in the region struggled amid a swathe to travel restrictions. Passenger numbers across London's three biggest airports – Heathrow, Gatwick and Stansted – fell 73%, 78% and 73% respectively last year.
Snapshot: 10 biggest European airports of those to so far report 2020 passengers
City
Airport
Country
2020 pax (000)
2019 Pax (000)
change v 2019
Global ranking 2019
Source: Cirium collated data, based on preliminary 2020 figures released so far. 2019 global ranking based on pax
Istanbul
Ataturk International
Turkey
23,400
68,651
-65.9%
17
Paris
Charles de Gaulle
France
22,257
76,150
-70.8%
9
London
Heathrow
UK
22,110
80,884
-72.7%
7
Amsterdam
Schiphol
Netherlands
20,900
71,700
-70.9%
12
Moscow
Sheremetyevo Int'l
Russia
19,784
49,933
-60.4%
35
Frankfurt
International
Germany
18,769
70,561
-73.4%
15
Istanbul
Sabiha Gokcen Int'l
Turkey
17,206
35,953
-52.1%
63
Madrid
Barajas
Spain
17,112
61,734
-72.3%
24
Moscow
Domodedovo Int'l
Russia
16,389
28,252
-42.0%
83
Barcelona
El Prat
Spain
12,739
52,686
-75.8%
28
Airports in Russia and Turkey, again aided by significant domestic markets, were able to retain large shares of their traffic. Passengers were down 42% at Moscow Domodedovo airport and by 51% at Istanbul Sabiha Gokcen airport.
To a lesser extent the sizeable domestic market also moderated the declines at US airports, but the collapse in long-haul traffic hit the big hubs. Passengers were down two-thirds at Los Angeles International and by more than 60% at Atlanta, Detroit, San Diego and Seattle.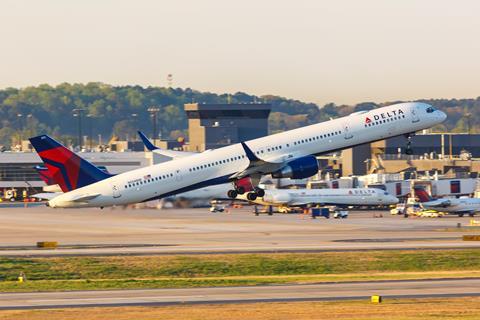 Atlanta remains the busiest airport in North America.
Snapshot: 10 biggest airports in the Americas of those to so far report 2020 passengers
City
Airport
Country
2020 pax (000)
2019 Pax (000)
change v 2019
Global ranking 2019
Source: Cirim collated data, based on 2020 preliminary figures published so far. Global ranking based on passenger numbers
Atlanta
Hartsfield Int'l
USA
42,919
110,531
-61.2%
1
Los Angeles
International
USA
28,780
88,068
-67.3%
3
Mexico City
Benito Juarez Int'l
Mexico
21,982
50,308
-56.3%
33
Phoenix
Sky Harbor
USA
21,929
46,288
-52.6%
44
Sao Paulo
Guarulhos Int'l
Brazil
20,323
43,002
-52.7%
52
Seattle
Tacoma International
USA
20,062
51,829
-61.3%
29
Fort Lauderdale
Hollywood Int'l
USA
16,484
36,748
-55.1%
61
Minneapolis-St. Paul
International
USA
14,851
39,555
-62.5%
56
Detroit
Wayne County
USA
14,105
36,769
-61.6%
60
Salt Lake City
International
USA
12,559
26,808
-53.2%
89
While there is not yet enough data published to draw firm conclusions for all regions, preliminary figures indicate that European airports have been hardest hit by the crisis. Passenger levels are down 71% based on figures from 28 major European airports, while by comparison they are down 63% across 21 Asia-Pacific hubs during 2020.
Snapshot: 2020 traffic trend by region
Region
Passengers 2020
Passengers 2019
Change
Number of airports
Source: Cirium collated data, based on preliminary 2020 figures published so far. Total includes Dubai
Asia Pacific
427,599
1,162,147
-63.2%
22
Europe
340,153
1,174,418
-71.0%
28
North America
235,490
580,606
-59.4%
12
Total
1,021,142
3,003,567
-66.0%
63
Article updated 17 February to correct 2020 figure for Dubai Airport to 25.9 million