United Airlines will launch seven new long-haul widebody non-stop routes – five international and two domestic – as the airline shifts its focus away from business travel to the leisure segment, which it believes will be the first to rebound after the coronavirus global health pandemic.
Beginning in December, United will begin flying new routes to India, and in early 2021 it will add three destinations in Africa and two more flights from the eastern US mainland to Hawaii, the airline says on 9 September.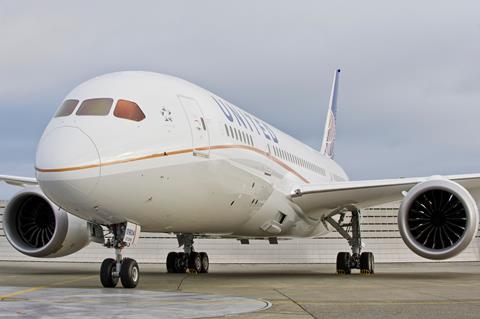 The four overseas destinations – Bangalore, India, Lagos, Nigeria, Accra, Ghana and Johannesburg, South Africa - are new or re-entrants to the airline's network. United served Accra and Lagos from 2010 through 2016, Ciriums schedules data show.
Throughout the crisis, United has been taking an "opportunistic approach" to expanding its network, driven by demand, says Patrick Quayle, the Chicago-based airline's vice-president of international network and alliances.
"Now is the right time to take a bold step in evolving our global network to help our customers reconnect with friends, family and colleagues around the world," he adds.
Earlier this year as the coronavirus crunch took hold across the globe, United had reduced its international flying to just 5% of normal, shrinking to 10 markets down from a pre-coronavirus 211 markets. In September, that number will be up to about 30%, company officials say.
But the carrier sees strategic importance in launching these new flights which will cater primarily to leisure travellers, and with members of the south Asian and African diasporas in various US geographies in mind.
For the forseeable future, the carrier is banking on the fact that leisure travel and visiting friends and relatives will become a more important segment of air travel. The pandemic has decimated business travel, and both airlines and analysts agree it won't likely return soon.
Beginning in December, United will add a daily flight to New Delhi from Chicago, in addition to its current service to the Indian capital from Newark and San Francisco.
A few months later, it will fly from western US hub San Francisco to Bangalore, also daily, and will be the first airline to connect the two technology hotspots. United says this has been the number-one requested route from customers on the West Coast. There is a large population of technology industry workers of Indian descent based in the San Francisco Bay Area.
Previously, passengers travelling between the two cities had to stop over somewhere in Europe or Asia.
Competitor American Airlines announced earlier this year that it was also launching direct USA-to-Bangalore flights, from Seattle.
AFRICA ROUTES
Thrice-weekly flights to Accra, Ghana and Lagos, Nigeria, will be leaving from Washington DC's Dulles International airport beginning in early 2021 and operated on a 787-8 Dreamliner. In addition, a connection between Newark and Johannesburg in South Africa will complement the airline's service from Newark to Cape Town which launched in December.
Last year, when United began its flights to South Africa, the airline had chosen Cape Town as the destination, concerned that the range of its 787-9 Dreamliner was not sufficient to connect the USA to the country's capital, Johannesburg. Now, however, technological advances have made that distance viable, with 300 km (167 nm) of range added to the airliner.
"It's long been a dream to serve Johannesburg from the US," says United. "We have been working closely with Boeing and General Electric and there are some new technological enhancements that will be available to us. That technology change will enable us to unlock the ability to serve Johannesburg from the US."
HAWAII FLIGHTS
Another first will be the connection between United's east coast hub Newark and the Hawaiian vacation destination Maui. This flight, to be operated with a 767-300ER aircraft, comes in addition to the carrier's flight from Newark to Hawaiian capital Honolulu.
In addition, the airline will introduce a flight from Chicago's O'Hare international airport to Kona, on Hawaii island. The airline says that will be the first to connect a city from east of the Mississippi River to Kona and will be operating it on a 787-8 Dreamliner.
"We are rethinking the network, not just looking at adding everything back the way it was prior to the coronavirus, we are looking for more convenient ways to travel," United says.
Last week, United was the first of the major US airlines to announce that it was eliminating change fees for most domestic tickets to encourage travellers to return to the skies following months of lockdowns and shelter-in-place orders.
After American Airlines, Delta Air Lines, Alaska Airlines and Hawaiian Airlines quickly equalled or bettered United's conditions. United says on 9 September that it too will waive change fees on flights to Mexico and the Caribbean, in addition to domestic routes announced earlier.