Spanish low-cost carrier Vueling is leading the pace in restoring capacity and profit returns among IAG carriers, as the group sees all but British Airways and Level operating at or above 2019 ASKs in the first quarter of next year.
IAG carriers, which also include Aer Lingus and Iberia, operated at 81% of 2019 capacity in the third quarter. That was slightly higher than the 78% capacity of the second quarter. The group expects to increase this to 87% in the last quarter of the year and to operate 95% of pre-pandemic levels in the first quarter of 2023.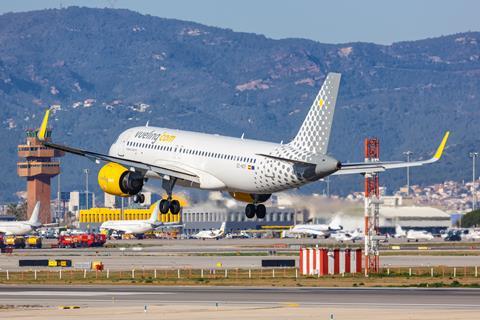 Vueling is the only IAG carrier to have already passed pre-pandemic capacity levels, flying 3% more ASKs in the third quarter than the same period in 2019. IAG group finance director Nicholas Cadbury notes that this was achieved through higher aircraft utilisation, as Vueling operated three fewer aircraft in the period than in 2019
Vueling revenues were 15% higher than the same period last year at just over €1 billion ($1 billion), and notably the airline was the only IAG carrier to post higher profits for the third quarter than in 2019. Vueling's operating profit of €259 million was an increase of €29 million on the same period three years ago and marked improvement on its break-even of last year.
Cadbury highlights that Vueling's new bases at Paris Orly and London Gatwick "continue to outperform expectations".
Vueling will continue to outpace other IAG carriers in terms of returning capacity over the next two quarters, running 15% more ASKs than in 2019 in the fourth quarter of this year and 20% higher for the first three months of next year.
IAG capacity return vs 2019 by carrier
Airline
2022 Q4 ASK capacity
2023 Q1 ASK capacity
Source: IAG Q3 results
Aer Lingus
100%
105%
British Airways
80%
90%
Iberia
85%
105%
Level
50%
70%
Vueling
115%
120%
Total
87%
95%
Aer Lingus, whose growth was stymied by strict travel restrictions in Ireland for much of the pandemic, reached 90% of 2019 capacity in the third quarter. It will return to 100% in the fourth quarter, while Iberia wlll pass that landmark in the first quarter of 2023.
British Airways, the largest carrier in the group, continues to lag in terms of returning capacity. BA operated at only 74% of 2019 ASK capacity in the third quarter, as passenger departure caps imposed at its London Heathrow base and the slow reopening of Asia-Pacific markets clipped its growth.
Despite this BA's revenue of €3.36 billion for the quarter was only 7% down on pre-crisis levels and its operating profit of €411 million was the highest among the group.
BA is to lift capacity to 80% and 90% of pre-crisis levels in the fourth quarter of this year and first quarter of 2023 respectively, in part reflecting that Heathrow capacity caps will not apply in the winter and that the airline is restoring some of its Asia-Pacific capacity.
"We are very encouraged by the bookings we see on Hong Kong and Tokyo Haneda," says British Airways chief executive Sean Doyle of the routes which resume in November and December respectively. "What is helping is the changes of procedure to enter Hong Kong, with the move to a home-based three-day self-testing rather than hotel quarantine, and that's certainly having a big improvement in the amount of people travelling to Hong Kong."
The airline is also in the process of recruiting a further 4,000 staff by April 2023 as it bids to better prepare for next summer's peak season.
Capacity at IAG's long-haul low-cost unit Level will remain below 2019 because of the closure of its Paris Orly operation when the crisis hit.
The strong pricing and demand environment over the summer was reflected in group revenues of €7.3 billion, which surpassed 2019 levels, even though capacity was almost a fifth lower. This was driven by strong passenger yields, which were a fifth higher than the same period in 2019.
The sharp pick-up in the passenger business took some of the gloss off the cargo performance, which has been strong point throughout the crisis. Freight revenues of €373 million were 8% down on the same period last year.
IAG chief executive Luis Gallego says that while that reflects some softening in the cargo market, it is also related to increased passenger activity in the business.
"Yields are still high, but we see capacity is reducing," he says. "We are flying more passengers [now], so the space for cargo is reducing because we were doing a lot of cargo-only flights during the pandemic. Also during the pandemic, we chose where to fly [for cargo], so we could for example fly to Asia, [flights] that we are not flying now with passengers.
"We consider [cargo] yields are going to continue [to be] high but that capacity is going to reduce," he says.
IAG also in August took a minority stake in Air Europa, as a first step in its on-off pursuit of the Spanish carrier. "We are still considering next steps.," says Gallego.
"We have 20% in Air Europa now, and the ambition is to try to have 100% of the company. But this is subject first of all to an agreement with Globalia and after that… we need to go for the approval of the competition authority, and that is a process that can take a minimum of one year."
IAG IMPROVED OUTLOOOK
IAG's third-quarter operating profit before exceptionals of €1.2 billion took the company into the black for the year-to-date at €770 million. It is targeting a full-year surplus of €1.1 billion, meaning it anticipates an operating profit before exceptional of around €400 million for the last quarter of the year.
IAG Q3 revenue and profit versus 2019 by carrier
| Airline | Revenue | Change v 2019 | Op profit 2022 | Change v 2019 |
| --- | --- | --- | --- | --- |
| Aer Lingus | €661m | -4% | €139m | -€30m |
| British Airways | €3,557m | -7% | €411m | -€223m |
| Iberia | €635m | 3% | €246m | -€27m |
| Vueling | €1,016m | 15% | €259m | €29m |
"This quarter has proven to be highly profitable and better than previous market expectations, driven by strong passenger demand," says Gallego. "Forward bookings remain strong.
"We are well aware of the inflationary and recessionary concerns out there. So far, we have not seen any signs of weakness in bookings and booking behaviour. But we will watch this closely."
Longer-term Gallego says the company believes it can return to pre-Covid profit levels over the next year few years once it fully restores its network and fleet.
"We are very confident we are going to come back to the profitability levels of around between 12% and 15% [operating margin] we had before Covid, so in absolute terms an EBIT of around €3 billion is what we achieved in 2019. These results in the third quarter support our thoughts about this," he says.