The uncertainty surrounding commercial airline operations at Kabul's Hamid Karzai International airport affects a number of international carriers.
By 20 August, passenger airlines including Air Arabia, Emirates, Flydubai and Turkish Airlines had confirmed the suspension of scheduled operations to Kabul, following NOTAMs that the region's airspace would be "uncontrolled" and the civilian side of the airport closed. While flight-tracking services suggest that commercial operations are still scheduled at the airport, there is no confirmation that any flights are taking place, even for local carriers on domestic routes.
Before the Taliban's advance into Afghanistan's capital city, Cirium schedules data for July 2021 shows a total of eight airlines serving Kabul: Air Arabia, Air India, Ariana, Emirates, Flydubai, Kam Air, Pakistan International Airlines and Turkish Airlines.
Of the 1,272 flights touching the airport during July, around half were operated by local private carrier Kam Air – whose Airbus A340 featured heavily in images of panic at Kabul's airport – with nearly 250 flown by Afghan government-owned Ariana.
Aside from a number of domestic flights, Kam Air's network featured Ankara, Delhi, Dushanbe, Islamabad, Kuwait City, Medina and Tashkent, according to Cirium data. Its A340s were most often used on services to Delhi and Medina.
Ariana's international destinations were Ankara, Delhi, Dubai, Istanbul, Jeddah and Urumqi.
Commercial airlines serving Kabul in July 2021

Airline

Flights

Seats

ASKs

Air India

26

4,500

4,497,312

Emirates

62

25,472

42,960,885

Ariana

244

29,768

37,315,785

Flydubai

100

17,460

29,447,905

Air Arabia

42

7,150

11,932,562

Pakistan International Airlines

44

8,074

2,845,652

Kam Air

668

104,308

91,394,855

Turkish Airlines

86

24,584

88,544,485

Total

1,272

221,316

308,939,441

Source: Cirium schedules data. Note: Data is for inbound and outbound passenger flights
Of the international carriers, Flydubai was operating into Kabul twice-daily (although its services dropped to daily towards the end of July), while Turkish Airlines flew a mixture of daily and twice-daily services. Emirates was operating daily into the airport, as was Air Arabia (although, like Flydubai, it cut services towards the end of July), with Air India and PIA each operating several flights per week.
The slate of carriers serving Kabul had been largely unchanged in recent years, Cirium data shows, with the only significant developments being Indian low-cost carrier SpiceJet stopping regular services to the airport at the end of 2020, and Iranian carrier Mahan Air stopping services in early 2019.
Unusually in an industry that has seen connectivity devastated by the Covid-19 crisis, airline capacity into Kabul had held up amid the Covid-19 pandemic, with flight numbers this year largely flat with 2019 levels.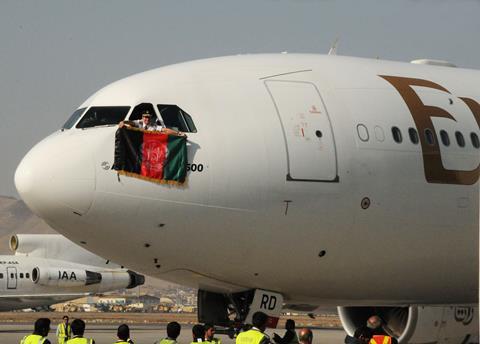 In terms of international flights from other Afghan airports, Cirium data indicates that Kam Air was serving Delhi and Istanbul from Mazar-i-Sharif in July, while Ariana operated from Kandahar to Dubai and Jeddah, and from Mazar-i-Sharif to Moscow Sheremetyevo.
Turkish Airlines was also operating a small number of flights to Mazar-i-Sharif from Istanbul, while Kyrgyzstan-based Avia Traffic Company operated infrequent Bishkek-Jalalabad flights.