While low-cost carriers are likely to be among the early beneficiaries of demand for price-sensitive leisure travel in the early stages of a post-pandemic recovery, the lower levels of overall traffic could also see renewed focus on hub operations.
One of the popular premises regarding which carriers might recover quickest from the pandemic is that low-cost operators will drive initial growth, given pent-up demand for leisure and VFR travel.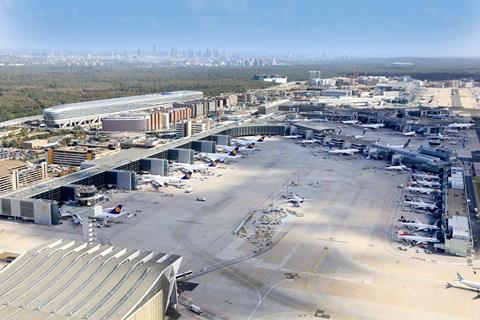 Budget operators seem well placed to capitalise on this demand as they are aided by short-haul networks, which were shown during the summer in Europe, for example, to be the first international markets to reopen, and their lower costs make it easier for them to tap price-sensitive demand.
IATA chief economist Brian Pearce underlined this point during a briefing on 24 November outlining the association's latest financial outlook ahead of its AGM.
"Undoubtedly in this initial environment, with price-sensitive leisure travellers and those opportunities for carriers with very low costs that can fly cash-positive flights at a smaller load, will clearly favour the ultra-low-cost airlines and a number [are already] stepping in."
But this does not necessarily mean bigger hub carriers will not see some benefit during the post-pandemic environment, at least at their primary airports.
"I think it means we are going to see hubs being of renewed importance as I think we are going to see fewer city pairs with sufficient passenger flows to justify lots of point-to-point services," suggests Pearce. "Airlines will need to consolidate passenger flows through a hub to make sure those flights are cash positive.
"I think we will see a concentration on efficient hubs and I think that will favour smaller aircraft, at least for the next 18 months. I think the passenger market will favour those airlines with efficient hubs – so network airlines with efficient hubs will be successful."
Perhaps unsurprisingly, that is a view supported by the bosses of two major European network carriers.
Speaking at a press conference after the conclusion of the IATA AGM, Lufthansa Group chief executive Carsten Spohr said hubs are 'coming back'.
"The less volume there is by mass, the less sufficient volume there is for point-to-point services," he says. "So traffic is channelled back through the hubs – in relative terms – more than in the past.
"So as much as we have seen point-to-point rising faster than hub traffic over the last few years due to the fact there was such an extraordinary growth in passenger numbers, we now see the opposite effect – that point-to-point is suffering versus hubs to a higher degree."
This view is echoed by KLM chief executive Pieter Elbers, who was speaking at the same press conference.
"If you look at our business model, where we run a hub-and-spoke system, we can see many of these smaller flows which maybe could have been served by non-stop long-haul flights will now be channelled in the recovery stage, through the hubs," he says.
Passenger traffic has collapsed this year amid the global pandemic – and the stalled recovery of international services since the summer. IATA expects passengers numbers to plummet 60% across 2020 to around 1.8 billion – the equivalent of 2003 levels.
While IATA expects a recovery from the lows of 2020 in passenger levels to 2.8 billion next year, that would still be the lowest annual figure since 2010.
Pearce says: "If you are in the cargo business we expect to see volumes and revenues back to pre-crisis levels next year. It's going to be much slower in the passenger business.
"For RPKs we are not expecting them back to 2019 levels until 2024, and passenger numbers a year earlier because of the shorter distances flown," he says. "The travel recovery, even with the vaccine, is a number of years away rather than months."
WILL BUSINESS RETURN?
IATA's incoming chairman, JetBlue chief executive Robin Hayes, says the impact of the crisis has been significant for airlines regardless of what sector they operate in.
"Whatever business model you had, no one has come through this unscathed. And the vast majority of airlines have required some form of government support," he says.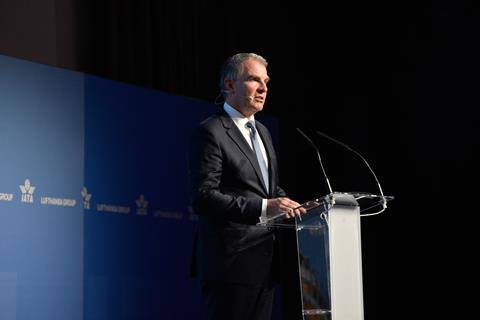 "I think as we come out of this, each airline will be looking at its own business model and considering how relevant it is – or what they believe the future will be.
"You have seen this in the US where both LCCs and legacy carriers have pivoted towards the VFR market, because that is a source of demand at the moment. And I think you will continue to see that," he says. "But I think there is no doubt there will continue to be an important role for different models."
Lufthansa's Spohr concurs on the importance of the VFR market in the recovery.
"We see VFR recovers faster than leisure travel, and leisure travel recovers faster than corporate travel," he says.
IATA's Pearce says: "We have seen there is clear pent-up demand for leisure travel and pent-up demand for VFR. I think business travel will be much slower to recover and that's an issue for airlines, the yields are going to be lower than they would be with the [higher-yielding] business traveller."
Spohr though believes business travel demand will return in the long-term, even with the increased adoption of video technology during the crisis.
"In the first month we were all getting excited about video conferences and how great that works. In the last weeks, I only hear about people getting tired of video conferences and getting ready to fly again," he says. "This technology is better than we knew before the crisis, but it is not as good as airlines can offer in connecting people and cultures."
And Hayes, while concurring that business travel will take longer to return, argues changes in work patterns resulting from the crisis may create new travel opportunities.
"So for example if there are people who work for large companies who can work from home, maybe they move to not be near their corporate headquarters but are required to attend a certain number of meetings per year. Those are going to be additional trips. Or people who are working from home but maybe take a weekend trip to see friends and family, something they couldn't do before when they were required to go into an office.
"So it may well change," he notes, but adds: "I think we will all be pleasantly surprised how quickly this industry will come back."