Indian low-cost airline SpiceJet has secured "designated carrier" status for scheduled services to both the USA and the UK – the first firm step towards beginning flights to both countries.
Such long-haul markets have proven hostile to the low-cost model in the past, and SpiceJet has provided no details about when – or with what aircraft – it would seek to serve them.
But while announcing that the designated carrier status had been secured for US flights on 23 July, the airline's managing director Ajay Singh stated: "It gives me immense pleasure to share that SpiceJet has been designated as an Indian scheduled carrier to operate between India and the US. This designation would help us plan for our international expansion in a much better and calibrated manner.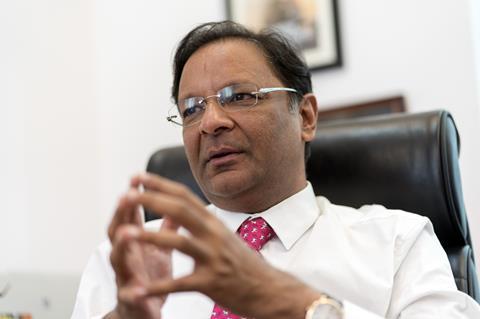 "I have always maintained that there is an opportunity in every adversity and the present crisis situation has seen SpiceJet rise to the occasion and play a pivotal role," he adds, referring to the airline's cargo operations and repatriation flights during the coronavirus crisis.
Late on 24 July, the carrier announced that it had received similar clearance to operate flights to the UK.
To reach the point of serving the USA and the UK, however, a number of hurdles are ahead, beyond the need to source the right aircraft.
Among those would be receiving foreign carrier approvals from the US and UK regulatory bodies, who would consider SpiceJet's financial and safety records.
The carrier would also need to secure slots at the airports that it intends to serve.
True long-haul flights would therefore be a significant strategic change for the budget operator, whose domestic-focused network also includes some international flights within Asia and to the Middle East, served by single-aisle types.
But it has reasons to believe that the timing could be right, despite the Indian market being littered with examples of airlines trying, but failing, to take full advantage of its potential.
HOW CORONAVIRUS CRISIS HAS CREATED SOME OPPORTUNITIES FOR AIRLINES
In SpiceJet's favour, recent months have seen airlines removing scores of widebody aircraft from service, potentially creating a "buyers' market" for those seeking to lease or purchase such equipment.
At the same time, jet fuel costs – often cited as a barrier to long-haul low-cost operations – are extremely low by recent historical standards.
The competitive environment might also be in SpiceJet's favour.
Indian operator Jet Airways ceased operations in April 2019, leaving only flag carrier Air India – itself loss-making and immersed in a seemingly endless privatisation effort – serving true long-haul destinations among domestic operators.
Low-cost carrier IndiGo – the country's largest operator – has talked of long-haul widebody operations in the past, but is yet to take action.
Indian-Singaporean joint venture Vistara inducted its first widebody aircraft, a Boeing 787-9, this year. But the airline is yet to reveal whether it will serve any true long-haul destinations.
CAN SPICEJET OVERCOME PREVIOUS RELUCTANCE?
SpiceJet itself has long discussed the concept of launching long-haul low-cost flights to the USA and Europe, but previously highlighted significant barriers to entry in such markets.
Speaking in September 2017, for example, Singh stated that "the high cost of ownership for new-generation widebodies is a key obstacle in the development of long-haul, low-cost air travel", despite the concept being an attractive one.
He added: "I don't know if you can do it."
And evidence from other long-haul low-cost operators has not been encouraging.
In recent years, AirAsia X has flirted with starting mainland USA flights, but has never reached the point of launching services, while its flights to London and Paris proved uneconomical amid high fuel prices in 2012. Norwegian, meanwhile, only managed to serve the London-Singapore market on a low-cost basis for one year before abandoning the service.
The dynamics around serving such markets are changed today, however, and may be more hospitable to a new entrant – despite the ever-present caveat of the uncertainty created by the coronavirus crisis.