There has been a marked shift in the European airline industry's mood since a flurry of good news on the development of Covid-19 vaccines.
Previously, there were only tentative hopes that spring 2021 would bring a degree of relief from what is guaranteed to be a bleak winter.
But the possibility that vaccines might begin to have a genuine impact on controlling the pandemic in Europe by the end of the first quarter of 2021 has changed the narrative.
"There's reasonable optimism now that summer 2021 will get back to some degree of normality," the group chief executive of Ryanair, Michael O'Leary, said at an industry conference just after the first positive news on vaccine efficacy was announced.
"We may not get back all the way to 2019, but in short haul I see no reason why we won't go back to 75-80% of 2019."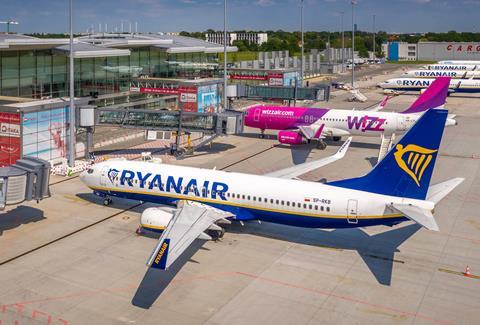 Ryanair's confidence about the recovery was further demonstrated by its decision to firm up orders for 75 more Boeing 737 Max jets on 3 December.
Wizz Air chief executive Jozsef Varadi said in mid-November, meanwhile, that the low-cost carrier is aiming to be back at 100% capacity "within a few months".
With international air travel forecast to be at around only 25% of 2019 levels globally during summer 2021 season, according to IATA, such figures would put both carriers ahead of the crowd.
Indeed, the region's network carriers, for example, are adjusting to life with smaller fleets, larger debts and, in some cases, cautious government shareholders, who may need to be tapped for more support in 2021.
Crucially, network carriers are also looking to 2021 with very little prospect of a significant boom in long-haul travel.
DIFFERENT DYNAMICS
In Europe's short-haul markets the outlook is very different – not least because it is likely to offer a straightforward way for frustrated leisure passengers to scratch the air-travel itch.
The mini-revival in such traffic during the July-August window provided a glimpse of that pent-up demand.
This likely trend was described by IATA chief economist Brian Pearce ahead of the association's November AGM: "Undoubtedly this initial [recovery] environment, with price-sensitive leisure travellers and those opportunities for carriers with very low costs that can fly cash-positive flights at a smaller load, will clearly favour the ultra-low-cost airlines and a number [are already] stepping in."
Ryanair and Wizz certainly appear to have the right ingredients in that regard.
Both have emphasised the importance of keeping aircraft in the air during the crisis, rather than focusing on retirements and storage, thereby maintaining the flexibility to add capacity quickly when demand allows.
That flexibility is boosted in Ryanair's case by union agreements that have seen it avoid mass layoffs, keeping the business primed to reinstate services. Conversely, Wizz did make some job cuts early on in the crisis, but its record of not recognising unions means – rightly or wrongly – it can flex its workforce at short notice.
Furthermore, their lack of national affiliation in Europe's liberalised aviation market means both airlines are able to shift capacity around as demand dictates – demonstrated by Wizz opening a string of bases in the region in mid-2020 as most carriers were retrenching.
In some cases, that positions them to move into markets vacated by rivals.
"Some of our competitors are contracting in a big way and leaving a market vacuum behind them – of course we make sure that we take advantage of that," Varadi said in October.
With strong cash positions and low unit costs going into the crisis, Wizz and Ryanair are also geared up to endure the price war that might ensue as airlines seek to entice people back in 2021.
But it also important to note that taking advantage of pent-up demand in 2021 will not be an issue of business model alone.
RIVALS RETRENCH
In the European low-cost sphere, Norwegian is teetering on the edge of the abyss, having entered an Irish process in mid-November. EasyJet has been much quieter than Ryanair and Wizz on its expectations for 2021, while taking a more cautious approach to adding back capacity during the second half of 2020.
At the same time, success might be measured on different terms for the network carriers. A race to secure the first ticket sales during the recovery is really just a sprint during the marathon recovery ahead for the sector.
In terms of short-term prospects, however, the market dichotomy was perhaps best summarised by Ryanair mainline chief executive Eddie Wilson.
"If you've got the money, you've got the aircraft, you've got the people, you've got the space at the airports, then you are in a much better position than those [airlines] that are scrambling around, that are running out of cash, have to raise their money, looking for short-term deals all the time, selling their aircraft, firing their people," he observed in October.