Leading indicators are helping to map the recovery path, but progress will be limited while key constraints persist, writes CTAIRA consultant Chris Tarry
For those airlines that are able to operate, the reality is that much of the past few weeks should have been broadly as expected, and indeed planned, during what has in effect been the restart phase.
That bookings, cash and traffic have tended to reflect the "progress of the coronavirus" and the passengers' concerns – or their absence – combined with government actions around travel restrictions, should come as little surprise to anyone.
In reality, there are five constraints to the recovery of the industry, and at least three are interrelated. The removal of the first three is necessary not only for some airlines to restart, but also for others to move to the recovery phase:
Market closure, where the issue is re-opening.
Travel restrictions and in particular quarantine – especially when countries or regions are moved in or out of such regimes at short notice.
Traveller confidence, which is in effect a reflection of the perceived risk that each of us is willing and able to take.
Cash, which encompasses all time periods and all participants in the aviation system. New equity raising will need to be carried out against the background of what is expected to be an even more damaging northern hemisphere winter season than before.
The other constraint will be the pace of recovery to pre-Covid economic activity, where the rate of "bounce back" will be determined by a large number of factors and where for many the dependence on inbound tourism is a particular issue.
Certainly in Europe, for many countries it is unlikely that economies will recover to previous levels of activity until at least 2023, and for some later still. What we also expect, at least in the initial phase, is that the volume and the value of traffic for any given level of economic activity will be lower.
JUST VISITING
Unsurprisingly for those airlines able to operate, a key component of travel in the restart has been so-called visiting friends and relatives traffic – the view being that the activity people have missed most is meeting their loved ones. Indeed, 77% respondents in the latest Harris Covid-19 survey (Wave 28) said that they missed this "a lot" or "somewhat".
Also unsurprising is the strength of leisure demand and the weakness of business traffic (even for the summer months). Taken together it should not be unexpected that there will have been a negative yield effect against a background where the focus has been on operating services that are profitable.
There is now no shortage of data to enable an informed view – whether on the spread of Covid, the number of flights operated, or the passengers processed – and so we can all determine what we should look at to provide the best set of leading indicators.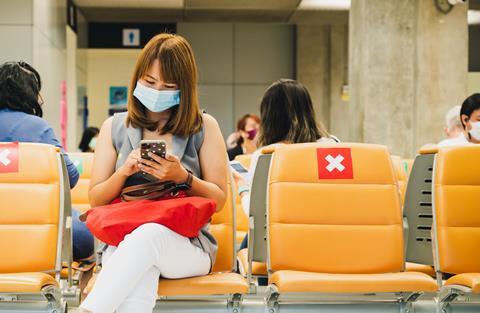 We have also refined our World Traffic Forecast (WTF) model, although along with many other forecasters we view the outputs more as scenarios – in some respects "judgemental analysis". We have also been running regular surveys to understand intending travellers' views on a wide range of issues, including 'would you travel if you have to go into quarantine on arrival?' In the latest (September) survey, 94% said no.
Responses to other questions suggest business traffic over the next 12 months is likely to be some 30% of the level in the year before Covid-19, and that the level of long-haul business travel will decline even further. Beyond this, in terms of taking the next business flight, while 10% expected to do so in the next four weeks, 33% thought that it would be between four and six months, and 21% thought it would be a year or more.
From the outset we took the view that the letter that best described the shape of the recovery would be a reversed and slightly inclined/recumbent "L", and we see no reason to change that view in terms of the trend, although a hockey stick shape may be a more economical way of describing it.
Notwithstanding this, the cash calls from many in the sector are likely to increase and in terms of sentiment towards aviation, Mark Manduca of Citi summed it up very well when he wrote: "As airlines emerge in calendar 2021, we see another round of highly dilutive equity raises as nigh on inevitable, which will if anything quell the recent increase in vaccine enthusiasm".
While ours and the surveys of others provide a useful perspective on what a recovery might look like, without the removal, or a major relaxation, of at least the first three constraints, the industry will remain stalled and with it the economic and societal benefits that are associated with aviation.
In the near term, however, there will be an inevitable re-focus on cash, which brings to mind an answer from a chief financial officer when asked how much cash he needed. The answer was "more" – the questions now is: is there enough to go around, and will it be affordable?