United Airlines bold order for 270 narrowbodies in June formed part of an ambitious seat upgauge and product enhancement plan. But as consultants René Armas Maes and Jonathan Norman write, achieving its ambitions depends on how the fleet renewal is implemented.
While a string of airlines have announced fleet replacement plans during the pandemic, few have been as striking as United Airlines' move in June to order 270 narrowbodies.
The commitment, comprising 50 Boeing 737 Max 8s, 150 Max 10s and 70 Airbus A321neos, is aimed at both fleet renewal and seat growth.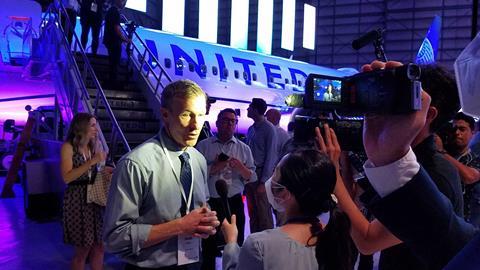 United has not specified how many aircraft it will replace under its renewal plan, though a review of United's fleet suggests 55-65% of its current 500 in-service narrowbodies could be up for replacement in two to three years.
A number of routes with demand stimulation potential operated using Embraer 170 regional jets could be upgraded to Boeing 737-800s especially as the airline continues focusing on reducing its CASM, while higher-fuel-consumption aircraft such as 737-700s could be upgraded to Max 8s.
Likewise, United's ageing fleet of Boeing 757s – jets it deploys on transatlantic and long-haul services – are likely to be replaced. Newer narrowbodies might not carry as many passengers as 757s, but their efficiency would offset yield losses and their modern cabins would up United's competitive position.
The other unknown is how United plans to deploy aircraft.
United will likely replace its smallest 757s – 757-200s, with 169 to 176 seats – with Max 9s or 10s, especially on domestic routes. A321neos could be deployed domestically and internationally, and to slot-constrained airports – flexibility that could help United optimise loads and route profitability.
A seat-growth strategy makes sense for United because the carrier may want to maximise capacity at slot-constrained airports.
Even before the pandemic, many airlines were in the process of, or planning to, add seats to their cabins to lower costs and compete directly with low-cost carriers. United has said it must increase seat gauge 30% across its fleet to lower its cost per available seat mile (CASM), which would let it better compete in key markets where low-cost carriers thrive.
In addition, United plans to offer an improved product – including seat-back in-flight entertainment, and dual- or triple-class cabin configurations on key regional routes.
During United Airlines' second-quarter 2021 media call, the carrier said it plans to retire (either by ceasing operations or not renewing contracts with its regional network affiliate) a significant portion of its 50-seat single-class regional jets. The strategy has two goals: fly more seats to larger communities and lower per-seat costs.
United may need to look closer at its three-class configured CRJs and 50-seat CRJ550s (a CRJ700 variant with 10 first-class seats, 20 economy-plus seats and 20 economy seats). Such jets bring differentiated customer value in thin and high yield markets.
Management also should consider how to stimulate demand as it increases seats on some thin routes by up to 50%.

United's strategy will accelerate its fleet simplification, reducing aircraft family types from eight to five. Operating next-generation technology also means flying more fuel-efficient aircraft, which will contribute to sustainability targets and reduce its CASM. New jets should also help increase on-time performance and aircraft utilisation, and improve customers' experience.
OPERATING CHALLENGES
On paper, United's fleet restructuring sounds like a move in the right direction. However, sound execution is key; United will need to manage several challenges.
First, the airline is planning to operate regional services with mainline jets, meaning at higher mainline wages. Typically, United's partners bring important savings to the airline, as lower regional flying pay rates translate to lower seat costs. Flying larger aircraft on regional routes will save money but increase United's biggest costs – labour.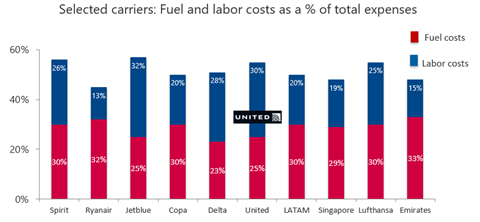 However, the carrier will be better off by flying more-efficient aircraft in those regional routes, as fuel is its second-highest cost. (Also, notably, United has during the pandemic reduced its average number of full-time employees per aircraft to less than competitors' average.)
Second, with more larger jets, United will need to rethink its flight-banking structure at core hubs, and reassess schedules and frequencies. It needs to consider how such changes impact aircraft turnaround times, and whether fewer frequencies (due to the fleet upgauge) in key corporate segments may push business to rivals.
Third, United must balance its total revenue per available seat mile (TRASM) strategy especially as it has the lowest unit revenue among US full-service carrier peers, on average 27% lower than its rivals. This revenue unbalance when compared to US peers could be fixed in part by implementing a more aggressive ancillary revenue strategy, strengthen its loyalty programs and cargo unit and building other revenue verticals beyond travel using an e-commerce strategy.
On the revenue side, key questions to be answered by United' management include how to compete with low-cost carrier competing products and how to derive premium revenue? Should United match airfares to remain competitive and sub-optimise (at best) its route margins – balancing losses with higher-yield services? Or should it maximise its TRASM, even on regional services, and focus on product differentiation?

WIDER MARKET CHANGES
Broader overall strategy challenges also must be addressed.
Those include the impact of the in-development A321XLR. That 4,700nm (8,704km)-range jet should let airlines bring a narrowbody to routes too distant for previous narrowbodies, thereby disrupting typical single-aisle aircraft revenue patterns. The introduction of the model by 2023 will have the most impact on the European, Hawaiian, and South American markets, the former two being an important revenue source for United.
Second, JetBlue Airways brings new competition in segments where United, Delta Air Lines and American Airlines are established. Jetblue just started New York JFK-London Heathrow service and, if successfully executed, could bring pressure to other high-yield business-passenger destinations.
In addition, JetBlue's "Mint" business class brings extreme pressure to rival full-service carriers' business products and may alter the premium-revenue landscape on the US East Coast. Added to this, JetBlue's interline agreement with American (one that could evolve into a broader joint venture) is unique in being the first real partnership between a hybrid-model airline (JetBlue) and a full-service carrier (American). This could greatly impact United's business, especially in the New York and Chicago markets.
Lastly, United might consider an urgent revamp of its loyalty programmes. One of the biggest failures of full-service US carriers has been switching to dollar-based programmes, which require customers spend more money to receive benefits, thereby greatly enhancing discount carriers' proposition.
Clearly, United's fleet upgauge plan is just an aspect of its growth plan – an aspect that by no means guarantees increased business-travel revenue. Improved cabin services and amenities, and network rationalisation, are the factors that will really drive revenue gains..
Competition will be fierce after Covid-19. Airlines that best adapt to new market preferences and requirements will emerge on top.
Editor's note: This is an abridged version of an original article by Jonathan Norman and René Armas Maes. Jonathan Norman is global head of airport and airlines at Frost & Sullivan with expertise in aerospace business development, airport/airline strategy and smart airports. René Armas Maes is vice-president of commercial at Jet Link International and an international airline consultant focusing on business restructuring and turnarounds, strategy, fleet planning and commercial growth.