The country has been hit hard by Covid-19, exacerbating connectivity challenges created by SAA's retrenchment, but there is hope that the sector will recover, writes Zuks Ramasia, chief executive of the Board of Airline Representatives of South Africa
The global aviation sector is facing challenges unlike any we have ever witnessed before. This has necessitated the reinventing of resilience in global aviation in order to sustain aviation into tomorrow.
In South Africa, the impact of the coronavirus pandemic has been catastrophic, primarily as a result of prolonged air travel restrictions. Prior to the pandemic, the air transport and tourism industries in South Africa supported a total of approximately 472,000 jobs and contributed R180 billion ($10.7 billion) to the country's GDP per year, according to Oxford Economics.
Fears are mounting that ongoing air travel restrictions will result in thousands of job losses. At the same time, airline operators across the globe are experiencing unprecedented financial losses and relying on relief measures extended by governments.
DEVASTATING EFFECT
On the home front, we have seen this impact on carriers including South African Airways (SAA) and Comair (the holding company of Kulula and a British Airways franchisee). The latter had not reported a loss in its 74-year history before 2020, but has entered into voluntary business rescue proceedings.
SAA's business rescue process has proposed far-reaching reductions in its network, fleet and capacity – this will undoubtedly have a negative impact on fares in the medium term, as we are unlikely to see a reduction in prices because of reduced airlift capacity in the market, affecting not only the flying public, but cargo as well.
A smaller SAA could also leave South Africa with a big hole in terms of connectivity, depending on which routes are considered. On international services, SAA accounted for 44% of marketed flights touching South Africa in January 2020, but when the data is split by operator, 19% were undertaken by SAA metal.
As the Board of Airline Representatives of South Africa (BARSA) we support IATA's call on governments to re-establish global connectivity through the reopening of borders and to continue with relief measures to sustain airlines during this unprecedented crisis.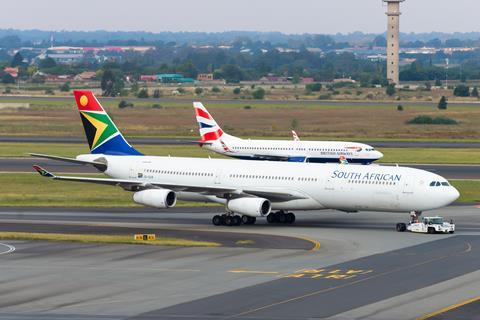 From a connectivity perspective, IATA feared that the continent's air traffic for the whole of this year would be 54% below the figure for the preceding year (or more than 80 million passenger journeys). The safe restart of aviation and connectivity is crucial for South Africa and the continent's connectivity and recovery.
BARSA advocates a safe, appropriate risk adjustment and phased easing of regional and international air travel restrictions that will assist the aviation industry in South Africa to rehabilitate and which will, naturally, save thousands of jobs.
It will furthermore maintain South Africa's aviation industry as one that can globally maintain its competitive position to remain as a highly favoured international tourism destination, while also defending its hub status, which is at risk. There is a clarion call to open borders to revive the world economy. I fully agree with IATA director general Alexandre de Juniac's point: "Protecting their citizens must be the top priority of governments. But too many governments are fighting a global pandemic in isolation with a view that closing borders is the only solution. It's time for governments to work together to implement measures that will enable economic and social life to resume, while controlling the spread of the virus."
A new normal for Africa's aviation sector will undoubtedly see emerging opportunities for both domestic and foreign carriers. For example, we are likely to see carriers implementing deep structural business model changes with a key focus on enhancing the passenger flow towards the use of new contactless technologies. In addition, airlines will continue to focus on increasing their operational efficiencies, creating a connected workforce, enhancing onboard safety, and radically digitising the passenger journey towards mobile technology.
COMMON GOALS
The long-term future of aviation will largely rely on the liberalisation and unification of air transport markets across Africa under the African Union's flagship project, the Single African Air Transport Market. This is expected to act as an impetus for the continent's economic integration, together with the African Continental Free Trade Area (AfCFTA). New market entrants and foreign direct investment in the air transport market are expected to be the main objectives of the AfCFTA, to create a single continental market for goods and services, with free movement of business and investments.
Estimates from the Economic Commission for Africa suggest that the AfCFTA could boost intra-African trade by 52.3% by eliminating import duties and double this trade if non-tariff barriers are also reduced.
The uncertainty that has been brought about by the coronavirus pandemic will mean a long and difficult road for the global aviation sector's recovery. A resurgence of cases during the recovery remains a major concern for us in key inbound markets.
Collectively, we need to deal with the economic circumstances caused by the outbreak through innovative changes to the way we do business, to gain the confidence of our passengers again and to look at new cross-industry partnerships and alliances.
Zuks Ramasia is chief executive of the Board of Airline Representatives of South Africa. She previously served as acting chief executive of SAA from mid-2019 to March this year