Gol chief financial officer Richard Lark explains how current woes are being exacerbated by pre-pandemic overcapacity, but that they will be overcome in a region used to handling crises
The South American airline industry is currently undergoing a reckoning similar to that experienced in the USA five years ago, with a series of bankruptcies and consolidations leading to a smaller, but more efficient, marketplace.
The coronavirus pandemic was the catalyst, but decades of mismanagement have undermined the ability of some airlines to survive this crisis. We think that airlines with agile, efficient and well-financed business models will succeed in this competitive landscape.
Prior to the pandemic, as Brazil's largest domestic airline, Gol was operating more than 750 flights a day, transporting 36 million Brazilians every year to over 100 destinations. We've started to see demand return in recent months – our daily flights tripled during the third quarter to 360 compared with the second quarter. But that still only represents 39% of the flight schedule in 2019.
In recent months we've seen a surge in demand for tickets and expect to finish 2020 with 80% of our year-end capacity.
For any airline, those are tough numbers to deal with. Our approach was to focus on shoring up liquidity and rapidly adjusting capacity, but that was only possible due to the significant measures we'd undertaken over the past four years to strengthen our balance sheet. At the same time, we played to our strengths with a highly flexible fleet management model. Even before the crisis, we were able to flex our capacity by as much as 10% to adjust for swings in demand – this crisis tested that to its limit.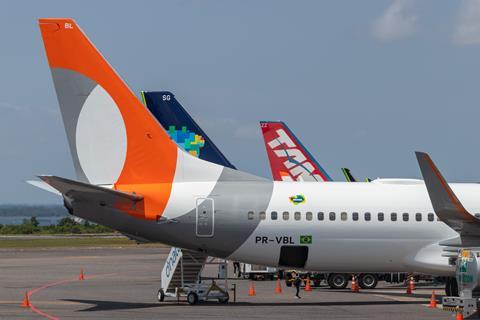 While the coronavirus pandemic was unforeseeable, we think that many of the factors that are causing stress in South America's airline industry today could have been mitigated. Too much capacity put downward pressure on air fares, which was economically unviable for some market players in the long run. We are seeing the consequences of that now, as airlines that overstretched their capacity face bankruptcy.
In a more rational market, airlines that are more disciplined on cost and capacity will be in a better position.
Domestic travel is returning faster than international travel after countries closed borders, so airlines with a large domestic network are currently holding the advantage.
Demand is arguably returning quicker in South America than in other regions because there are fewer alternatives available – North America and Europe both have more reliable rail and road networks. As we look into 2021, we expect international demand will start to recover as well – particularly if rapid Covid-19 testing becomes widely available at airports and vaccines start rolling out.
FLEET FLEXIBILITY
Matching capacity to demand will be key – too much capacity and airlines will struggle to make a profit on the routes they are operating, but being slow to react to demand means that customers will look elsewhere for service. Fleet flexibility is going to be paramount as airlines try to strike a balance between these two forces over coming months.
We also think it's important to look at the competitive landscape beyond the crisis. Customer trust in airlines is going to critical to success: passengers will want to fly with the airlines that they know can deliver on service and safety. Adhering to cleaning protocols on aircraft and a low transmission rate among pilots and crew will therefore be an important decision factor for customers. Collectively, as an industry, we have a duty to show our passengers that we are doing our utmost to protect them from infection risks.
Now that the airline industry has adapted to the new Covid-19 protocols, some of these changes will be here to stay. In particular, the trend towards contactless travel as the preferred means for passengers to check in and board, and the ability to stream movies to their smartphones.
Over time, these technological trends will make air travel more efficient, particularly for checking in and boarding. Airlines that are quick to implement these technological advances in their ticketing, boarding and in-flight processes will be favoured by customers seeking a safer, more seamless way to travel.
Over the long term, there are reasons to be optimistic about a recovery in the South American airline industry. In a country like Brazil, which has a large, disparate population and growing middle class, long-distance travel options are limited as there is poor road infrastructure and no passenger rail.
Pre-pandemic, there was demand for 95 million flights per year – it might take some time for that demand to return, but we believe a significant majority of people will return to the skies in 2021 and 2022, especially as vaccines and improved therapeutics begin to restore passenger confidence.
FINANCIAL IMPACT
As we continue to manage through the financial impact in the meantime, it's important to remember that South America has a long history of dealing with economic crises. For instance, over the past 40 years the Brazilian domestic market has experienced year-over-year growth in revenue passenger kilometres at twice the growth rate of GDP. The only times that hasn't been the case has been during significant economic or political distress, such as the petroleum crisis in the 1970s or the Brazilian sovereign debt crisis of the early 1980s.
South American airline companies with an eye on the future are already adapted to a rapidly changing operating environment and remain positioned for market growth. It has made us more resilient and sustainable in the long term. That's why, despite the shake-out we are seeing today, we remain confident that the airline industry in South America will ultimately bounce back.
Richard Lark is chief financial officer at Brazilian low-cost carrier Gol