Asia-Pacific airlines received 11 of the 23 passenger airliners delivered globally during May, amid continued challenges stemming from the coronavirus pandemic.
During the month, European carriers received seven new aircraft, and North American carriers four, according to Cirium fleets data as of 17 June. The remaining aircraft, an Airbus A350-1000, was delivered to Etihad Airways.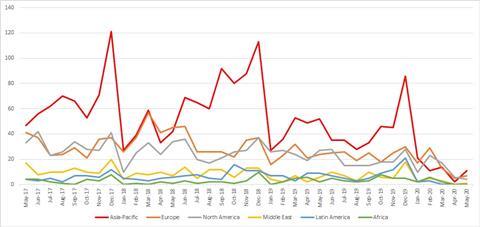 While still low, the 23 aircraft delivered globally was an improvement on the 13 deliveries seen in April. But highlighting the impact of coronavirus and its attendant travel restrictions during 2020, May's 23 deliveries were a fraction of those in the same month last year, when 120 new airliners were delivered globally.
The Asia-Pacific's 11 deliveries in May, while still dismal by historic standards, were also an improvement on April, when only two aircraft were delivered in the region.
Only three Asia-Pacific countries received new passenger aircraft in May. India took six Airbus A320neo family jets, all of which went to low-cost carrier IndiGo.
Chinese airlines took four aircraft, and South Korea's Air Busan taking the final aircraft, an A321neo.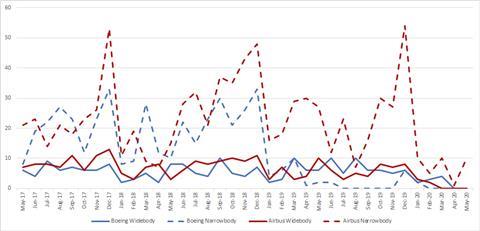 Apart from Airbus's 10 narrowbody deliveries in the region – the 11th delivery was a Comac ARJ21 that went to Genghis Khan Airlines – the big two airframers delivered no other aircraft in Asia during May.
One bright spot for Boeing, however, was the delivery of two 777F freighters to China Southern Airlines.
Lessors were involved in seven of the Asia-Pacific's deliveries during May. Dragon Aviation and Standard Chartered were both involved in two a pair of A320neo deliveries to IndiGo.
Aviation Capital Group, CDB Aviation, and FPB Amentum were also involved in deliveries to the region during the month.
Story updated with revised numbers from Cirium