Carriers in the Asia-Pacific received 14 of the 49 new airliners delivered in March 2020, as airframers and countries continued to grapple with the coronavirus pandemic.
The region trailed North America, where carriers took 17 new aircraft, but led Europe, which saw just 13 deliveries.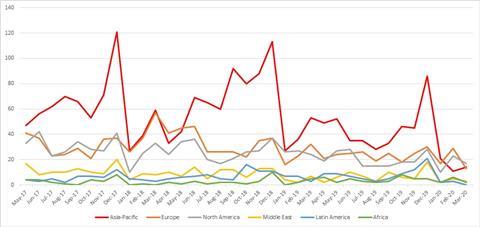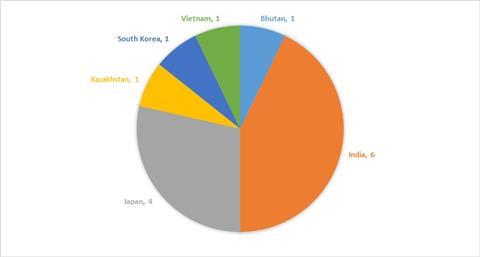 While Asia-Pacific March deliveries grew from just 11 in February, they represent a quarter of the 53 new aircraft delivered in March 2019. On a global basis, March's 49 deliveries are less than half of the 124 new aircraft delivered a year earlier.
Last week, Airbus said that 60 aircraft were produced in the first quarter, but have yet to be delivered to the world's airlines. Travel restrictions have prevented crew and other personnel collecting aircraft.
Among Asia-Pacific countries, no new aircraft were delivered in China for the second consecutive month. The country, typically the world's biggest recipient of new jets, was in lockdown during February owing to coronavirus, which originated in the Chinese city of Wuhan.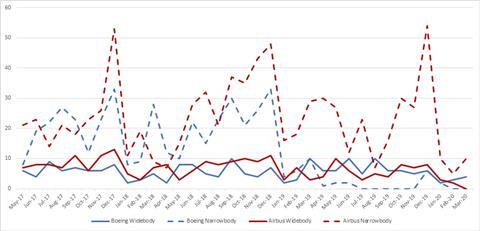 Domestic air travel is picking up in the country as movement restrictions are slowly lifted, raising the possibility that airliner deliveries could be set to resume.
The absence of Chinese deliveries left India to lead regional deliveries with six new aircraft, of which five were A320neos for low-cost carrier IndiGo, with a single A320neo going to Vistara. Japan followed with four new aircraft.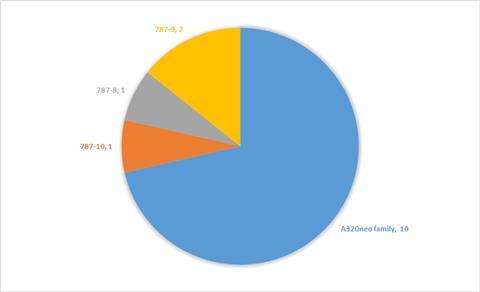 Apart from IndiGo, the only airline to receive multiple aircraft was All Nippon Airways, which took a single A320neo and a pair of Boeing 787-9s.
The continued grounding of the 737 Max saw Boeing deliver no narrowbodies in the region. Airbus delivered 10 A320neo family jets.
Among Asia-Pacific widebody deliveries, Boeing delivered four 787 family aircraft, while Airbus delivered no widebodies to the region during the month.
Lessors were involved in six of the Asia-Pacific's 14 deliveries during the month. Air Lease Corporation was involved in the delivery of a 787-10 to Vietnam Airlines. The other five deliveries with lessor involvement where for A320neos, with three examples going to IndiGo, one to Vistara, and one to Air Astana.
The lessors involved with the five A320neo deliveries were AVIC International Leasing, Avolon, CDB Aviation, Dragon Aviating Leasing, and SMBC Aviation Capital.