Engine maker Pratt & Whitney squeaked out a $20 million operating profit in the first quarter of 2021, a period during which its deliveries of large commercial aircraft engines bumped higher.
P&W, a division of Raytheon Technologies, delivered 137 large aircraft engines in the three-month period, Raytheon reports on 27 April.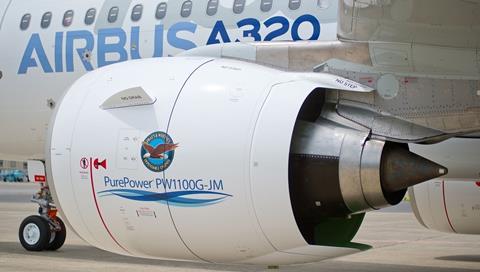 That figure is up 6% from the company's 129 deliveries in the previous, fourth quarter, but one-third less than the 211 engines P&W handed over in the first quarter of 2020.
P&W's large commercial engines include its widebody powerplants and its line of PW1000G geared turbofans, which power Airbus A320neo-family jets, A220s and Embraer E-Jets E2.
Though P&W ended the first quarter in the black, its $20 million operating profit compares to a $475 million operating profit in the same three months of 2020, before the pandemic's full impact on aviation materialised.
P&W generated $1 billion in first-quarter revenue, down 25% year-on-year.
That decline reflects a 40% year-on-year slip in commercial aircraft equipment sales and a 35% decline in aftermarket sales, P&W reports.