IndiGo proved its mettle in a tough 2020, and chief executive Ronojoy Dutta is optimistic about the low-cost carrier's outlook in the coming years.
India's biggest airline entered 2020 on a strong note. In the three months ended 31 December 2019 it had more than doubled its net profit to Rs4.96 billion ($68 million). In the results release, Dutta said that IndiGo aspired to be "50% domestic and 50% international" given that things were going so well on overseas routes.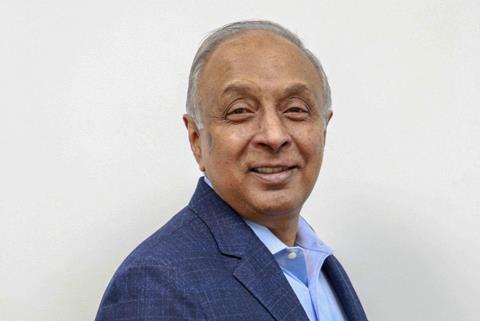 "We were going great guns to January of 2020," says Dutta. "We were particularly pleased with the international expansion, which had grown to about 25% of our overall capacity. And, to our pleasant surprise, international margins were actually higher than domestic at that point."
The airline had additional Airbus A320neo family aircraft coming into its fleet, and the plan was to deploy them on international routes.
"So, we're feeling pretty good about ourselves and then, of course, the pandemic hit and we had a total shutdown," he says.
New Delhi, scrambling to contain the rapid spread of the virus, locked down the country at the end of March 2020, all but eliminating commercial air travel for two months.
IndiGo's focus shifted immediately from growth to cash. Company management outlined possible scenarios ranging from "doom and gloom" where normality would not return for a considerable time, to an optimistic 'V-shaped' recovery at the other end. There were several other scenarios in between.
Amid the uncertainty, Dutta and IndiGo's leadership team had little choice but to abandon its one- and five-year plans, and focus purely on the next two months.
Faced with the collapse of India's aviation market, IndiGo decided to update its product for what was likely to be a radically transformed travel market. A key focus involved contactless check-in, and making sure passengers could interact easily with the carrier in a digital format. At the time, the airline's call centres were seeing extremely high volumes.
Aircraft hygiene was increased through deep cleaning. Transmission of the virus through an aircraft's air was not seen as a significant risk owing to HEPA filters. One big challenge was the middle seat. There were proposals to block it because some government officials were concerned about the transmission of Covid-19 through shoulder-to-shoulder contact.
"We said that if the middle seat is kept empty, then forget about the airline business," says Dutta. "We came [with the idea that] the person sitting on the middle seat gets an extra wraparound of plastic because doctors are worried about shoulder rubbing."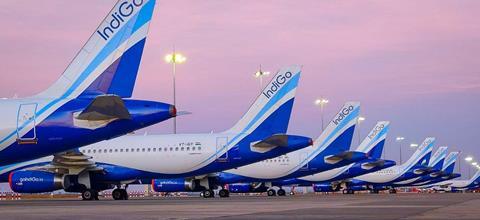 Only in late May did domestic flying resume, but with capacity capped at 30% of an airline's pre-Covid-19 network, and with fare bands in place. Over the course of 2020 airlines were allowed to add more capacity. At present, they can operate 80% of the pre-pandemic domestic network and 28% of their international network.
Dutta and his team were also adamant that employee engagement stay high, which would also translate into a good experience for passengers. This was especially challenging given the company had to reduce its headcount, including the announcement in July 2020 that it would lay off 10% of staff.
The key to retaining morale, says Dutta, involved communication and transparency with company employees. The effort worked, and Dutta says that net promoter scores among employees and passengers have "gone through the roof". Feedback from happy customers far outweighs complaints.
To help tide itself through the challenging times, the airline converted 10 A320s to carry cargo in the cabin – this has subsequently been reduced to six. It also operated more charter flights.
Another focus during the year were key external relationships, namely with lessors and Airbus. Cirium fleets data indicates that IndiGo has 247 in-service aircraft, mainly A320 family jets along with 25 ATR 72-600s. It also has 38 aircraft in storage, all A320ceos, and a massive order book of 605 aircraft – 212 A320neos, 368 A321neos, and 25 ATR 72-600s. Apart from 24 aircraft managed by IndiGo, the balance of the fleet is leased. Bucking a global trend, IndiGo's fleet actually grew over the past 12 months, rising from 255 aircraft in February 2020.
"Our relationship with lessors is a very critical component," says Dutta. "We don't want to subject them to short-term fluctuations. It's not a transaction, it's a relationship. So we were very cognisant of not going back to our lessors and saying, 'Hey, we can't afford this, reduce our leasing rates, etc, etc.' We have so many [aircraft] coming in the future, we don't want to damage our relationships in any way."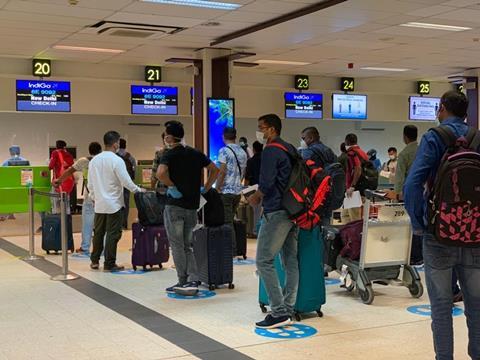 In addition, early issues the airline experienced with the Pratt & Whitney PW1100G powerplants on the A320neo have been resolved, with the engine maker providing both hardware and software fixes. In 2018, a spate of aborted take-offs and in-flight engine shutdowns led to the grounding of 11 A320neos. Two key parts of the engine, its third-stage low-pressure turbine and gearbox, had to be replaced. Dutta says all of these issues were resolved by March 2020, and points out that India's regulators now allow PW1100G-powered A320neos to operate over water.
As for the 605 orders – some of which will replace aircraft exiting IndiGo's fleet – Dutta says that the carrier intends to take full delivery. Depending on how the industry recovers in the coming years, Dutta says that the carrier may even consider ordering more aircraft beyond the 2024-25 timeframe.
IndiGo particularly likes the idea of using narrowbodies on medium-haul international routes. Dutta notes that from its international bases of Delhi, Mumbai, Chennai and Kolkata it can use narrowbodies to reach a "huge geography" including Addis Ababa, Cairo, Moscow, Southeast Asia, China and Korea.
"Our international margins are so attractive; we're really itching to get back on those markets if we can. And we have a great fleet plan that can serve all those markets."
Long-haul flights to more distant markets, however, require widebody jets with business-class cabins. While IndiGo has considered widebody aircraft, Dutta notes that the long-haul low-cost model "has not worked for anyone", and without business-class passengers at the point of origin in India it will be a challenging proposition. For the time being, business-class demand into India is mainly from overseas markets flying into the country, with this sector served by international airlines.
Yet before IndiGo can address such opportunities, there is the reality of Covid-19. In the short term Dutta is hopeful that New Delhi will at some point remove domestic capacity caps from the current 80% level. On the international front, he is hopeful that neighbours such Bangladesh and Sri Lanka start to open up more. Should the international capacity allowance rise to 50% by August, says Dutta, these countries will be the key markets.
Dutta adds that IndiGo's cash position is solid, and that there are no plans for fund raising. In its third-quarter results to 31 December, IndiGo's total cash stood at Rs183 billion, down just 8.5% from Rs201 billion at the end of 2019. Forward bookings also look strong. As for international markets, Dutta is hopeful that 100% capacity can be reinstated by January or February 2022, but he admits that this will depend on the situation with Covid-19.