After turning in a strong 2021 financial performance, Kazakh carrier Air Astana is poised to continue growing as the coronavirus pandemic recedes.
Carrier chief executive Peter Foster says strong domestic demand in Kazakhstan, strong regional yields, and a strong performance of what he refers to as "lifestyle routes" were the key contributing factors to 2021's financial result.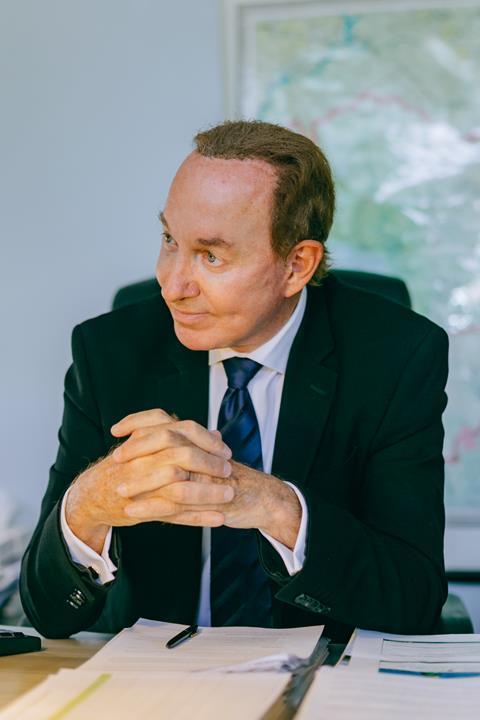 For the full year to 31 December, the airline swung to a profit of $36.1 million, with revenues soaring 92% to $756 million. Moreover, the airline carried a record 6.6 million passengers, with the mainline Air Astana flying 3.5 million passengers and low-cost unit FlyArystan 3.1 million.
"We had a very good year last year," says Foster. "Far, far better than expected."
Foster observes that Covid-19 has driven a shift in the market for lifestyle flying, whereby people visit attractive destinations for extended periods. This helps supplement ordinary short-term holiday traffic.
"People like to get away for longer periods of time now," he says. "I think Covid drove the fact that a lot of people want to go away somewhere agreeable for an extended period, rather than just for the period of a normal holiday."
Key destinations for lifestyle traffic are the Maldives, Phuket, Sri Lanka, and Podgorica in Montenegro. Dubai also remains very popular for longer stays, and the airline sees potential in an upcoming service for Heraklion, Crete. While some of these destinations are seasonal, Foster believes Phuket could have year-round potential.
Supporting this traffic is Kazakhstan's removal of most entry requirements - apart from proof of vaccination.
Indeed, Foster believes that receding Covid-19 presents the biggest opportunity for Air Astana. In the Asia-Pacific, he looks forward to the reopening of the South Korean market owing to the business ties between Kazakhstan and South Korea. The airline also continues to operate limited services to Chengdu, although China remains all but entirely closed.
Still, there are challenges, not least the eruption of war with Russia's invasion of Ukraine.
Foster has direct personal experience of the conflict. He and a colleague had just arrived in Kiev on 24 February when Russia launched its attack. They were in Ukraine to help organise the evacuation of Kazakh citizens, and were staying at a hotel near the airport.
"It was seven minutes past five A.M when the first cruise missiles landed quite close to us," says Foster. "So it was quite an interesting wake-up call."
After spending the following night in the basement of the Kazakh embassy, Foster was part of a "15-car, two-bus convoy" to Poland.
"It was my first and hopefully last experience of being bombed," he says.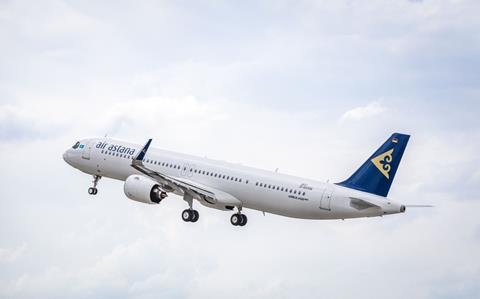 The war has inevitably had operational impacts. Specifically, Air Astana has had to stop flights into and over Russia owing to the withdrawal of insurance cover.
Fortunately, the airline's European destinations are not reliant on Russian airspace. The carrier can serve Europe via a "southern route" that sees aircraft fly due west across the Caspian Sea, over the South Caucasus and into Turkey, along the south coast of the Black, Sea, and finally into Europe via Bulgaria. In this way Air Astana serves Amsterdam, Frankfurt, and London.
Rising fuel prices also present a challenge, but Foster notes that the carrier's hedging strategy helps mitigate this.
Nonetheless, signs are encouraging. Daily utilisation rates for the airline's Airbus narrowbody fleet are up to 11.5 hours, and the airline's Boeing 767-300ERs are operating at "high utilisation rates." One 767 that had been temporarily converted to cargo work was re-purposed back to carrying passengers in October 2021.
As for FlyArystan's nine A320s and single A320neo, Foster says the legacy A320s will be phased out in favor of A320neos, of which six will arrive in 2022 and 2023.
Asked about future challenges, Foster has this to say: "We have gone through so many crises of one form or another in the last three years that we feel pretty resilient now…we have become, we think, quite effective at managing these challenges."
Air Astana Fleet
Manufacturer
Aircraft Sub Series
Total In Service
Airbus
A320-271N neo
5
Airbus
A321-231
2
Airbus
A321-271LR neo ACF
6
Airbus
A321-271N neo
4
Airbus
A321-271N neo ACF
1
Boeing
767-300ER
3
Embraer
E190 E2
5
All Aircraft
26
FlyArystan Fleet
Manufacturer
Aircraft Sub Series
Total In Service
Airbus
A320-232
9
Airbus
A320-271N neo
1
All Aircraft
10
Source: Cirium fleets data