Kazakhstan carrier Air Astana and low-cost unit FlyArystan continue to hold their own amid the coronavirus pandemic, relying on a strong domestic market to drive profitability.
Air Astana recently underlined its resilience by swinging to a first half profit of $4.9 million, recovering from a loss of $66.2 million in the first half of 2020. EBITDA for the first half came in at $91 million.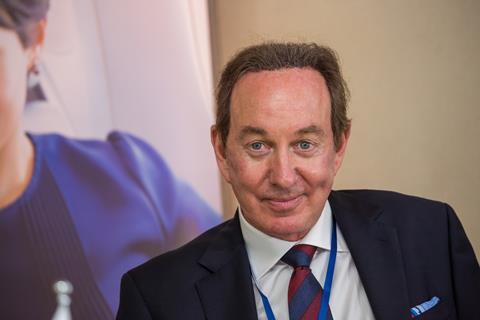 "The airline is performing very strongly," says airline president and chief executive Peter Foster in an interview with FlightGlobal.
Foster notes that generally Air Astana is not profitable in the first six months of the year – even during good years – and therefore he feels the results are "extremely positive" as the airline enters its peak season.
The country's domestic market is characterised by high load factors, and Foster feels that FlyArystan is performing especially well, and stimulating the market with extremely low fares. The average domestic sector fare, inclusive of taxes, is just $38. Foster says the country's fares are among the lowest in the world – especially if the vast distances involved in Kazakhstan travel are considered.
"[Lower fares] have stimulated growth to an extraordinary extent in the domestic market," says Foster.
In its results, Air Astana stated that Kazakhstan's passenger growth in the first half of 2021 was up 31% compared with the first six months of 2019, prior to the Covid-19 pandemic.
As with all countries, Kazakhstan is grappling with the coronavirus pandemic, with cases hitting several thousand daily. According to data from Reuters, 34.4% of the population has received at least one dose of Covid-19 vaccination, while 27% have been fully vaccinated. As for Air Astana's team, 85% have had at least one Covid-19 jab, and 60% have had two.
Air Astana's strong domestic market is offset by a challenging international market, operating at 45% of pre-Covid-19 capacity. Key international markets such as China, Russia, and Southeast Asia remain largely shut. Foster says that the China market has "temporarily disappeared," although Air Astana ran some Chinese cargo charters with a Boeing 767-300ER that was temporarily converted to a freighter.
Capacity is also greatly restricted to Russia. Pre-pandemic, Air Astana operated 30 flights weekly from Almaty and capital Nur-Sultan to Moscow, but now it only operates five services. This stems from government pandemic-related restrictions in both Kazakhstan and Russia.
This has helped push up yields, however, given that there is massive demand for VFR (visiting friends and relatives) and student flights, yet limited supply. This dynamic also applies to other regional destinations such as Bishkek, Dushanbe, Kiev, Tashkent and Tbilisi.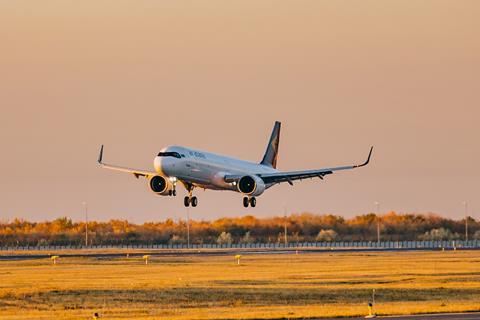 Foster notes that most of these routes are frequency and not seat restricted. This has has seen the carrier up-gauge in some cases. Bishkek, for example, was formerly served with an Embraer E190 E2, but Air Astana now deploys a 767 to the Kyrgyzstan capital.
Another big change wrought by the pandemic is the decline of Air Astana's hub operation, which had contributed 26% of revenue in 2019.
"I can say pretty unequivocally that we are no longer in the sixth freedom business," says Foster. "It is extremely complicated these days to travel through a hub going onto a final destination, particularly if you have to overnight anywhere."
Hub travel creates complications around Covid-19 tests, as well as different regulations, says Foster. As such, the airline is all but entirely focused on point-to-point operations.
Longer term, Foster sees the pandemic fundamentally changing aviation. He believes that business travel will return, but mainly for the purposes of sales visits, negotiations, and situations where face-to-face contact is necessary. What will suffer is travel for internal company meetings.
"I'm not saying [internal corporate travel] will disappear entirely, but I think the frequency of that kind of travel will be massively reduced."
Another significant change will be the rise of what Foster calls "lifestyle travel," whereby people spend more time in holiday destinations beyond the traditional holiday periods, facilitated by the ability to work remotely.
As for the airline industry itself, Foster believes the gap between successful and unsuccessful airlines will only widen.
"There will be a lot of losers…a lot of airlines that struggle for many, many years to redesign their business. Some of those airlines won't make it, and some of those airlines will rely for an extended period of time on government support."
The winners, he says, will be airlines that have not relied on government support, and which have good balance sheets and operate in good markets, with the ability to secure commercial financing.
Air Astana Fleet
Series
Total In Service
Average Age
767-300ER
3
7.7
A320-200neo
5
1.8
A321-200
2
8.7
A321-200neo
4
3.1
A321-200NX neo
5
1.2
E190 E2
5
2.3
All Aircraft
24
3.3
FlyArystan Fleet
Series
Total In Service
Average Age
A320-200
9
8.5
A320-200neo
1
4.9
All Aircraft
10
8.1
Source: Cirium fleets data

Greg Waldron is the Asia Managing Editor of FlightGlobal, responsible for the team's airline, aerospace, and defence coverage across the region. He has worked at the company since 2009. In the airline space, Waldron has conducted dozens of interviews with airline leaders in the Asia-Pacific. He also covers areas such as MRO and safety. On the defence beat, Waldron has written extensively about the rise of Chinese airpower, as well as broader airpower developments around the region, such as indigenous fighter programmes, and regional acquisitions of foreign equipment. In addition, Waldron writes about commercial helicopters in the region and business aviation. Waldron worked has a freelance journalist with his work appearing in several business publications.