In common with many of his European peers, Air Baltic chief executive Martin Gauss is keen to express his support for the people of Ukraine before discussing the impact of Russia's military action on his airline's fortunes.
"There are no words for what is happening in the country," he tells FlightGlobal during the A4E Aviation Summit in Brussels on 31 March.
But unlike many of his peers, Gauss is running an airline based in a country – and operating from two others – whose geographical and historical proximity to Russia heightens both the emotional and, in some cases, practical effects of the conflict.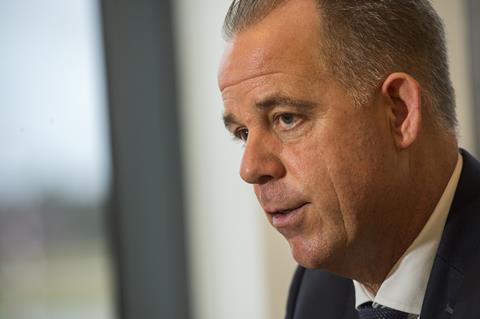 For citizens of the Baltic countries – the airline's Latvia home, plus Estonia and Lithuania – this creates an "extreme solidarity" with the people of Ukraine, Gauss says.
"The Baltic states have been occupied by the Soviet union until 30 years ago," he explains. "The adults were born and educated under occupancy.
"If you have lived like that, your identification with what is happening in Ukraine is a completely different one. And therefore this fighting for your independence… is something which is supported in the Baltic states extremely."
At the same time, "the political leaders are very, very strong on it", Gauss says of Baltic governments. "They are demanding a lot of things."
Furthermore, Air Baltic has "Ukrainian, Russian and Latvian employees working together", he notes.
And those relationships continue because "the Putin regime is not supported by the people in the Baltics", he suggests.
Amid that dynamic, Air Baltic's employees are working with Gauss to counter the practical effects of the conflict on an airline that was only just finding its feet as the Covid-19 crisis subsides.
NETWORK IMPACT
The immediate impact of Russia's invasion of Ukraine for the Riga-based carrier was the cessation of services to both countries.
"The impact for this year, if we don't fly [to either country] for the whole year, is 2.7% of our revenue was planned to be generated with flying to Russia and 6.8% of the revenue in the budget was planned to be coming from Ukraine," Gauss explains.
"We will be offsetting what we can't earn there by flying to the west," he adds, giving the carrier's new Vilnius-Hamburg route as an example. The airline also moved two more aircraft into its ACMI operation.
When it comes to services to Ukraine, "we want to immediately go back" when it is safe to do so, he says of flights to Kyiv, Lviv and Odessa. "We have three aircraft which night-stop in Riga which could immediately reopen that," Gauss states.
Russia, however, is a different story.
Air Baltic suspended services to the country even before tit-for-tat airspace restrictions made that inevitable.
"We terminated flying to Russia because that was first of all becoming difficult as they were jamming the GPS signal," Gauss states.
Then the carrier decided that "we are not doing anything with this regime [in power]".
"That country first has to come to a different way of dealing with other countries," Gauss says. "The world needs certain security before people go back to doing business there."
Within the commercial aviation sector, he cites the example of lessors' failed attempts to repossess aircraft leased to Russian carriers as being reflective of that unworkable business environment.
"We still have money in Russia that is sitting in a bank account," he adds. "Of course, it will not come back."
Another practical concern resulting from the conflict is even higher fuel costs, which are particularly challenging for a carrier that has no hedging in place for 2022.
"Of course, we have [Airbus] A220s that help a little bit because they do not consume as much fuel, but we are unhedged this year," Gauss says.
Helpfully, however, "we planned on a pretty high fuel price this year because of being unhedged".
That is why Gauss is confident that Air Baltic "can handle" the higher costs.
Of the other effects of the conflict, airspace restrictions have had an impact on Air Baltic's broader network plans.
Flights to Egypt, Dubai and Georgia take longer, but are still "working for us on profitability", Gauss insists.
The launches of routes to Baku and Yerevan have been postponed, however, with Gauss noting the flights would not make sense economically, "even with high load factors".
Gauss further states flights are "slightly disrupted" by the slot-constrained air corridor heading into Lithuania, which is sandwiched by Russian enclave of Kaliningrad on one side and Belarus on the other.
"We are flying around via Sweden and then coming down," he says, but that is a maximum "10 minute" addition to some flights.
"So, all the Western flying is not impacted, what is impacted is the flying to the east and southeast," Gauss says.
OUTBOUND OFFSET
In demand terms, Gauss is not unduly concerned about a drop in inbound traffic as a result of the conflict – which has been most notable among corporate flyers – saying the carrier is offsetting the impact with more outbound traffic.
"Because of the pictures you see on TV of the weapons and all of that, the pictures speak," he says of factors that are moderating demand for travel to the Baltic states.
"In another four weeks – and I hope the war is ended by then – it could be that the situation is accepted as the new normal, then the tourism agencies of the different countries can say 'it's not only weapons there, there are also lakes and forests and you can have a good holiday'," he adds.
Gauss takes some heart that with booking windows still short following the Covid-19 crisis, "there is some time and every day now you can see that the impact of the war on the behaviour of the passenger is easing".
Nevertheless, "one stupid message in the media about this war can again change it", he states. "So it's still volatile."
But should the Ukraine situation not worsen and no new crises emerge, "I think we will see a good summer", he adds.
As that plays out, Air Baltic still plans to take seven more A220s this year, boosting its current fleet of 33 units.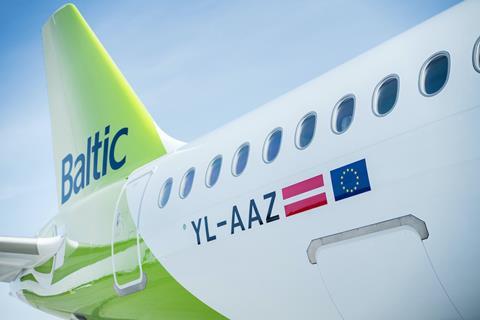 As of late March, some 11 of those jets are flying on wet-lease deals with Eurowings and SAS.
Gauss notes that including those ACMI flights, Air Baltic is "already larger than it was in 2019" in capacity terms. But within the carrier's own network, it is expected to hit 80% of pre-crisis capacity in the summer.
Amid that capacity recovery, Air Baltic is likely to receive another batch of government aid, having received injections worth €250 million and €45 million so far during the pandemic.
"We might receive another €45 million, which we have asked for, and that's it," he states.
The plan is to repay the aid with proceeds from a long-discussed IPO, as is mandated in the European Union's decision to approve the funds.
"We want to get out of the crisis with that [aid] and then repay it with the IPO," Gauss states, adding that the listing is "planned now earliest in 2024".
His confidence in Air Baltic completing that journey is boosted by strong demand fundamentals – particularly outbound journeys from the Baltic states – despite the dual challenges of the pandemic and war in Europe.
"Passengers want to fly," he says. "People want to meet, people want to gather.
"We as an airline are connecting people and with that we want peace."