Over the course of the shared years since Air France and KLM came together it has always been the French carrier whose challenges have dwarfed those of its Dutch partner.
KLM last year once again outperformed its sister airline in posting an operating profit of €706 million ($780 million) versus the €483 million profit of Air France. That has been the case in all but one of the past 10 years.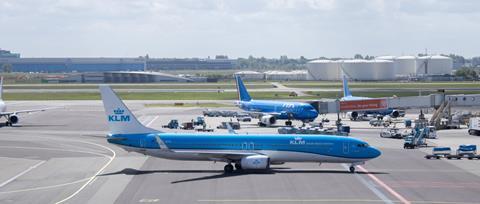 The Dutch carrier's operating loss of €128 million for the first three months of 2023, disclosed today, was also lower than the €181 million loss its French partner posted for the same period.
Yet while this marked a roughly halving of Air France's loss over the same period in 2022, KLM had by contrast reported a small operating profit for the first quarter of 2022.
Speaking during a group first-quarter results call today, KLM managing director and chief financial officer Erik Swelheim highlighted the role a Covid furlough support scheme that it benefited from last year played in the lower figure this time around.
"Last year we had a result that was close to breakeven. This year it was a loss. But if you correct that for the furlough schemes [in place Q1 2022], it is more or less the same result, and we are quite optimistic – as Air France-KLM is – for the rest of the year. The summer forward bookings are extremely good, so you will see a result for the full year improving," he says.
KLM's fortunes had also been hit by the well-documented operational challenges at Schiphol, which blighted the ramp-up in services last year and saw some capacity restrictions run into this year.
"In the first quarter our clear priority was to get our operations stable and we succeeded quite well in that, so we had a very good operational result," says Swelheim.
Even if Schiphol is over the worst of its operational challenges, KLM faces further uncertainty from Dutch government proposals to cut capacity at the airport as part of an effort to counter noise pollution. While airlines have successfully appealed a move to begin reducing flight movements at the airport from this winter, the threat of reduced capacity at Schiphol from winter 2024 remains.
"We are working hard to find other solutions as opposed to a strict slot reduction," says Air France-KLM group chief executive Ben Smith. "There will also have to be a European Commission approval of the Dutch state's proposal, which has yet to be ruled on.
"So we are cautiously optimistic that something will be put in place that does not derail our medium-term plans."
On the French side of things, the group continues work on revamping its Paris Orly short-haul operations. "We are transforming the bulk of our Orly operation from Air France regional operator Hop and some Air France services, which were extremely loss-making prior to the crisis, and we are converting those slots over to Transavia-operated flights and we are moving capacity away from the domestic market to be on European services," Smith explains.
"We are getting the airplanes in there as quickly as possible. Transavia is hiring pilots, training pilots, as quickly as possible. We are moving that capacity as quickly as we can."
Transavia's operating losses almost doubled in the first quarter to €172 million, though again that in part reflects Covid furlough schemes last year.
"It is a transition period, we are on track," Smith adds. "We did have to deal with some air traffic controller strikes and the bulk of them at Paris were at Orly airport – those were mitigated but still caused a lot of operational challenges."
AIR FRANCE-KLM 'ON TRACK' FOR MARGIN TARGET
Air France-KLM's group operating loss of €306 million for the first quarter was a reduction of €44 million over the first three months of last year – a quarter aided by the positive impact of €210 million from state Covid furlough schemes.
The operating performance came off the back of a sharp jump in revenues to €6.3 billion – above pre-pandemic levels even though passenger capacity is still only at 92% of pre-Covid levels.
Air France-KLM chief financial officer Steven Zaat explains: "We see that we grew our business, so also grow the losses because the first quarter is always a loss-making quarter and we were also held back by the operational climate where we were operating. So we saw strikes in France, we had at the same time aircraft on the ground [due to maintenance] at Transavia in the Netherlands and we still had the Schiphol situation.
"The load factor is high, we see that the bookings are coming in, the yields are improving and also fuel [cost] is going down, so that is very promising in the quarters to come.
"If you see the yields, you see they are very strong. They are above the 20%. We saw indeed that the yields are holding strong and getting even better during this quarter."
He adds: "We don't guide for the full year, we give a guidance for the mid-term. The fuel price going in this direction, with the strong yield environment, we are very much on the right track to reach that 7-8% margin [between 2024-26]."