As Southeast Asian governments steadily remove barriers to travel, AirAsia is firmly back in expansion mode.
AirAsia Aviation Group chief executive Bo Lingam contends that as the region opens, the real challenge is getting enough aircraft back into service amid strengthening demand.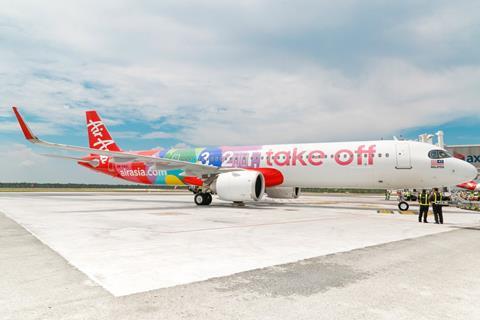 "I think we are steadily seeing an increase in the number of people travelling…and a lot of people are travelling out of the country, and a lot of people are coming into the country," he says.
Speaking to FlightGlobal, Lingam notes that foreigners have started returning to popular Malaysian destinations such as Penang, and that travellers from India are starting to return in force.
AirAsia is riding a strong trend. In the first quarter of 2022, the removal of travel restrictions saw AirAsia Malaysia carry 2.8 million passengers, up nearly six-fold from a year earlier. AirAsia Philippines, Indonesia AirAsia, and Thai AirAsia also notched up improvements.
Malaysia spent most of the last two years all but entirely shut off from the world. Local travel was also curtailed as Kuala Lumpur grappled with the coronavirus pandemic. Successful vaccination drives locally and the region have finally allowed governments to remove onerous restrictions.
This trend continues on 1 May, when Malaysia will drop all Covid-19 tests for air travelers, following the lead of Singapore and Thailand. The removal of inconvenient tests – not to mention quarantines – is a big green light for the region's travelers, pushing up requirements for capacity and getting aircraft out of storage.
Slots at AirAsia's MRO unit – Asia Digital Engineering – are also packed. For the time being the unit has one hangar in action at Kuala Lumpur International Airport, with a second on the verge opening. A third is due to open at the beginning of June in Malaysia's southern Johor state.
This MRO capacity will allow AirAsia to speed up checks for returning aircraft to service, and allow it to also dispatch more aircraft to its Indonesia AirAsia and AirAsia Philippines units.
For the time being, AirAsia's core Malaysia unit has 45 Airbus A320 family narrowbodies in service, and this is expected to rise to 65 by June. Lingam adds that all of the carrier's Southeast Asia units should have two thirds of their fleet back in action by the end of 2022.
Lingam says that getting flight and cabin crews back is not an issue. While large numbers of staff were furloughed in the depths of the crisis, they were able to make do with other work while they awaited the recovery of air travel. He notes that AirAsia has started recruiting again, and pilot cadets are returning to flight school.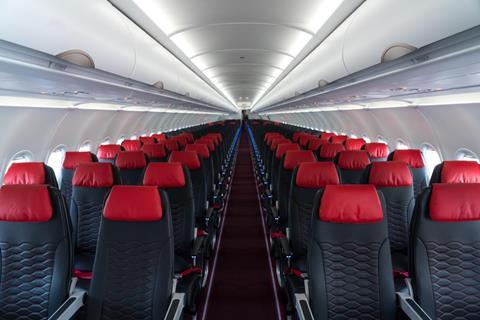 Lingam says that 100% of AirAsia Malaysia's pre-pandemic domestic route network has been restored, but that the airline is only serving 17-18% of its pre-pandemic international routes. He says international will ramp up quickly, however, with AirAsia set to operate 30% of its pre-pandemic international routes from May.
Upcoming Southeast Asia route reboots include services from KL to Chiang Mai, Krabi, Vientiane, Yangon, Phu Quoc and others. In addition, the airline will re-start flights to the Indian cities of Hyderabad, Kochi, and Kolkata.
More flights are also envisaged to Malaysia's close neighbor, Singapore, with services to the city state to be re-booted from East Malaysia leisure destinations Kota Kinabalu and Miri. Lingam adds that Singapore aims to reopen Changi Airport's Terminal 4 in August – early in the pandemic, Changi shut Terminals 2 and 4, leaving Terminals 1 and 3 open.
Although Southeast Asia is starting to look like its pre-pandemic self, there is one epic change: the absence of China. Travel restrictions stemming from Beijing's 'Zero Covid' policy have effectively cut China off from the world. Hong Kong has followed suit. Other north Asian countries have also been slow to open, namely Japan and Taiwan.
Lingam acknowledges that China accounted for 18% of the AirAsia Group's traffic before the pandemic. He feels, however, that Southeast Asia's market of 700 million is ample to power a reboot for the region's airlines. He expects a strong focus on regional travel, with Southeast Asians eschewing longer-haul trips to Europe and USA for the time being.
A recent significant change for AirAsia was the rebranding of AirAsia Group to Capital A, in a move designed to better reflect the company's broader portfolio. In the fourth quarter of 2021, Capital A derived 64% of total revenue from Lingam's AirAsia Aviation Group. A major thrust of Capital A chief executive Tony Fernandes has been the development of AirAsia's App, which offers users a number of services beyond air travel.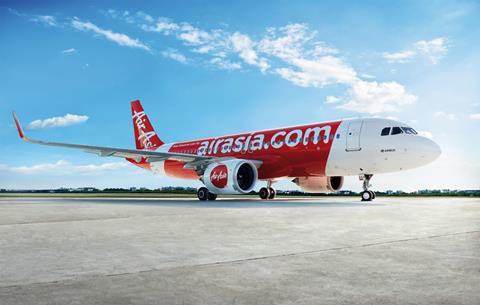 From a strictly aviation perspective, Lingam says the group's overall digital strategy has had a big impact on the airport experience. This has largely manifested itself with check-in, with about 95% of passengers checking in using the App. The App also, crucially, reflects one's vaccination status.
AirAsia could also see a new unit in the coming months. While Lingam denies to name the country where a new AirAsia affiliate could spring up, he estimates that it could reasonably be operating 20 A320 family aircraft within five years.
All in all, Lingam is upbeat beat about the recovery, but he has concerns.
"The only thing I'm a bit concerned about is the price of fuel," he says. "As far as possible, I want to remove any fuel surcharges. Whenever fuel prices are low we can afford to do that. The next most important one is the supply chain, which has affected all of us."
In regard to the supply chain for spares and parts required for checks, AirAsia has been proactive about placing orders in advance. He notes that lessors and some suppliers he speaks to are particularly challenged on this front.
"The supply chain issue is not that bad for us because we have been planning for quite some time, and the inventory management system between Thailand, Indonesia, the Philippines and Malaysia." He also notes that nearby Singapore is a big repository of spare parts for key aircraft types.