While a consolidation of its various airline interests has been in the works for Tata Sons ever since it acquired Air India in January, confirmation this week of plans to merge Vistara into an enlarged grouping illustrates the scope of ambition for the revamped carrier.
Tata, which holds a 51% stake in Vistara, has reached a deal with 49% shareholder Singapore Airlines to merge Vistara into Air India which it hopes to complete by March 2024.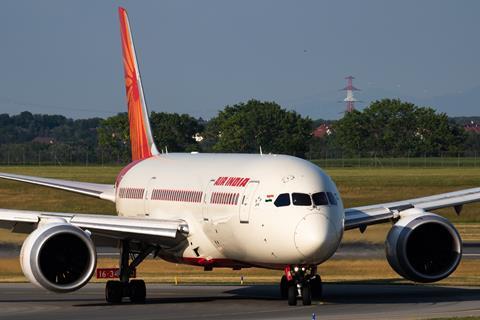 That comes after an earlier deal through which Tata took full ownership of AirAsia India under plans to ultimately merge it with Air India Express.
Tata Sons chairman Natarajan Chandrasekaran says: "We are excited with the opportunity of creating a strong Air India which would offer both full-service and low-cost services across domestic and international routes."
Notably SIA is joining Tata in the project. It will take a 25.1% shareholding in the enlarged group with an initial investment of Rs20.6 billion ($250 million), and could inject a further Rs50 billion as part of its share in supporting the carrier's future growth and expansion.
It shows the continued significance of the Indian market for SIA and its multi-hub strategy, which seeks to mitigate the group's reliance on a tiny home market with no domestic network – a strategy reiterated by chief executive Goh Choon Phong earlier this month.
It is also a reminder of the significant challenge Air India's new owners face in transforming the loss-making and indebted flag carrier, in a market that has often been big on potential but less so on execution from airlines. And while the mergers will remove a couple of rivals, the ambitions of start-up Akasa Air and a revamped Jet Airways show the environment is likely to remain as competitive as ever.
Capital A, meanwhile, having divested its 16% stake in AirAsia India, has itself also this week unveiled a wider restructuring plan which will bring its airline assets, comprising its various AirAsia short-haul units, together with separate medium-haul operator AirAsia X.
While the move forms part of Capital A's efforts to address the PN17 status – a categorisation by the Malaysian stock exchange for distressed entities – it also reflects how the carriers have in recent months have began overlapping areas of operations.
Read this newsletter edition for free by signing up to the Airline Business Weekly Briefing