As Covid-19 travel restrictions are relaxed in some key airlines markets, the return of international in-person events is a growing trend – and an important one for an industry that would struggle if Zoom became the default setting for business networking.
Early indications are positive.
The Airline Strategy Awards – our own event, which is organised with partner Korn Ferry – took place on 27 September in London.
The awards, which have been held since 2002, recognise individuals, airlines and companies that have demonstrated dynamic leadership and clear vision, this year with a particular focus on outstanding performance during the Covid-19 pandemic.
We were delighted to welcome Delta Air Line chief executive Ed Bastian to London, as he collected the Executive Leadership Award on the night, with judges impressed by his skillful guidance of the US major before and during the current crisis.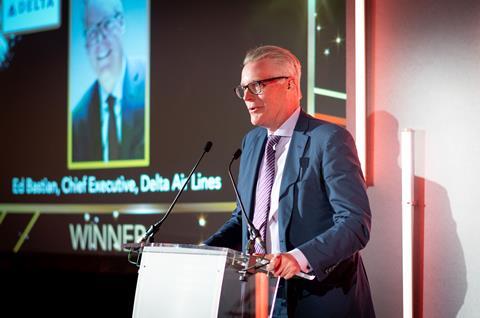 The founder of Breeze Airways, David Neeleman, received the Airline Business Award, recognising his three decades as an industry innovator. During that time, his unique talent for understanding customer needs has been reflected in the launches of successful carriers such as Azul, JetBlue Airways and WestJet, and most recently with Breeze.
The other winners on the night were Copa Airlines chief executive Pedro Heilbron, Wizz Air chief executive Jozsef Varadi, Ethiopian Airlines chief executive Tewolde GebreMariam, and the leadership teams at AirAsia and Alaska Airlines.
While some winners were blocked from picking up their awards in person by UK travel restrictions, an international audience of attendees and sponsors made for a reinvigorating evening that felt refreshingly 'normal'.
Next week sees IATA's AGM and World Air Transport Summit take place in Boston, with the latter an in-person-only event.
IATA director general Willie Walsh told us this week that the airline association is "very keen to demonstrate that we're back doing business face-to-face".
We can attest that being back in a room with friends and colleagues certainly feels good.
Subscribers to the Airline Business newsletter receive the Weekly Briefing first every week. For more information, click here.