The flurry of airline sustainability announcements this week reflects both the industry's desire for progress on the issue and the limited scope for achieving positive steps in today's world – beyond well-established levers such as buying current-generation aircraft and optimising flight paths.
Where progress is possible on sustainable aviation fuel (SAF), for example, the quantities involved barely touch the sides.
Cathay Pacific on Wednesday launched a pilot scheme allowing corporate customers to purchase SAF for passenger and cargo flights.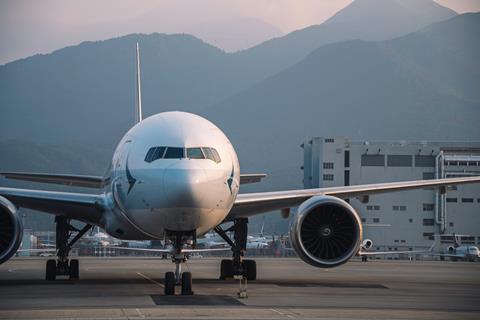 Following in the footsteps of other operators including Air France-KLM, Lufthansa and United Airlines, it claims to be the first airline in Asia to launch such a programme.
In the case of Cathay Pacific and a SAF announcement on the same day from Ryanair, however, the quantities of fuel involved are extremely limited – and are likely to be for some time.
More than one airline chief executive has pointed out in recent months that even if their carrier took all of the world's available SAF this year, it would only power their fleet for a few days.
Airlines will argue that announcements such as those made this week show the industry's strong desire for the scaling-up of SAF production – and that other stakeholders such as governments, regulators and the energy sector need to do their bit to deliver quantities on an industrial scale.
Indeed, a bilateral arrangement between New Zealand and Singapore, also announced on Wednesday, reflects the early stage many governments are at in terms of addressing the need for better SAF availability, among other initiatives, on the path to net-zero.
The agreement will see the two countries work together on sustainable aviation efforts, covering policy and regulation, industry development, infrastructure planning, as well as workforce transformation.
The to-do list is long.
Etihad, meanwhile, continues to be one of the most vocal carriers on the subject of sustainability.
This week it announced a temporary intensification of its research on the issue to coincide with Earth Day, notably including work on addressing the environmental impact of contrails. That effort reflects the fact that while much of the focus of aviation sustainability efforts is on CO2 emissions, the challenges do not end there.
It may have been a momentous achievement for the global industry to agree to a net-zero target at last year's IATA AGM, but the hardest work is still ahead.
Subscribers to the Airline Business newsletter receive the Weekly Briefing first every week. For more information, click here.