FlightGlobal's latest annual C-suite survey uncovers positive stories amid overall glacial progress on appointing women to top roles
The crisis-hit global airline industry continued its slow but consistent progress towards gender parity in the C-suite during 2021, with standout progress in some key areas – including a doubling of the number of women leading carriers.
Overall, some 15% of executive roles surveyed in early December 2021 were taken by women, marking a one-percentage-point increase from the 2020 survey.
Among the key developments over the past 12 months, JetBlue Airways became the first airline in five years of surveys to have a majority of women employed in its executive line-up, as North America again led the way in terms of regional performance. At the same time, the number of female chief executives rose from three to six.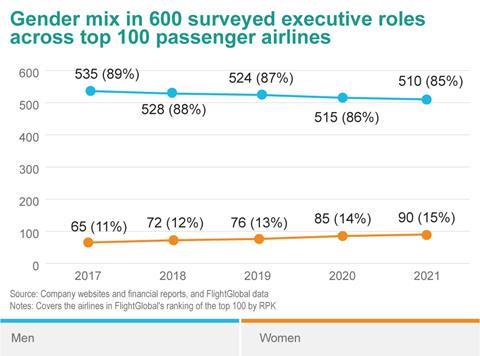 Those talking points and more emerged from FlightGlobal's latest survey of women in the C-suite at airlines, which looks at the gender balance among the top 100 passenger carriers – taken from FlightGlobal's World Airline Rankings based on 2019 traffic for the second year running, to avoid short-term Covid impacts – across six executive roles.
Overall, the data suggests the industry has some way to go to meet the goals of IATA's landmark 25by2025 initiative, which has a headline target to increase the number of women in top airline roles.
But the incremental improvements being seen in FlightGlobal's surveys chime with experience on the ground – and perhaps hint at some carriers taking the issue seriously.
Speaking about IATA's 25by2025 initiative in mid-December during a CAPA Live event, SkyTeam alliance chief executive Kristin Colvile – the first woman to lead a global airline alliance – notes that all carriers in her grouping acknowledge the importance of improving the gender mix in leadership teams.
"There is great change happening in this industry," she states. "There is a whole wave of airlines signing up for [25by2025]."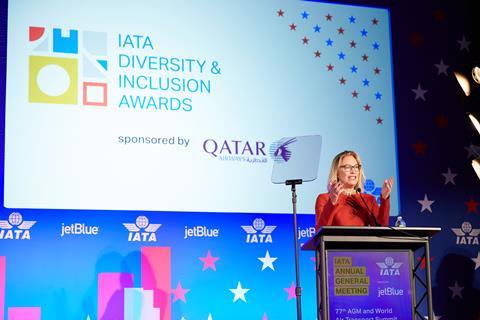 Colvile acknowledges that gender diversity might not have been a top priority for airlines when they were in "barebone survival mode" during the pandemic, but that carriers have "absolutely gone back to 2019 priorities" in recent months.
Indeed, the industry's upheaval has been "an opportunity for candidate slates to be more gender diverse", Colvile states.
And with the number of female chief executives at airlines rising, "now we have female leaders that are showing us a path, they are showing us what can be done", she adds.
That matters greatly, IATA's head of diversity Jane Hoskisson told FlightGlobal in October.
"The reality is that lots of women are coming into the industry and they want to see those role models, they want to see that possibility, because they are surrounded by men who got there," Hoskisson states.
Crucially, Hoskisson insists that embracing diversity and inclusion helps to create fundamentally better and more successful companies.
"Research will tell you that if you have true diversity you have better business results," she says.
Hoskisson also notes that the industry "needs to be attractive to a diverse group in future generations".
HEADLINE FIGURES
At 15% of the 600 positions surveyed in early December 2021 – covering chief executive, chief financial officer, chief operating officer, chief commercial officer, chief information officer and HR director, or their equivalents – the proportion of women in top roles at the largest airlines in 2021 ticked up by a single percentage point for the fourth year in a row.
Based on a continuation of the one-percentage-point increases seen since 2018, the airline industry would reach gender parity among top executives in the mid-2050s.
In absolute terms, 90 of the 600 roles surveyed in 2021 were taken by women. That figure drops to 50 of 500 roles – or 10% – when HR director is removed from the data.
Increases in female representation were seen in the three biggest airline markets: Asia-Pacific, Europe and North America. The smaller regions, however, offset those increases to some extent, as numbers there fell.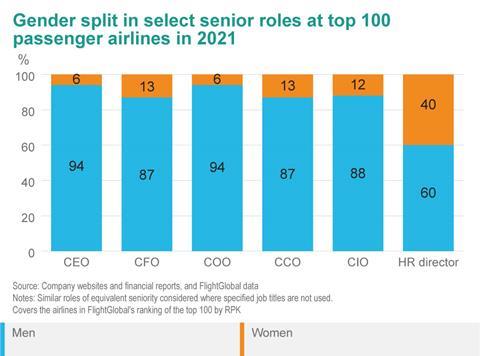 The total of 90 women in C-suite roles marks a slowing in the year-on-year increase – at 6%, or five women – from that seen in the 2020 survey, when the 85 female incumbents marked a rise of nine – or 12% – from the 2019 survey. The recent numbers compare with rises of 5.5% (four women) in 2019 and 11% (seven women) in 2018.
But looking beyond the slow progress being made overall, there have been some encouraging developments.
TOP AIRLINES
With four of the six positions surveyed in its executive team taken by women, JetBlue was a standout performer.
The New York-based carrier employs Ursula Hurley as chief financial officer, Joanna Geraghty as president and chief operating officer, Carol Clements as chief digital and technology officer and Laurie Villa as chief people officer.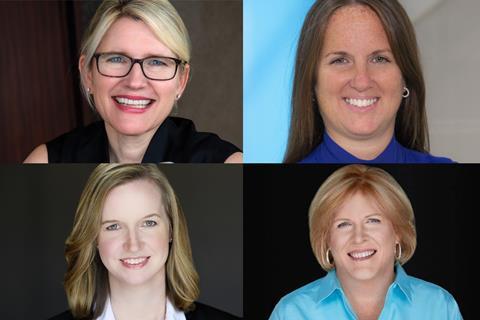 In all four of FlightGlobal's previous annual surveys of women in the C-suite, the best performance has been a handful of carriers achieving a 50:50 gender split across the roles.
But despite its standout performance, the carrier is not resting on its laurels.
"Of my 10 direct reports, six are women," said JetBlue chief executive Robin Hayes during a CAPA Live event in October. "And of my 10 direct reports, eight are diverse.
"I think we still have a lot more work to do, but I'm pleased with the start that we've made."
Crucially, Hayes says, "you've always got to pick the best candidate for the job", with better diversity being achieved "by making sure you have a strong pipeline of diverse candidates when those positions come up".
And airlines have "got to do it in a way that everyone buys into it", he states.
Hayes notes that while JetBlue has a "very diverse workgroup on the frontline… it's not diverse enough as you get into more leadership positions or higher paid jobs like being a pilot".
As part of long-term changes introduced to address that challenge, JetBlue has created "pathways to make it easier for frontline crew members to get jobs in our support centres".
Hayes explains: "We take frontline crew members who want to be pilots and we train them to be pilots. We've been doing that for a number of years now, we've added some new programmes last year. That's part of our long-term commitment to making sure that the pipeline of diversity is rich and sustainable."
The strength of JetBlue's performance is demonstrated by how few airlines even achieved a 50:50 gender split among their executives in the survey. That milestone was recorded by Air New Zealand, Southwest Airlines, TAP Air Portugal and VietJet.
That left 95 airlines with two or fewer female executives in the six surveyed roles.
CHIEF EXECUTIVES
FlightGlobal identified six women leading airlines among the top 100 carriers at the end of 2021. That is the highest number in five years of data and represents a doubling from the number recorded in the 2020 survey.
Boosting female representation, Lynne Embleton took over as chief executive of Aer Lingus in early April, Annick Guerard was named as the new leader of Air Transat in late May, and Christine Ourmieres-Widener was appointed chief executive of TAP Air Portugal in late June.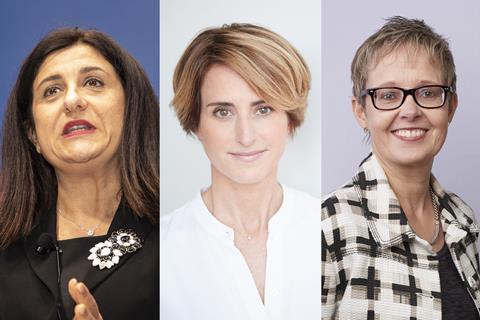 The overall number would have been higher had Richard Clark not been appointed as director general of Air Europa in July, replacing long-serving Maria Jose Hidalgo, who continues to work as co-chief executive at Air Europa parent Globalia.
Air France's Anne Rigail, VietJet's Nguyen Thi Phuong Thao and Virgin Australia's Jayne Hrdlicka are the other female chief executives in the survey.
In a potential boost to the 2022 data, Lufthansa Group announced in December that Annette Mann would take over as Austrian Airlines chief executive in March.
OTHER ROLES
Aside from the chief executive position, the other roles to see numbers move in the right direction were chief operating officer and HR director.
As with the chief exective role, the increase in female chief operating officers was from a low base – in this case a rise from four to six.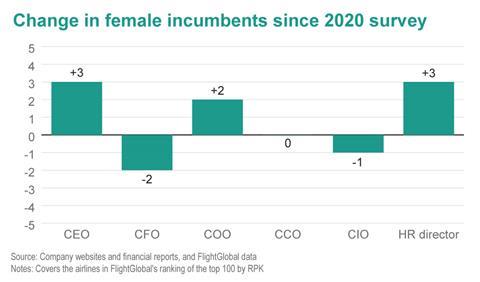 From a much higher base, the number of women working in the HR director role increased from 37 to 40.
Removing the latter role from the data – which is often excluded from the group of top decision-makers among executive teams – leaves an increase of just two female incumbents compared with the 2020 survey.
REGIONAL SPLIT
The top 100 passenger airlines ranking is dominated by carriers based in Asia-Pacific, Europe and North America.
The latter continues to lead the way in terms of female representation among executives, with women taking 23% of roles at the 15 North American airlines included in the top 100. Nine of the 21 women, however, were in the HR director role, which has traditionally seen stronger female representation even before the industry identified gender diversity as a focus.
The North American total is flat with the 2020 survey in percentage terms, but rounding disguises a slight improvement in absolute numbers.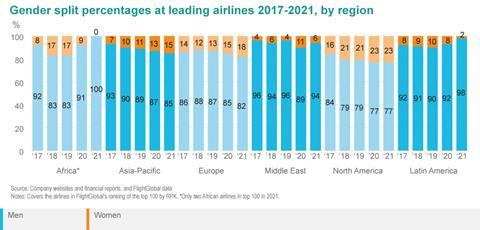 North American carriers perform particularly strongly when it comes to female chief information officers, accounting for five of the 12 across the top 100 airlines. The region also accounts for three of the 13 female chief financial officers and two of the six women in the chief operating officer role – including Alaska Airlines' Constance von Muehlen, who took up the role in April 2021 – but only one of the 13 female chief commercial officers.
The consolidated nature of the North American industry, compared with other regions, means it has a smaller influence on the overall survey data than Europe and Asia-Pacific, from where a larger proportion of the top 100 airlines are drawn.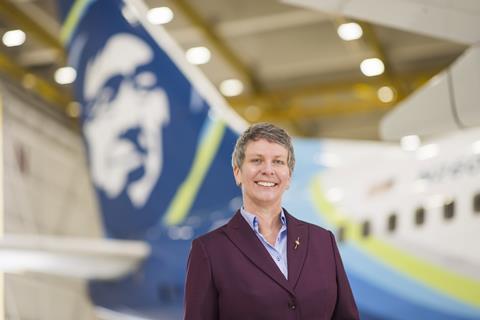 Europe is the next strongest performer, with 18% of surveyed roles taken by women among the 32 airlines in the top 100. That marks a continuation of a gradually improving dataset since the 2018 survey.
The region was the strongest performer when it came to female chief executives among the top 100, accounting for three of the six. In other roles, European airlines employee three of the 12 female chief financial officers, three of the six chief operating officers, six of the 13 chief commercial officers – including EasyJet's Sophie Dekkers, who was appointed at the end of 2020 – two of the 12 chief information officers and 16 of the 40 HR directors.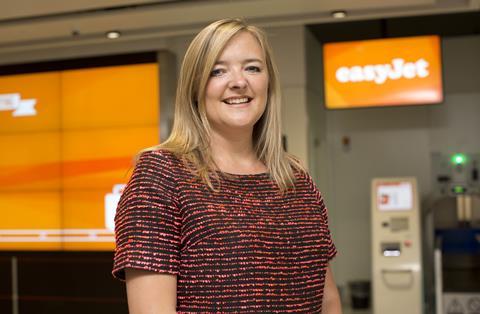 Asia-Pacific carriers have a particularly strong presence in the top 100, accounting for 35 of the airlines. The region has seen a steady increase in female representation among executives since the first FlightGlobal survey in 2017, although at 15% of incumbents, it is still behind the two other big regions. There is a wide range of performance within that data, however, with Chinese, Japanese and South Korean carriers tending to lag the diversity seen in other parts of the region.
The Asia-Pacific region contributes seven of the 13 female chief financial officers among the top 100 carriers – including Rebecca Sharpe, who took the role at Cathay Pacific in January 2021 – alongside two of the six chief executives. It features only one of the six women in the chief operating officer role, six of the 13 in the chief commercial officer position, four of the 12 chief information officers and 11 of the 40 HR directors.
In the Middle East, only three of 48 surveyed positions were taken by women among the eight airlines in the top 100 – all of them in the HR director role.
Latin American carriers employed just one female executive among the 48 surveyed positions across eight airlines. Notably, however, the region lost two female chief commercial officers to European airlines in the past 12 months: Carolyn Prowse moved from Volaris to IAG low-cost carrier Vueling in May, while Silvia Mosquera switched from Avianca to TAP Air Portugal in July.
Among the two African carriers in the top 100, no female executives were recorded. The region is, however, known for demonstrating a better gender mix than others when the net is cast to include smaller operators.
OUTSIDE THE TOP 100
Examples of female airline leaders outside the top 100 carriers include RwandAir's Yvonne Makolo, Wingo's Carolina Cortizo, Blue Air's Oana Petrescu, HK Express's Mandy Ng, Transavia France's Nathalie Stubler, Lufthansa Cargo's Dorothea von Boxberg, Cape Air's Linda Markham, Indonesia AirAsia's Veranita Yosephine Sinaga, and Atlantic Airways' Johanna a Bergi.
WIDER ECONOMY
With 6% of top airline chief executives being women, the industry is on par with the gender mix seen among S&P 500 companies, according to data from global non-profit organisation Catalyst.
Recent research by the Cranfield School of Management, meanwhile, shows that 8% of UK FTSE 100 companies have female chief executives – slightly ahead of the airline industry.
But it is in other roles within the C-suite – and when mid-sized companies are thrown into the mix – that the airline industry tends to significantly lag the wider economy.
Grant Thornton's Women in Business 2021 report – which considers thousands of mid-sized businesses from around the world – shows how significant this disparity is in some cases.
In 2021, Grant Thornton's survey showed some 36% of chief financial officers were women, compared with 13% in the airline industry.
For chief operating officer the numbers were 22% in Grant Thornton's survey and 6% in the airline industry; for chief commercial officer the numbers were 19% and 13%, respectively; and for chief information officer the figures were 21% versus 12%.
The airline industry is slightly ahead of Grant Thornton's figures for HR director, at 40% versus 38%.
But for chief executive, Grant Thornton shows 26% of incumbents at mid-sized businesses being women, versus 6% in the airline industry.
NOTES: FlightGlobal's survey of gender diversity in the top 100 airlines is based on publicly available data. The primary sources are company websites, financial reports and FlightGlobal data. Research was undertaken through to early December 2021. Given the fluid nature of employment, the survey can only give an indicative snapshot of the industry. For the second year running, the 100 airlines and groups surveyed are drawn from FlightGlobal's 2020 ranking of carriers by full-year 2019 revenue passenger-kilometres (RPKs). This is to avoid the data being skewed by the short-term impact of Covid-19 on the 2020 RPK data. Where airlines ceased operations between surveys, carriers from just outside the top 100 have been incorporated into the data. Similar roles of equivalent seniority are considered where the specified job titles are not used.