Just weeks ago, IATA painted a positive picture of the outlook for this year. But events so far suggest it might not be such an easy ride
If airlines were hoping for a quiet start to 2020, several events at the turn of the year have served as a reminder that nothing should be taken for granted.
Barely two weeks into January, and a raft of developments inside and outside the industry have touched on topics including aircraft safety, security, airspace restrictions, fuel prices, trade tensions, Boeing's 737 Max woes, an operator close to collapse, and scrutiny of carriers' environmental footprints.
In mid-December, industry association IATA's forecast for the coming 12 months had highlighted a "somewhat brighter" outlook, as it predicted that industry profits will rise to $29.3 billion in 2020.
"Slowing economic growth, trade wars, geopolitical tensions and social unrest, plus continuing uncertainty over Brexit all came together to create a tougher than anticipated business environment for airlines," said IATA director general Alexandre de Juniac of the previous 12 months. "Yet it appears that 2019 will be the bottom of the current economic cycle and the forecast for 2020 is somewhat brighter."
While IATA might not be revisiting its forecast just yet, it has been a disconcerting start to the decade for those banking on a more benign operating environment.
The fallout from the killing of Iranian general Qasem Soleimani by the USA has been at the heart of some of those developments.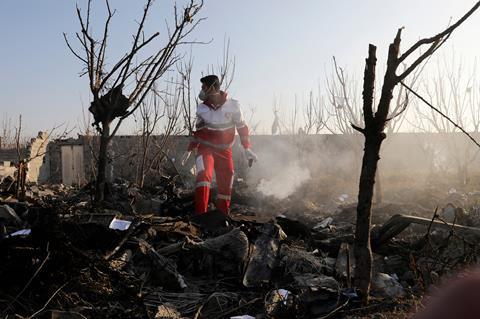 The 8 January loss of a Ukraine International Airlines Boeing 737-800 near Tehran's Imam Khomeini airport, which killed all 176 people on board, thrust the safety of commercial aviation into the spotlight again.
That comes at a time when Boeing's 737 Max crisis was already weighing on sentiment towards the sector.
Claims from the USA and Canada that the UIA 737 was likely brought down by a missile strike were eventually confirmed by Iran.
The aircraft was "accidentally hit by a human error" from an air-defence unit that was on high alert amid heightened tensions in the region, Iran's armed forces stated three days after the crash.
A week before the UIA incident, the airline industry was receiving generally positive coverage following a reduction last year in the number of fatalities from air accidents, despite the crash involving a Bek Air Fokker 100 at Almaty on 27 December, which killed 12 people. Freshly released figures for 2019 showed a significant improvement on those for 2018 (although some observers have pointed out that 2018's figures were on the high side in terms of the recent trend).
WHY AIRLINES WILL BE CONCERNED ABOUT OIL PRICES
Among other consequences of Iran-USA tensions, airlines across the world faced an uneasy wait to see how the market would respond as geopolitical tensions heightened between two of the world's largest oil producers.
In its outlook for 2020, IATA had cited an "expectation in oil markets that fuel prices stay relatively subdued" – welcome news for airlines.
Brent prices spiked when Iran launched retaliatory attacks on two US bases in Iraq on 8 January, rising to more than $70/barrel and close to 2019's high point. The next day, however, they fell back to around $65/barrel.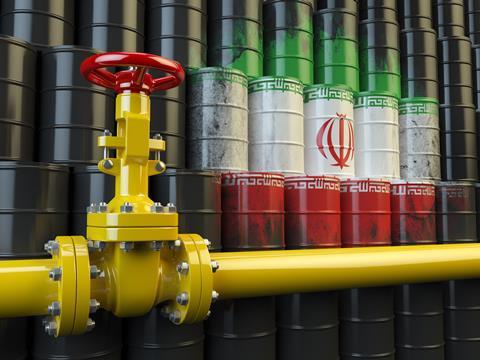 Analysts point out that short-term geopolitical unrest is unlikely to have more than a fleeting impact on oil prices, and a perceived de-escalation of tension between the USA and Iran brought hope that the spike would not translate into anything more fundamental in terms of the price trend.
Analysts also cite the well-supplied oil market, which meant the attack on two major oil facilities in Saudi Arabia in September last year, for example, failed to significantly move prices.
There was an immediate, potentially longer-lasting, impact of the tensions, however, as airlines across the world rerouted aircraft to avoid Iranian and Iraqi airspace.
The US FAA, for example, issued a NOTAM on 8 January prohibiting US carriers from operating in the airspace "over Iraq, Iran, and the waters of the Persian Gulf and the Gulf of Oman".
Carriers including Air France, KLM, Lufthansa, Malaysia Airlines, Qantas and Singapore Airlines all made individual announcements that they were also avoiding parts of the airspace in the region.
Such moves inevitably mean more circuitous flight plans for some operators, which could affect fuel bills.
And they come amid an already complicated airspace picture in the region, with the continuing blockade of Qatar by several of its neighbours.
Adding to the concerns around the impact of US-Iran tensions, individual airlines in the Middle East are adapting to a "new normal" where years of double-digit traffic growth have become a thing of the past.
Operators such as Emirates Airline, Etihad Airways and Qatar Airways will be hoping that current tensions do not further dampen demand for air travel in the region.
Heightened unrest in the Middle East also comes at a time when the airline industry had been looking forward to a more positive global trade picture in 2020.
IATA forecast in December that world trade growth is expected to rebound to 3.3% in 2020 from 0.9% in 2019, "as election-year pressures in the USA contribute to reduced trade tensions".
Those trade tensions contributed to a miserable 2019 for air cargo, with demand falling on a year-on-year basis every month, partly because of a China-US trade spat.
The moderating of rhetoric between the USA and Iran raised hopes that tensions would not spill over and potentially impact trade demand. There was certainly no obvious impact on stock markets, which performed strongly, even as events unfolded.
But developments in Iran show that an approaching election might not necessarily prompt the administration of president Donald Trump to shy away from significant foreign policy interventions.
And in terms of the cargo outlook, much hinges on whether the "phase one" trade deal agreed between China and the USA in mid-January signals a genuine thawing of relations.
SIMULATOR ANNOUNCEMENT CREATES NEW 737 MAX CHALLENGE
For Boeing itself, the UIA crash came at a time of unprecedented scrutiny of its safety record as the Max grounding continues.
Boeing's share price still fell by more than 2% on the day of the incident, but three days later it was confirmed that the 737 – a type with a strong safety record pre-Max – was shot down.
Two days before the crash, however, the airframer – whose chief executive Dennis Muilenburg left in late December – had already kicked off the year with an awkward admission that will have frustrated a number of airlines.
On 6 January, Boeing announced an about-face on the need for pilots to undertake simulator training before flying Max jets, having previously insisted computer-based training was sufficient.
The FAA said it was reviewing Boeing's recommendation that pilots complete such training before returning to the cockpit of the grounded type.
If the FAA mandates simulator time, thousands of airline pilots would need to undertake training in a small number of simulators, potentially slowing the Max's return to service.
For current and future operators of the hundreds of Max jets that are currently out of service, news of further complications came as many were fretting about the prospect of the grounding extending into the northern hemisphere's peak summer season.
On 9 January, Boeing's woes appeared to deepen when it released hundreds of pages of documents to the US Congress that contained disparaging remarks made by employees regarding the 737 Max programme.
FLYBE TROUBLES ANOTHER REMINDER OF EUROPE'S VULNERABILITY
Meanwhile, the airline industry was served a reminder in the first days of 2020 that, in Europe at least, carriers are still vulnerable to collapse, despite the sector's strong overall performance.
It emerged in mid-January that UK regional airline Flybe's future was hanging in the balance again as Connect Airways – which struck a deal to acquire the cash-strapped carrier in early 2019 and later announced plans to rebrand it as "Virgin Connect" – sought urgent talks with the UK government.
This came just months after the high-profile collapse of Thomas Cook Airlines – one of several operators to have failed in Europe over the past few years.
An agreement to keep Flybe operating was reached with the government on 14 January, involving the potential deferral of millions of pounds owed by the carrier to cover its air passenger duty (APD) tax bill, plus other measures. The government will also undertake a review of APD and regional connectivity as part of the agreement, while the Connect Airways consortium has "committed to providing Flybe further short-term funding".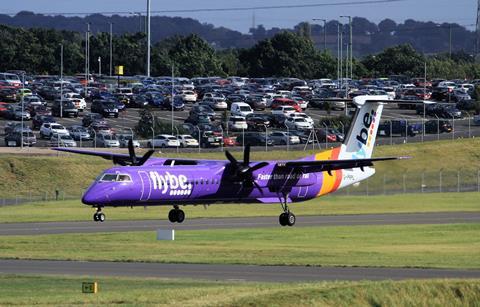 Connect Airways – which counts Cyrus Capital, Stobart Group and Virgin Atlantic as its shareholders – announced a plan to purchase ailing Flybe in February 2019, but did not receive European Commission approval until July 2019.
"The delay in receiving control, coupled with a number of other factors including legacy issues, impacted on the delivery of the consortium's turnaround plan for Flybe," Stobart said after the government agreement was announced. "This resulted in a situation in which a further injection of funds is required to ensure continued flying."
Stobart notes that the shareholder consortium had to date provided £110 million ($144 million) of funds to Connect Airways – but, evidently, this was not enough.
A perception that the government has "rescued" struggling Flybe has not gone down well with other carriers that have significant operations in the UK, with EasyJet, IAG and Ryanair all expressing strong reservations about the move.
Any change to APD is likely to be hotly contested – not just by other airlines expecting a level playing field, but by those who view the tax as vital, given commercial aviation's environment impact.
BUSHFIRES LIKELY TO HEIGHTEN ENVRONMENTAL SCRUTINY
Elsewhere, widespread media coverage continues of the huge bushfires in Australia.
After a year in which the industry – particularly in Europe – faced a sudden intensification of scrutiny over its environmental footprint, a high-profile example of the impact of rising temperatures can only increase scrutiny of businesses that create significant CO2 emissions.
In Qantas, Australia has a flag carrier that has chosen a relatively sensible path in relation to its response to pressure on climate change, announcing a series of mitigation measures towards the end of 2019.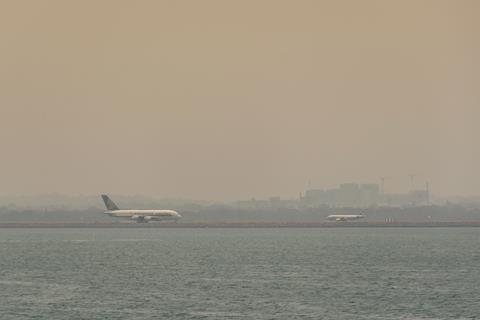 But should 2020 bring further high-profile examples of climate change's impact, pressure is only likely to grow on an airline industry that has so far struggled to produce a convincing narrative on the subject.
Amid all of these developments, the improved operating environment forecast by IATA for the coming 12 months might not be under serious threat yet – particularly as Iran-US tensions appear to have peaked.
In an industry that has seen its fair share of unexpected developments having a fundamental impact on its overall performance, however, there will be some uneasiness regarding how the year so far portends for things to come.
Updated to include confirmation from Iran that UIA flight 752 was shot down and news of Flybe's troubles.