While airline fleet renewal decisions are long in planning and even longer in execution, it perhaps says much about the opportunistic climate that exists in the pandemic recovery phase that a high proportion of the news activity from this week's Singapore Airshow was in the cargo sector.
Passenger fleet decisions, notably JetBlue adding 30 more Airbus A220-300s to its order book, were still disclosed, and followed a number of other orders across recent months. However, the desire to capitalise on booming freight demand, both in the immediate and medium term, was firmly in evidence.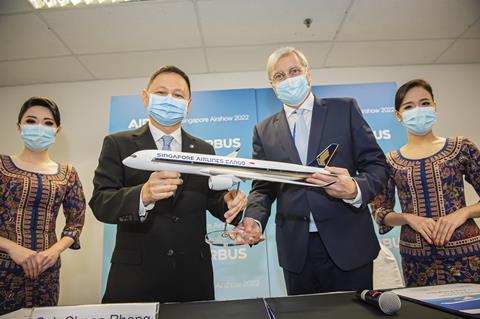 If home carrier Singapore Airlines choosing the show to firm its earlier commitment for seven Airbus A350 freighters was hardly unexpected, the manufacturer did add a fourth airline customer for the type with a provisional commitment from Etihad Airways for seven aircraft. The Abu Dhabi carrier was previously a customer for the A330-200F, ordering and receiving five of the type, before withdrawing them during a fleet overhaul.
The fresh A350F commitment came a little over two weeks after Boeing launched its 777-8 Freighter with a 34-strong order from another Gulf operator, Qatar Airways.
Heightened near-term interest in the burgeoning freighter conversion sector is also clear as supply lines are expanded. In co-operation with ST Engineering, Boeing will this year add a 767-300BCF conversion line at the former's Guanghzhou facility, just a few months after adding two additional conversion lines at Guangzhou-based GAMECO.
Aircraft lessor CDB Aviation disclosed the first Airbus A330 passenger-to-freighter lease placements for Chinese operators in committing to a dozen more conversions of the type with aircraft modification joint venture EFW. Chengdu-based Sichuan Airlines will lease a pair of A330-300P2Fs, while cargo start-up Jiangxi Cargo Airlines is to lease one of the type. Separately, Latvian carrier SmartLynx also signed for six A321P2Fs with EFW.
Alongside air cargo, there was also airline activity in an emerging sector. AirAsia Aviation Group disclosed a commitment to take at least 100 Vertical Aerospace VX4 electric vertical take-off and landing (eVTOL) aircraft from lessor Avolon, potentially making it the first Southeast Asian operator of the type.
It further underlines the way in which many airlines are looking beyond traditional passenger activities to help support and grow their post-pandemic businesses.