Collective airline profits are likely to end 2019 still relatively high by the industry's historical performance standards, if short of their more recent peaks. But several high-profile failures mean it feels like anything but a banner year for the sector.
From the collapse of European carriers BMI Regional, Germania and Wow Air in the first quarter, through the groundings of Avianca Brasil and India's Jet Airways, to the autumn failures of Adria Air Aigle Azur and Thomas Cook Group, the narrative of 2019 was punctuated by faltering operators.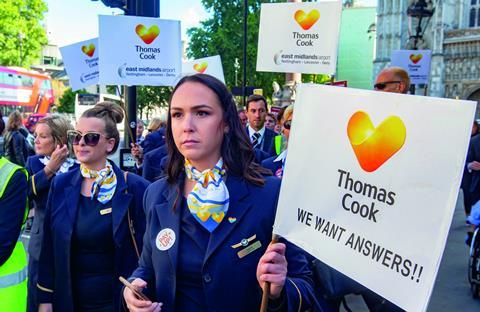 For much of the year, European carriers in particular have been under the spotlight. That in part reflects a carry-over from the first half of the winter – during which the likes of Cobalt, Primera and Small Planet Group all fell by the wayside – and the restructuring required by several other carriers. Notably, Flybe was forced into a fire sale to a consortium including Virgin Atlantic – which would later revamp and rebrand the UK regional carrier as Virgin Connect – while financial pressures prompted a drastic search for profits at pioneering but loss-making low-cost carrier Norwegian.
That scrutiny returned as the summer ended, with the collapse of four European operators within the space of a matter of weeks. Most notable was the demise of travel operator Thomas Cook Group. While part of the group remains intact – protection measures were put in place for its German operations and its Scandinavian flights were grounded for only a day – one of the biggest names on the UK high street fell to its knees, prompting the largest UK repatriation effort for more than 70 years.
That this should come just two years after the collapse of another UK charter carrier, Monarch Airlines – and amid other casualties among European leisure operators – illustrates particular pressures in this market. But rivals such as TUI and Jet2 retain confidence in their models and moved quickly to add capacity and capitalise on the collapse of another competitor.
And while much of the attention focused on the viability of the old package holiday model in Europe, two of the biggest airline failures came in the emerging markets of Brazil and India. Indeed, the gradual collapse of Jet Airways – which was steadily forced to ground aircraft and cancel flights in spring as it was unable to counter its liquidity problems – marked 2019's biggest airline casualty.
Jet Airways operated a fleet of around 120 aircraft and at last summer's Farnborough air show sealed a follow-on order for another 75 Boeing 737 Max aircraft on top of a backlog of more than 50 of the narrowbodies. But a jump in fuel and currency costs took their toll in a competitive environment where it proved impossible to offset those higher expenses. Efforts to revive Jet have subsequently failed to take off and rival carriers – notably India's ever-more-prominent low-cost carrier sector – have moved to fill the void.
Avianca Brasil, which had entered bankruptcy protection in late 2018, was ultimately grounded by the regulator in May, proving third time unlucky for Star Alliance as it had added the carrier to Varig and TAM as former Brazilian members.