The chief executive of start-up Akasa Air believes the Indian aviation pie is plenty large enough to accommodate a new, professionally-run low-cost carrier.
From the new carrier's headquarters in Mumbai, Vinay Dube waxes enthusiastic about the Akasa Air venture, news of which first emerged in 2021, but which was in the planning stages since at least 2020.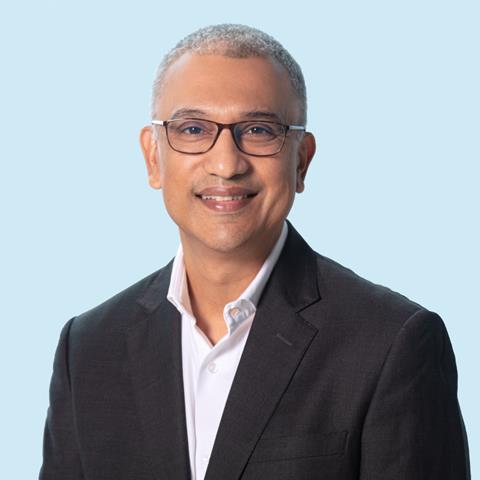 Dube is an industry veteran, with stints at Jet Airways, GoAir (now called Go First), and Delta Air Lines. In addition, former IndiGo chief Aditya Ghosh will sit on the new carrier's board. Akasa also has strong financial backing in the form of Rakesh Jhunjhunwala, a professional investor viewed as India's answer to Warren Buffet.
"The founding team had the thought that there's massive upside in Indian aviation," says Dube.
"Covid is a short-term blip. The Indian economy is going to continue to grow for twenty to thirty years, air travel is going to grow, because of an increase in disposable income, the growth of the middle class, and the under-penetration of the market."
He points out that a large number of Indians have yet to make their first flight, and at some point the world will learn to live with coronavirus, providing a reboot for air travel. Indeed, the carrier's branding features a 'Rising A' symbol and the tagline 'It's Your Sky.'
Akasa aims to operate its first commercial flight in late May or early June, after taking delivery of its first Boeing 737 Max 8 in April. This first aircraft – which will be part of the airline's effort to obtain its local Air Operator Permit – follows Akasa's order for 72 737 Max aircraft at the Dubai air show in November 2021.
The order is for a mix of baseline Max 8s equipped with 189 seats and high-capacity Max 8-200s with 197 seats.
Akasa Air has ambitious growth plans. It aims to have 18 737 Max aircraft in service by the end of the India's 2022-23 financial year on 31 March 2023. In the successive four years, it aims to take 12 to 14 aircraft annually.
Dube says that the airline looked at a range of narrowbody types before deciding on the 737. Describing the complexity of such an acquisition, Dube says that key considerations were unit costs, maintenance costs and delivery streams.
"When you put all of that together, we felt that the Max was the aircraft for us, and we're very, very happy with that decision," he says.
The airline will operate as a pure budget carrier. Some media outlets have labelled the new carrier as an 'ultra-low-cost carrier', but Dube questions what this term actually means in airline practice.
"We're just a normal budget carrier, we'll have a single aircraft type, we'll have all economy seats and a 'buy on board' product…there's nothing out of the ordinary in terms of the business model we're planning. But of course, having a very strong cost structure is extremely important for the longevity of an airline – and we will have a very competitive cost structure."
For the time being, Dube and his team are dealing with the massive set of tasks associated with building a new airline, such as hiring crew and front-line staff, implementing technology, creating a line maintenance organisation, considering real estate, making training decisions, and dealing with third-party contracts.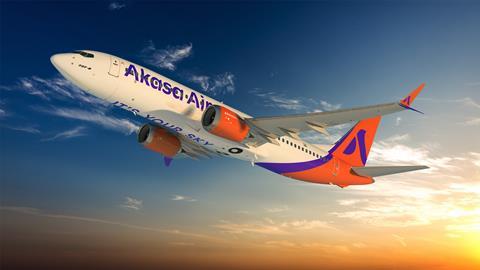 One important aim is building what Dube calls an "employee-centric" company.
"If we just stay focused on the fundamentals for ourselves, we will be able to carve out a space that is fun and that is profitable… customers and employees will enjoy, and this will pay returns to our shareholders as well."
The Akasa team has also been dealing with Indian regulators. Dube feels it is getting "a lot of support from the government".
Initially, Akasa will focus on operating domestic routes from India's biggest cities ('metros' in local parlance) to the country's universe of 'tier-two' and 'tier-three' cities. Dube fires off a large number of such potential destinations, with names such as Bhopal, Chandigarh, Jaipur, Patna and many others.
"We will have some metro-metro flying because you need to get your aircraft moved across the system, but our target is going to be metros to tier-two and tier-three cities."
International services are likely to follow in 2023 after the Akasa fleet hits 20 aircraft. In 2016 India moved away from its notorious '5/20' rule, which dictated that airlines had to operate for five years and have 20 aircraft before operating overseas routes.
While the five-year stipulation is gone, the 20-aircraft rule is still in place. Based on its growth plans, Akasa will hit the 20-aircraft mark in 2023.
Dube says that it is "too early to say" where Akasa will fly internationally, but notes that the Middle East and Southeast Asia are within range for the 737 Max. Indeed, these are key markets for India's other carriers. International growth will also depend on where Akasa can secure traffic rights and the availability of slots.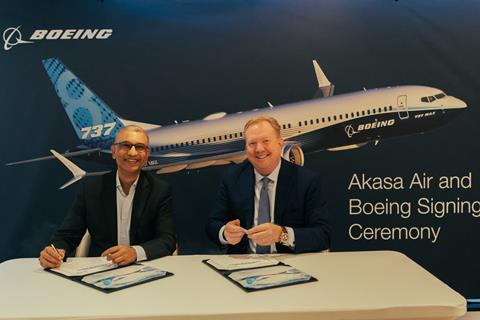 Despite the promise of Indian air travel growth, Akasa will enter a tough market, dominated by the incumbent low-cost carrier IndiGo, which in 2021 consistently maintained over 50% market share in terms passengers carried. Akasa will also find itself vying with other budget carriers such as Air India Express, AirAsia India, Go First and SpiceJet. Full-service carriers Air India and Vistara are also in the market, and there are constant rumours that Jet Airways, which ceased operations in 2019, will be revived.
Adding an additional twist is Tata Sons' ongoing acquisition of Air India. Though Tata has yet to confirm its plans, analysts believe that it will fold Vistara into Air India, and AirAsia India into Air India Express.
Amid this crowded market, Dube is sanguine about Akasa's prospects, stating that the key to success will be running a tight ship, keeping costs low, and building the right culture. The market, he feels, offers a big opportunity for a well-run carrier.
"The Indian air travel pie is going to grow and grow and grow, as it has done for the last 10 years," he says. "And when the pie is growing that much, there is always room for a well-run, cost-efficient, well-capitalised, professionally-set-up and managed airline."

Greg Waldron is the Asia Managing Editor of FlightGlobal, responsible for the team's airline, aerospace, and defence coverage across the region. He has worked at the company since 2009. In the airline space, Waldron has conducted dozens of interviews with airline leaders in the Asia-Pacific. He also covers areas such as MRO and safety. On the defence beat, Waldron has written extensively about the rise of Chinese airpower, as well as broader airpower developments around the region, such as indigenous fighter programmes, and regional acquisitions of foreign equipment. In addition, Waldron writes about commercial helicopters in the region and business aviation. Waldron worked has a freelance journalist with his work appearing in several business publications.
View full Profile