Alliance Airlines chief executive Lee Schofield says the carrier's revenue mix has served it well during the coronavirus pandemic, as its acquisition of Embraer E-190s has also allowed wet-lease client Qantas to explore new point-to-point routes.
Schofield says that Fly-in, Fly-out (FIFO) contract revenue from Australia's big resources sector, from which Alliance derives two thirds of its revenues, has held up very well despite Covid-19.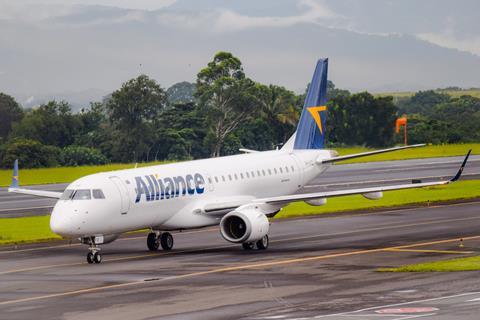 "Any operator who is serving the resources sector in Australia as part of their business has had – at least financially – a relatively good time," he says.
Underlining the airline's reliance on resources, a full page in its results presentation is dedicated to "commodity exposure" based on its contracts with resources firms. On a revenue basis, it is most exposed to iron ore, with 29% of the pie, followed by gold with 19% and copper/gold/uranium with 15%.
By the company's definition, contract work involves 12-month commitments or greater. While most of this is FIFO, it also includes work such as inbound tourism, which has collapsed amid the pandemic, and domestic tourism, which is growing in importance.
In any case, FIFO helped account for Alliance's generating an underlying profit before tax of A$51 million ($37.7 million) for its 2021 financial year ended 30 June, up 25% from a year earlier. Total revenue grew 3% to A$307 million.
Alliance also bucked the trend in terms of fleet. With many carriers putting aircraft in long-term storage, its fleet grew to 48 by 30 June, up from 42 a year earlier. Staff numbers have grown to 849 from 532 when the pandemic hit in the early months of 2020.
On the other hand, Schofield says the periodic imposition of internal border restrictions in Australia to stop the spread of Covid-19 have been a challenge, especially for moving crews around.
"It's been incredibly challenging operationally, but successful financially," he says. "If you take [the resources charter] market, it's been a very different tale to anyone who operates scheduled services or, in our case, provides wet-lease services."
The FIFO operation is largely served by Alliance's fleet of Fokkers, comprising 24 100-seat F100s, 14 80-seat F70s, and five 50-seat F50 turboprops.
"The Fokkers are incredible aircraft, and really perfect for what we use them for down here," says Schofield. "If there were more readily available, good quality F100s, we wouldn't hesitate to buy more."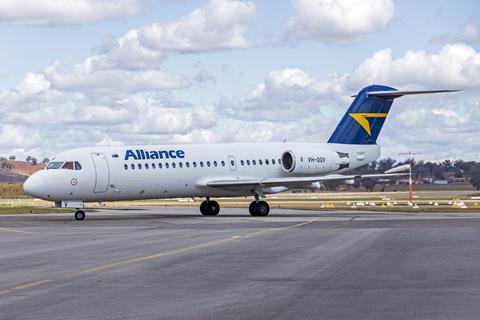 Schofield adds that it will be 7-9 years before the carrier is looking to replace its Fokkers.
Although additional F100s are hard, if not impossible, to come by, the airline has been able to grow its fleet through the acquisition of 32 secondhand E-190s. Alliance started operating E-190s this year and has just five in service, and Schofield has high marks for the twin-engined type's reliability. He stresses that the E-Jets are for growth – not replacement.
He likes the E-190's 7,500h maintenance interval. "It's really about working them as hard you can until you get to that interval." For the Fokker fleet, Alliance sees about 1,000h of annual utilization per aircraft; for the E-190s this is closer to 3,000h.
Despite Covid-19, Alliance will grow its E-190 fleet rapidly, forecasting that all 32 examples will in service by the fourth quarter of its 2022 financial year, which runs from 1 April to 30 June 2022. Of these, 18 will be wet leased by Qantas.
For the time being, it has no plans to obtain the re-engined E2 family from Embraer. Schofield notes that Alliance's specialty is to "speculatively buy" used aircraft.
While the airline aims to keep growing contract revenue in absolute terms, it wants to continue diversifying its revenue mix. It has already made some progress with this: some years ago contract accounted for over 90% of revenues.
In addition to contract work, the airline has four additional revenue streams: wet leases, RPT (regular public transport on regional routes), charters, and aviation services.
Indeed, the focus of the E-190s is wet-lease work for Qantas. The type has been able to open up point-to-point routes such as Canberra-Darwin that hadn't been operated before – typically, Australian air traffic focuses on the big hubs of Brisbane, Melbourne, and Sydney.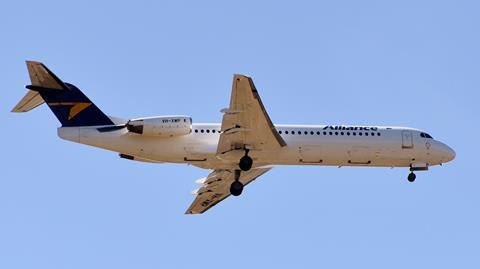 "Qantas were able to go to from launching it as a daily service, to in a very short space of time having the demand to make it a double daily," says Schofield. "What we're really seeing is the [regional jet's] ability to dive in on those point-to-point [routes] from smaller cities or smaller locations."
Another point-to-point service enabled by the E-190 was Adelaide-Gold Coast. While this route had been served by low-cost carriers, it was not served by the Qantas brand directly.
Wet-lease revenue was hard-hit in FY2021, falling 68% to A$7.8 million. Charter revenue, however, grew 66% to $43.7 million, making it the second biggest contributor.
Schofield says the charter business has remained strong in Australia. In this business segment, Alliance has benefited from business from a mix of clients, including sporting teams and travel agencies.
"It's an interesting market at the moment, and everyone rightly points out the challenges," says Schofield. "We like our low profile normally, but we're proud of how we've been able to get through this Covid-19 era…to be an airline that is performing financially and operationally well, and also using that to grow. It's been a fascinating ride for us."
Updated with additional details of E-190 fleet, and extent of Qantas wet leases