American Airlines posted higher revenue and profit figures for the full year 2019 than one year earlier, as strong travel demand countered the fallout of the Boeing 737 Max crisis.
That said, American's executives now do not expect the aircraft will return to its fleet before "late summer, early fall" of 2020 – much later than its current prediction of 3 June 2020.
"The Max is still an issue in 2020," chief executive Doug Parker says during the company's fourth quarter earnings call on 23 January. "When we say we expect it to be back, we have our June date, but we are going to need to reassess that sometime into late summer, early fall."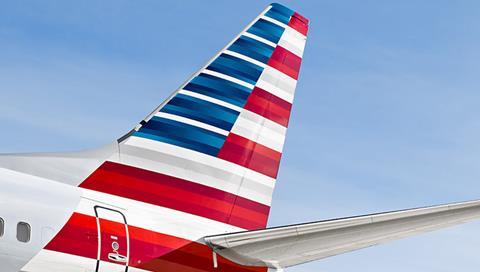 "As new information comes available we will reassess the timeline, work closely with the FAA, Boeing, our pilots and unions on the return of the Max," American's president, Robert Isom, adds.
The Fort-Worth based airline says that despite the grounding of the company's 24 Max aircraft, leading to cancellation of more than 10,000 flights in the final quarter of the year, it saw higher travel demand during the year, especially in its traditionally strong Latin American market. The Fort-Worth-based carrier has 76 more of the beleaguered aircraft on order.
"We planned to take delivery of 26 aircraft this year, 13 have been built and we expect most of the remaining aircraft to be delivered by the end of 2020," Isom adds.
The financial effects of the Max grounding will continue to drag on results and the airline expects to be "negatively affected by substantially the same amount as in 2019", chief financial officer Derek Kerr says. Last October, the company anticipated the total cost for the grounding of the 737 Max to be about $540 million in pre-tax earnings in 2019.
American said earlier this month that it reached a confidential settlement with Boeing for the 2019 losses, and that it will share some of that compensation with its employees through its profit-sharing programme.
In a year that saw competitor Delta Air Lines launch an assault on American's leading position in South America, the airline was still able to post strong fourth-quarter and full-year net profit and total revenue results.
Net 2019 profit rose 19% to $1.7 billion from $1.4 billion in 2018. Net profit during the fourth quarter rose 27% to $414 million from $325 million.
Full-year revenue rose 2.8% from $45.8 billion from $44.5 billion a year earlier. In the fourth quarter, revenue was up 3.4% to $11.3 billion from $10.9 billion.
Despite continued uncertainty around the 737 Max, the airline remains optimistic it will achieve 4-5% capacity growth during the year. It outlined three major priorities for 2020, including "improving on operational excellence", achieving efficient and profitable growth in high-revenue markets like Dallas-Fort Worth and Charlotte, and generating significant free cash flow. The airline hopes to have $6 billion in free cash flow in the next two years.
"We are running our airline today without the Max in service and, if it were going to be out longer, then we will continue to do the same thing," Parker says. "We won't let that dictate the way we operate our airline. We know it will fly again someday. In the meantime we are concentrating on running a good operation."
TRAINING PILOTS FOR MAX RETURN
With the Max uncertainty continuing to shadow the carrier's plans for the year as well as the industry as a whole, American says that it is already making contingencies for the training and staffing needs for when the aircraft receives its recertification and returns to service.
"There will be simulator training required, and we are sketching out a number of different scenarios, and in all of those we have made sure that American is sufficiently staffed with simulators and training resources so that we can get the aircraft back up as soon as possible when the FAA and Boeing decide the aircraft is ready to go," Isom says.
Earlier this month, Boeing reversed its pilot training recommendations for the Max. Earlier, it had said computer-based training would be sufficient to qualify to fly the Max, and now is telling airlines that pilots should receive simulator-based training as well.
The Federal Aviation Administration says it is reviewing Boeing's recommendation, but has not disclosed what training it will ultimately require.
Should the FAA mandate simulator time, airlines would face the task of running thousands of pilots through a small number of simulators, which observers have said could take many months, slowing carriers' ability to get their aircraft back in service.
Boeing has said only 34 simulators are in existence, and US airlines have said they have only a handful.
LATAM DIVORCE
At the end of January, American will stop code-sharing with Santiago-based LATAM Airlines, a result of Delta's $1.9 billion investment in the Chilean carrier in late 2019, leaving American without a major partner in what has traditionally been its strongest region. American remains the leader in transportation between North and Latin America, with about twice as many connections than its closest competitor, according to Cirium networks data. American currently serves more than 70 destinations in Latin America from its southern US hub in Miami, and continues to defend its top spot in transportation across the hemisphere.
But last year, following a Chilean court's decision to deny American a proposed joint venture with LATAM, competitor Delta jumped in take 20% of the Latin American airline.
In response to the new alliance, American added new seasonal routes within the US, including direct nonstop service from Jackson, Mississippi, and Des Moines, Iowa to Miami. It also added additional flights from Miami to Lima, Santiago and Sao Paolo.
On Tuesday, the airline said it served 30.3 million passengers at Miami international airport during 2019, a year-over-year increase of 1.7% and the most passengers it has carried through Miami since establishing the hub 30 years ago.
CORONAVIRUS CONCERNS
Airline executives seemed unconcerned about the outbreak of a new coronavirus in China that has killed more than 15 people and sickened hundreds, despite reports that an American Airlines passenger from Mexico City was quarantinned at Los Angeles international airport on Thursday morning.
"Our network is not that extensive in Asia, but we are on top of it, working with [the Centers for Disease Control and Prevention] and public health officials and our medical resources. We are following all best practices to take care of our customers and team members," Isom says. "We have seen viruses in the past, where we have made accomodations; we are doing all those things now, and will make sure that we take aggressive action if there is a need to,"