Avelo Airlines, industry veteran Andrew Levy's new carrier, made a splash last week when it landed in the US low-cost-carrier pool, offering $19 fares and flights from the Los Angeles area to nearly a dozen cities in the western third of the country.
While it was known that Levy was working on an airline project, prior to 8 April few details were public. And in the first couple of days of life, Houston-based Avelo (pronounced A-vell-o) has met Levy's expectations.
"We put out a terrifically low offer… I definitely expected that we'd start to get the cash register ringing. And that's happening for sure," Levy tells FlightGlobal on 9 April.
First-day ticket sales revenue exceeded "several hundred thousand" dollars, he adds.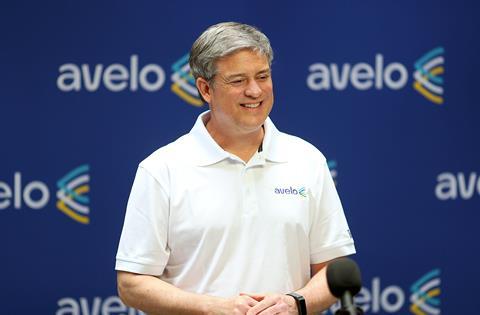 Levy has been in the business for decades and knows well what it takes to make an airline succeed. He began his airline career in 1994 at now-defunct ValuJet Airlines, and later spent 13 years at Allegiant Air, followed by a stint as chief financial officer at United Airlines. He sits on the board of Panamanian carrier Copa Airlines.
Levy left United in 2018 with the intention of founding a new airline. He bought Florida-based charter operation XTRA Airways later that year, gaining a commercial airline certificate.
"I actually started work on this in 2015, but then I got sidetracked when I went up to Chicago, to United, for a while," he says. "This has actually been something that I've been focused on for even longer [and] I didn't think it would take us this long to get going."
Avelo is backed by $125 million in private equity and will launch operations with three Boeing 737-800s, with the aim of expanding to six aircraft by year-end. The cabins will have high-density, 189-seat configurations.
The carrier plans to operate its first flight on 28 April, from Hollywood-Burbank airport in the Los Angeles suburbs to Santa Rosa, California, north of the San Francisco Bay area. Avelo plans initially to fly 11 routes from Burbank.
Destinations include smaller cities such as Medford, Oregon; Eureka, California; Bozeman, Montana and Grand Junction, Colorado.
Avelo will also serve other smaller airports close to large cities, like Phoenix-Mesa Gateway airport and Ogden-Hinckley airport near Salt Lake City. Levy says the airline will remain a domestic carrier and not look to expand to vacation spots in Mexico or the Caribbean, "to keep it simple".
Initially, Burbank will be Avelo's only base.
Levy anticipates that LA-area residents and visitors, weary of navigating Los Angeles International airport, will prefer the accessibility of Burbank, a significantly smaller facility.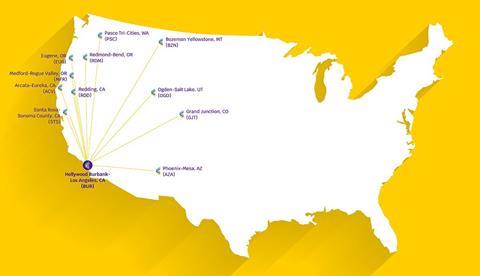 "Secondary airports of major metro areas provide a level of convenience and time-saving, and just a better, more-pleasant experience that will appeal to a lot of people," he says.
OUT AND BACK
Avelo's strategy is simple: offer low fares catering to price-conscious leisure travellers on flights from the Los Angeles area to underserved smaller cities. For now, Avelo's route network reaches no farther east than Grand Junction, Colorado.
Avelo does not primarily intend to link small US cities with vacation spots. Rather, it aims to operate "much thicker routes", such as those between secondary markets and a large metropolitan area, Levy says.
Avelo's three 737-800s will run out-and-back trips, at least initially.
"We're not selling through-flights. We're not selling connections. It is just simple out and back. It's Burbank to city A, city A to Burbank. And then you do it again. We'll start with three airplanes doing the same thing."
That's a different tack from Avelo's ultra-low-cost competitors. Spirit Airlines, for instance, operates from many of the USA's largest international airports, while Allegiant has carved a strong business out of connecting smaller cities to major vacation destinations.
By July, three more aircraft will join the fleet, and Levy eyes further growth by the end of the year. "We have commitments for six [aircraft], but it wouldn't surprise me if we're a good bit north of that" by the end of 2021.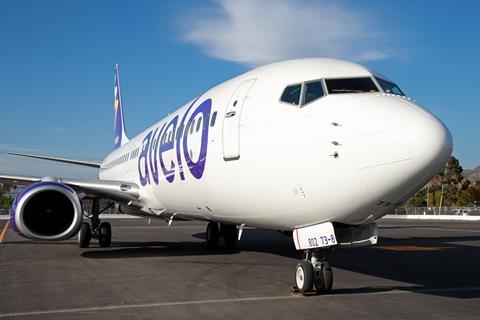 Burbank is the first of what Levy anticipates will become several Avelo bases.
"You have a collection of airplanes and all your crews and your technicians and your spare parts… in the base, and the airplanes all go out and come home every night," he says.
Levy hints that he wants to conquer more than just the western USA.
"I think it's highly likely we'll have another base established by year-end, and it's very possible the next phase could be on the East Coast." he says.
'STUPIDLY LOW FARES'
Following a year of shelter-in-place and social distancing, Avelo wants to make it easy for potential customers to let loose. He is offering flight deals not seen in some time.
Avelo is selling seats on flights in early May for as little as $19. Most of that sum is government taxes and airport fees. The base fare: $4.28.
Levy knows he cannot run a profitable airline on fares under $5.
"Low fares drive a ton of awareness. If you offer stupidly low fares, even more so," he says. "Clearly these are not sustainable prices. But we are not going to need the same kind of revenue as others need to make their numbers work."
Avelo is the first of two domestic US carriers expected to launch this quarter. The other is Breeze Airways, a project by serial airline entrepreneur David Neeleman. After that airline secured Department of Transportation (DOT) certification in mid-March, its start-up also seems imminent.
Breeze's route map is not yet public, but Levy doubts the two will compete.
"I respect David a lot, I'm sure they will build a great business," he says. "But if we are going after the same opportunity, one of us has the wrong airplane. We've got 190-seat -800s and they've got 118-seat [Embraer] 190s. Those don't seem to mix very well, in my view."
So what is the attraction of launching a margin-poor business at the tail of a global health crisis that brought the industry to its knees? With two big-name aviation industry players – Levy and Neeleman – springing new brands with hundreds of millions of dollars at stake, there must be some wisdom in the timing.
Levy says, in essence, one of his major motivating factors is that pre-pandemic, the country's top 10 airlines had not been playing fair.
"When all 10 incumbents are all making money year in, year out for 10 years straight, that tells you something. To me, it tells me there's not enough competition out there. It's as simple as that," he says. "It's a big country. There's a lot of people and there's not a lot of choice."
He's also certain consumers are ready to get moving again following a challenging year, especially in the run-up to the summer peak holiday season.
"The timing is terrific. We're not done [with coronavirus] by any means, but more and more people are feeling safe flying, and feeling comfortable flying," he says. "That desire is absolutely there."
"There is enormous pent-up demand for travel, there's a ton of household savings," Levy adds. "We're like a spring that's ready to be uncoiled. People just can't wait to get to travel and see friends and family and go on vacation and blow off steam."

Pilar Wolfsteller, Americas Air Transport Editor, is an FAA-certified flight instructor (CFI), and holds a commercial pilot certificate with instrument rating. She joined FlightGlobal in 2019, and is based in Las Vegas. She covers airlines across the hemisphere and her interests also include future-oriented sustainable aviation technology, advanced air mobility projects and pilot training topics. Pilar began her journalism career at the global news agencies Bloomberg and Reuters, and has reported from more than 50 countries.
The airline start-ups trying to confound Covid crisis by launching during pandemic
1

2

3

Currently reading

Andrew Levy's low-cost Avelo Airlines hits the ground running

4

5

6

7