Recent financial results from Asia-Pacific airlines highlight how the disappearance of bellyhold space has given a massive boost to cargo yields.
Amid the Coronavirus pandemic, Asia-Pacific airline financials make for gloomy reading. They are rife with massive losses, collapsing revenue, layoffs, and the retirements of aircraft that still had years of useful service ahead of them.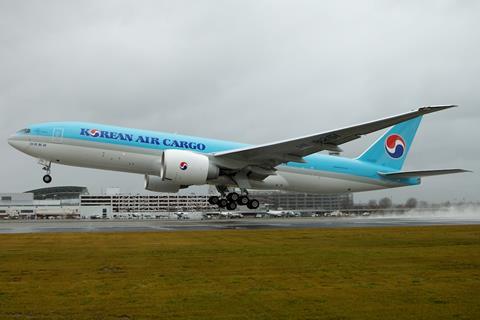 The only bright spot is air cargo, with freight units at virtually all the region's top carriers enjoying record performances. Sharply higher cargo yields underpin this performance, because 2020's actual freight capacity and freight carried is down for most carriers.
Among seven big Asia-Pacific carriers that recently reported either full-year, interim, or quarterly results, only one carrier, Korean Air, actually increased freight capacity and freight flown during 2020. According to its full-year 2020 results, AFTKs rose 2.5%, while FTKs rose 15.6%.
It noted that utilisation of its 23 maindeck freighters rose 25% in 2020, and that it mounted 4,500 flights using passenger jets to transport cargo.
In its results presentation, Korean observed a "progressive recovery of demand back to pre-pandemic level", and that the lack of passenger flights (ie. bellyhold capacity) is unpredictable owing to "volatility" in passenger flight schedules.
Despite all the disruptions, cargo lifted Korean to an operating profit of W238 billion ($213) million, although the collapse in passenger flights saw revenues plunge 40% to W7.4 trillion.
Asiana Airlines – which Korean is in the process of acquiring – has a considerably smaller freighter operation, with just 12 maindeck freighters. Similar to Korean, third-quarter 2020 fleet utilisation for its freighters leapt 22.5% from the previous corresponding quarter in 2019.
In its results for the third quarter, its AFTKs fell 10.3% from a year earlier, while FTKs fell 2.2%. Yet despite the fall in capacity, third-quarter cargo revenue leapt 54% from a year earlier.
In Japan, both All Nippon Airways (ANA) and Japan Airlines (JAL) saw strong cargo and mail revenue for the first nine months of their 2020 financial years. ANA Airways enjoyed 30% higher cargo revenues, despite a 36.1% decline in FTKs, while JAL's cargo revenue jumped 31.5%, despite fewer FTKs.
"While passenger demand remains in a slump on international routes, demand for cargo services recovered to almost [the] same level of the previous year during the third quarter due to the resumption of economic activity," says ANA.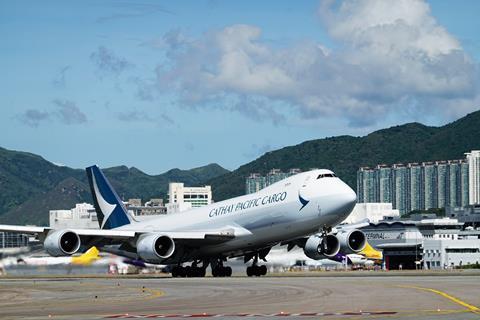 Cathay Pacific Airways, which had its worst year ever in 2020, saw AFTKs drop 35.5% from 2019 levels, and cargo carried fall 34.1%. Yet, its cargo load factor rose 8.9 percentage points to 64.4%. Far more impressive was its cargo yield, which rocketed 58.3% during the year.
"Cargo was the better performer in 2020 despite the significant drop in available capacity usually provided by the bellies of passenger aircraft," says Cathay.
"The freighter fleet was operating at full capacity for much of the year, supplemented by additional capacity in the form of 5,648 cargo-only passenger flights, 680 charter flights operated by the group's all-cargo subsidiary Air Hong Kong, and 143 flights with select cargo loaded in the passenger cabins."
Similarly, Singapore Airlines enjoyed a strong cargo performance in the third quarter of 2020. Its overall cargo capacity dropped 52.6% from the third quarter of 2019, but its cargo load factor rose 24.1 percentage points to 59.4%, and its cargo yield more than doubled.
"While cargo demand has tapered off after the traditional year-end peak period, strong fundamentals and healthy Purchasing Managers' Index readings across many key export economies will continue to support cargo demand in the coming months," says SIA.
"Furthermore, as the production of Covid-19 vaccine ramps up, SIA Cargo is looking to capture its share of the traffic to Asia and the Southwest Pacific region."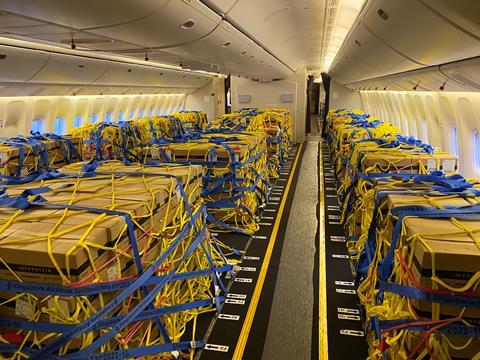 Even Australia's Qantas Airways, whose cargo operation is not as significant as those of the big Asian carriers, enjoyed record profits in cargo during its otherwise dismal performance in the first half of its 2021 financial year.
While the results of most carriers don't disclose the types of cargo carried, Korean and ANA indicate that a large amount of capacity – in 2020 at least – was taken up by medical supplies such as masks, Covid-19 test kits, automobile components, semiconductors, and other electronic equipment.
In a recent air cargo market analysis, IATA stated that new Covid-19 outbreaks have limited a recovery in passenger traffic, but that manufacturing remains robust, which is good news for cargo yields.
Eager to make money by whatever means, Asia-Pacific airline bosses may well be tempted to remove more seats from passenger aircraft, creating so-called "preighters". Given the dismal outlook for long-haul travel in the short to medium term, temporary freighter conversions of advanced types such as the Airbus A350 are likely to become an increasingly popular strategy – at least until bellyhold capacity rises again with the return to normality of international passenger services.

Greg Waldron is the Asia Managing Editor of FlightGlobal, responsible for the team's airline, aerospace, and defence coverage across the region. He has worked at the company since 2009. In the airline space, Waldron has conducted dozens of interviews with airline leaders in the Asia-Pacific. He also covers areas such as MRO and safety. On the defence beat, Waldron has written extensively about the rise of Chinese airpower, as well as broader airpower developments around the region, such as indigenous fighter programmes, and regional acquisitions of foreign equipment. In addition, Waldron writes about commercial helicopters in the region and business aviation. Waldron worked has a freelance journalist with his work appearing in several business publications.
View full Profile