IATA expects airlines in Asia-Pacific and North America to lead the recovery in 2021 aided by strong domestic markets, though it still sees all regions as loss-making while international passenger markets struggle to recover from the pandemic.
The airline association today deepened its expectations of losses for both this year and next – to well over $150 billion in total.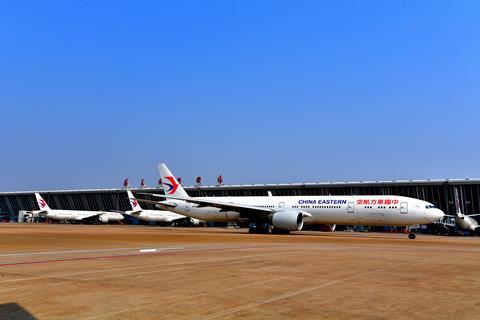 Speaking during a briefing to present IATA's latest financial outlook ahead of its AGM today, the association's chief economist Brian Pearce says: "We would have hoped the virus would have been more under control and would have limited losses – that hasn't happened. We have seen a surge of virus cases in Europe and indeed more in the US, which has caused us to change our forecast both for travel and for losses.
"We've been forced because of the very disappointing restart this year to the industry to downgrade our estimates."
IATA had forecast net losses of $84.3 billion for 2020 in its June outlook. It now sees these losses climbing to $118.5 billion for this year.
It has also more than doubled forecast losses for 2021 – jumping from $15.8 billion to $38.7 billion. While that is an improvement on the projected massive loss for this year, Pearce notes that it still marks more than the industry lost in previous crises, such as 9/11 and the global financial crash.
Much of the additional loss comes from North American airlines, which at a loss of $45.8 billion in 2020 is almost double the level it expected in June.
How IATA's outlook for industry net losses has deteriorated since June 2020
Region
June forecast
Nov forecast
North America
$23.1bn
$45.8bn
Europe
$21.5bn
$26.9bn
Latin America
$4.0bn
$5.0bn
Asia-Pacific
$29.0bn
$31.7bn
Middle East
$4.8bn
$7.1bn
Africa
$2.0bn
$2.0bn
Total
$84.8bn
$118.5bn
Source: IATA June and November 2020 forecast
While airlines in Asia-Pacific are now seen losing $31.7 billion this year, this marks an increase of only $2.7 billion on IATA's June loss forecast for the region. This in part reflects the strong recovery seen in the Chinese domestic market, which has already returned to previous-year traffic levels.
IATA expects Asia-Pacific carriers to lose $7.5 billion in 2021 – the smallest loss of the three biggest regions. That also in part reflects a continued positive outlook for cargo, a business Asia-Pacific carriers have relatively high exposure to. The region is seen as the best performing, at an EBIT margin level of -4.6%.
While losses are high among North American carriers for this year as the USA struggles to contain the virus, IATA sees a stronger recovery in 2021 for the region. That reflects the size of its domestic market – which is the biggest in the world – and the financial strength of its carriers immediately prior to the crisis.
"We think that performance will allow airlines in that region to recover faster than those in other regions," says Pearce. North American carriers are expected to record an EBIT margin of -5.6% in 2021.
European carriers are seen losing $11.9 billion at a net level in 2021, while African, Middle East and Latin American carriers are all expected to remain in the red next year – and to record double-digit negative EBIT margins.
"We have factored into our forecasts reasonable widespread distribution of the vaccine in developed markets in the second half of 2021, but less so in the emerging markets until 2022," Pearce explains.
He adds that IATA's fresh forecast is "completely conditional" on progress with the vaccine and on increased deployment of testing to reopen markets.
"Without an effective vaccine the industry is facing a very difficult future, but I think we can have much more confidence because of the [recent] announcements we have had about two or three vaccines. We are much more confident in our baseline estimates for travel, they look more certain than they did even a few weeks ago.
"Our expectation is we will see a significant rise – perhaps a 50% rise – in air travel next year from very low 2020 levels," says Pearce. "[But] it will still mean it's only about half the size it was in 2019."
IATA estimates airlines will globally carry 1.8 billion passengers this year – down 60% on the 4.5 billion carried in in 2019. That is equivalent to passenger levels in 2003. It projects passenger numbers climbing to 2.8 billion in 2021.
The association sees the continued strong picture for air freight further lifting cargo revenues in 2021, comprising almost a third of the projected $459 billion revenues for the year.
"Cargo is looking good, but is pretty small," says Pearce. "We still think the revenues that will be generated in 2021 will be some 50% below what we had been expecting in our forecast before the crisis."