Avianca's new chief executive Adrian Neuhauser apologised in advance for being "the world's worst host" to the delegates at the ALTA Airline Leaders Forum, which is taking place in Bogota on 24-26 October.
But he's got a good excuse: the Colombian airline's bankruptcy case hearing in New York, which happens to be scheduled on the same day as the conference.
While it is terrible timing, the 47-year-old is hoping it is a good omen for the airline, which is looking to reclaim its place as a leader in Latin American commercial aviation.
Neuhauser joined Colombian flag carrier Avianca as chief financial officer from Credit Suisse in June 2019. He was part of a new management team led by veteran airline executive Anko Van der Werff that was tasked to bring the crisis-ridden company back to profitability following significant financial turmoil.
In mid-2019, that team began to implement a comprehensive strategic turnaround plan called "Avianca 2021", which was designed to cut unprofitable flying and optimise the airline's Bogota hub to better accommodate the business traveller.
But less than a year later, the coronavirus pandemic hit the industry hard.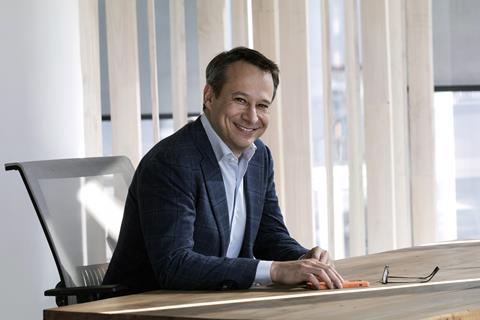 "We had basically no passenger flights for five or six months," Neuhauser tells FlightGlobal during the IATA AGM meeting in Boston in early October.
And with demand dropping off a cliff, the airline voluntarily entered Chapter 11 bankruptcy protection on 11 May 2020.
In the midst of the crisis, Van der Werff moved on to Scandinavian carrier SAS, and Neuhauser was named president and chief executive on 28 April of this year.
His goal now is to lead the ailing carrier out of the double-whammy of the global health crisis and bankruptcy.
To begin, Neuhauser has shifted the airline's priorities. The Bogota hub-and-spoke model is no longer at the top of that list. Interestingly, he belongs to a minority of airline chief executives who do not believe business travel will return to pre-pandemic levels.
"There is of course business that has to be conducted in person," he says. "But it isn't as common on a day-to-day [basis] as it used to be. So we have to design for that."
TO THE POINT
The airline's new focus lies in what he calls the "efficiency-driven point-to-point schedule".
"When you really are focused on providing the fastest, most efficient service to leisure [travellers], but also making yourself cost-competitive on these routes, then point-to-point is much more relevant. That's a pretty major change that drives utilisation of the fleet, drives cost competitiveness, drives price competitiveness, but also drives better service."
Avianca's fleet of 99 aircraft – 68 of which were in operation, with 27 in storage, in mid-October – has an average age of just over eight years, according to Cirium fleets data, making it one of the youngest in the Latin America region.
The carrier has orders for 99 more jets, the vast majority of which are for the Airbus A320neo.
Going into the winter travel season, Avianca is back to about 65% of its pre-coronavirus schedule, Neuhauser says, and load factors on those flights are above where they were at this time in 2019. If the recovery continues on a similar trajectory, the airline expects to offer up to 80% of its 2019 capacity by the third quarter of 2022.
But getting there will certainly be challenging.
"As we begin to see other regions reopen, it's more complicated for us. Argentina and Chile have been more restrictive than many other markets. Brazil outbound, which is a market that we service through Bogota, has been limited by entry restrictions in the US," he says.
At the moment, Avianca is operating about 100 routes, with just under half of those routes in Colombia.
"The vast majority of them don't touch Bogota," Neuhauser says. "The whole point is to try to make the network a little simpler, to take advantage of our geographic position and the market share we have, and just let people fly directly where there's enough density to do it."
That said, the airline is not going full-on low-cost carrier. It plans to continue to offer a premium product, but is simply "unbundling it".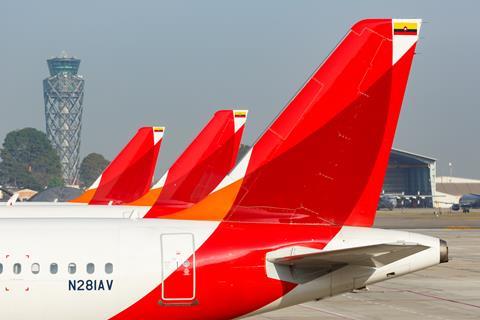 In addition, the airline is upping the seat count on its A320s by 24%, a holdover from the "Avianca 2021" plan.
"Ultimately, your cost is to move a plane from one place to the other, and you sell it by the seat," says Neuhauser. "So it's very hard to compete when you've got 20% less seats than the competition does in the same plane, especially with the low margins that we have.
"Because we are able to be more competitive, it will allow us to add routes that we otherwise couldn't add," he continues.
"So you're going to see us expand our footprint pretty rapidly… throughout the northern part of South America."
Avianca submitted its reorganisation plan to the bankruptcy court for the Southern District of New York on 10 August.
"We're on track for a confirmation hearing on 26 October and if all goes well at that hearing, then we expect to emerge [from Chapter 11] sometime in late November, early December, once it gets approved," Neuhauser says.
A joint venture with Avianca's two powerful Star Alliance partners to its north, United Airlines and Panama's Copa Airlines, first unveiled in November 2018, is also still in the works, Neuhauser adds, but needs participants to "design it again" in light of the pandemic.