Reports that Brazilian carrier Azul is preparing a bid for LATAM Airlines Group mark the second recent example of potential M&A activity to feature an airline interested in purchasing a much-larger rival.
The other was European low-cost carrier Wizz Air's failed bid for EasyJet, with both stories hinting at how the balance of power among carriers may have shifted towards leaner operators coming out of the pandemic.
In the case of Azul, its plans are at an early stage and are only relevant if LATAM Airlines Group – which was itself formed by the merger of Brazilian carrier TAM and Chilean airline LAN – fails to reach an agreement on restructuring as it seeks to exit US Chapter 11 bankruptcy protection.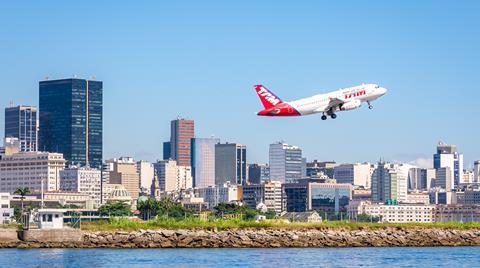 While Azul appears to think that scenario is likely, LATAM Airlines continues to work on finding a solution.
On 28 October, the Chile-based company said that the Southern District Court of New York had granted an extension for the presentation of its plan to 26 November.
"Said request enables the continued progress in the negotiations with the interested parties for the purpose of agreeing on the financial terms and submitting its Plan of Reorganization for approval," LATAM Airlines states.
Initial reports suggested Azul would only be interested in LATAM Airlines' Brazil operation – and not those in Chile, Colombia, Ecuador, the USA and Peru – but in a late-October interview with Chilean newspaper Diario Financiaro, Azul chief executive John Rodgerson said his airline would want to purchase the whole group.
That makes the story all the more fascinating. While the David Neeleman-founded operator is hardly a dyed-in-the-wool low-cost carrier – its model being closer to the hybrid space also occupied by Neeleman-founded JetBlue Airways – Azul does have a budget sensibility around network in particular, which sees it focus on point-to-point services within and from Brazil.
A big question is how Azul would integrate a LATAM Airlines Group that is closely tied to the traditional network carrier model – a strategy that has seen Delta Air Lines and Qatar Airways take stakes in the business in recent years. Indeed, a Chilean court last week approved a LATAM Airlines joint venture with Delta.
A clue might lie in the strategy being adopted by Colombian airline Avianca, whose own Chapter 11 restructuring plan was approved this week. The management of the full-service carrier is pivoting its model to compete better with budget operators, adopting point-to-point routes as a priority for the stripped-down operation.
Ultimately, the Azul-LATAM Airlines speculation may come to nothing. But the very prospect – arguably unthinkable pre-Covid – suggests no one should be too quick to claim the industry has not been changed by the past 20 months or so.
Subscribers to the Airline Business newsletter receive the Weekly Briefing first every week. For more information, click here.