Decades after airlines started moving out of government control and competing in a deregulated market, the issue of state intervention has been brought sharply back into focus by the Covid-19 pandemic.
In Europe, as in other regions, governments have been pouring money into carriers battered by the sudden evaporation of demand for air travel. But with investment comes influence. Keen to prove to taxpayers that their cash has been well spent, governments have been attaching strings to airline bailouts and acquiring, or increasing, their stakes.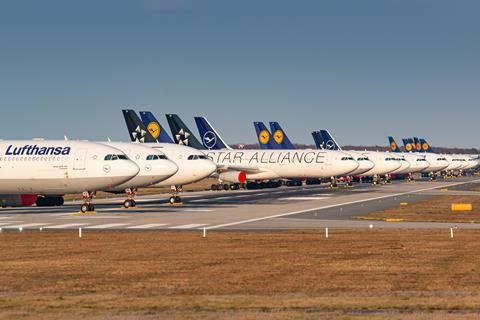 While the airlines in question have benefited from vital capital injections during an extremely challenging time, they will fly out of the crisis saddled with government debt and obligated to listen to a new voice in the boardroom.
Lufthansa Group's unease at this new reality was palpable in May, when it appeared reluctant to accept any government support that came with conditions attached.
The German airline group's chief executive, Carsten Spohr, told shareholders on 5 May – when Lufthansa was in "intensive talks" with the Austrian, Belgian and German governments over liquidity support – that while it did need state support, it did "not need government management". Lufthansa was privatised in 1997.
In the end, need proved greater than idealism and Lufthansa's shareholders approved a €9 billion ($10.7 billion) financial rescue package from Germany's economic stabilisation fund, the WSF. Under the financial plan, the WSF agreed to make silent capital contributions of up to €5.7 billion and take a 20% stake in the airline through a capital increase. The package was supplemented by a state-guaranteed loan of up to €3 billion with the participation of KfW and private banks.
Spohr stressed at the time that the airline would seek to repay the government "as quickly as possible", indicating a desire to quickly break free from the shackles of state ownership. However, he conceded in September that government involvement in the world's largest long-haul airlines had become "the new normal" amid the Covid-19 pandemic. While Lufthansa was "a big fan of liberalisation and privatisation", Spohr said that coronavirus had "turned that trend around, and we have to accept that".
Another big recipient of government aid in 2020 was Air France-KLM. In early May, France's plan to provide €7 billion of government-backed loans to help the Franco-Dutch airline group weather the coronavirus crisis was approved by the European Commission under its temporarily relaxed state-aid rules.
The plan included a French state-backed loan of €4 billion from a syndicate of six banks to be distributed to Air France-KLM and Air France, as well as a direct four-year shareholder's loan of €3 billion from the French government to Air France-KLM.
Separately, the Dutch government is providing a €3.4 billion state-support package to KLM. It comprises a 90% state-guaranteed five-year revolving credit facility of €2.4 billion, granted by 11 banks, and a direct state loan of €1 billion. One of the conditions of the aid was that all KLM employees agree to adjust certain employment conditions for the duration of the loan, which is set to last until 2025.
Air France's bailout also came with conditions attached. The French government tied green strings to its contribution, calling on Air France to halve its overall carbon-dioxide emissions per passenger-kilometre by 2030, compared with 2005 levels, with an earlier target of 2024 for emissions from domestic flights. The government also asked Air France to renew its fleet with more efficient aircraft, and to commit to sourcing 2% of its fuel requirements from sustainable sources by 2025.
WIDESPREAD STATE SUPPORT
Several other European carriers have seen their home governments boost shareholdings in recent months. Portugal's government, for instance, completed its acquisition of an additional 22.5% stake in TAP, clearing the way for the airline to access the rest of its state loan of up to €946 million. The government now holds 72.5% of TAP's share capital after acquiring the stake from David Neeleman's Atlantic Gateway consortium.
Meanwhile, in Scandinavia, the Danish and Swedish governments in October each agreed to increase their stakes in SAS to 21.8% under its SKr14.25 billion ($1.65 billion) recapitalisation plan. The following month, Greece's government set out plans to provide up to €120 million in state support for Aegean Airlines as part of a wider capital increase. Under the plan, the Greek state would receive warrants for the purchase of shares in the company.
This flood of state support has drawn criticism regarding competitive distortion from airlines that have not sought government bailouts. European Regions Airline Association (ERA) director general Monserrat Barriga told FlightGlobal in May that government support had focused on bigger, state-owned airlines, creating a market distortion for smaller and private operators.
In less diplomatic language, Ryanair Group chief executive Michael O'Leary in June said of Lufthansa's bailout that Berlin was "wasting vast amounts of taxpayers' money to prop up an uncompetitive airline that should be putting its own house in order instead of once again running to the government for help". O'Leary argues that "this and other bailouts will have a more devastating long-term effect on the future of European aviation than the pandemic itself".
Governments around the world, not just in Europe, have been providing financial aid to airlines this year. IATA puts the total figure at about $160 billion, but it may not end there. Speaking at a Paris Air Forum event on 20 November, the association's director general Alexandre de Juniac said that the air transport sector would require an additional $70-80 billion of state aid to keep airlines afloat during the recovery period.
However, while acknowledging that government aid has "kept airlines on life support" this year, IATA chief economist Brian Pearce has warned that "more than half of that aid has been in the form of debt", adding that this is "going to be an issue for the restart of the industry".