Bangkok Airways Airline chief executive Puttipong Prasarttong-Osoth makes no bones about how challenging Covid-19 has been for the full-service carrier, whose strategy had relied on supporting international carriers by flying codeshare passengers to Thailand's myriad tourism destinations.
"2020 was very, very tough… something that we've never been through before," he says. "Of course there are crises from time to time, such as SARS… but [Covid-19] has probably hit everyone in the world."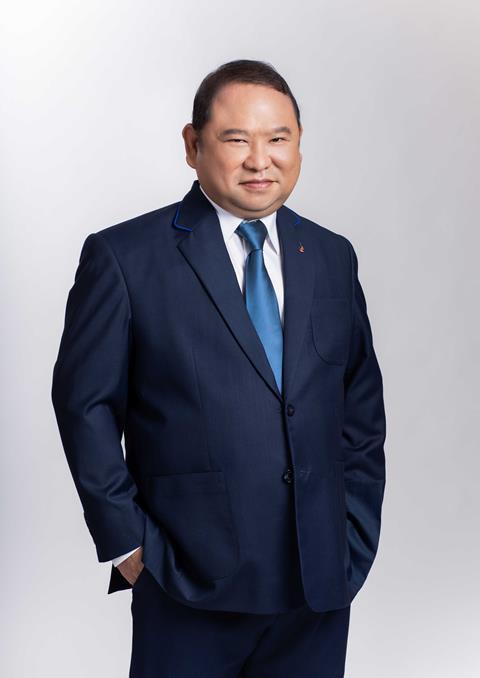 Thailand government statistics show that the country's international travel restrictions have eliminated a once thriving foreign tourism market. In December 2020, the country had 6,556 tourist arrivals, a 99.8% decline from 3.9 million in December 2019. Starting in April 2020 – a month that experienced zero tourist arrivals – monthly tourism statistics show a similarly grim picture.
In addition to the collapse in international traffic from early 2020, the airline also had to face an array of local restrictions governing travel within the country – all of which hurt demand. Passengers were required to pass through a number of processes, and different provinces had different requirements. At one point, passengers flying from Bangkok to the resort island of Koh Samui had to undergo two weeks of quarantine.
The pandemic manifested itself in the airline's results. After years of strong performance, Covid-19 pushed Bangkok Airways to an operating loss of Bt4.6 billion ($147 million) for 2020, compared with an operating profit of Bt1.6 billion in 2019. Revenues fell by nearly two thirds to Bt10.2 billion.
There are signs of improvement, even though international travellers have yet to make their way back to Thailand. Today, the airline operates six to eight ATRs to Koh Samui daily, up from just two daily when flights resumed to the island in mid-May 2020. On long weekends, the number of flights can rise dramatically. During a recent long weekend, the carrier was able to deploy 14 ATRs daily. For the Songkran festival from 10-15 April, Prasarttong-Osoth says the carrier was aiming to deploy 20-25 flights per day.
While the additional services are a positive, they are still a far cry from 2019 levels, when the airline typically operated 40 services to Koh Samui daily. The resort island, where the airline owns and operates the airport, is the carrier's most important market.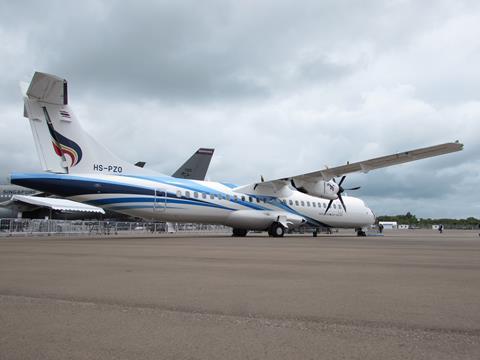 One impact of the evaporation of codeshare passengers – Prasarttong-Osoth estimates that international travellers used to make up 50% of customers – was that Bangkok Airways found itself exposed to Thailand's cutthroat domestic fare environment.
"Since we don't have codeshares, we've had to change ourselves and adapt," he says. "Before we weren't getting into the price wars, but now we have no choice – we have to take part in it."
Still, the carrier offers a premium product with a lounge, checked baggage and meals. "Our price might be a little bit higher, but compared to an LCC people know we are good."
Bangkok Airways has created campaigns around pricing that it would have eschewed in the past, but this also creates an opportunity, in that it attracts customers that the airline might not have accessed before.
While the airline has been able to build up its domestic market, the status of its fleet underlines its short-term challenges. Of the airline's 39 aircraft – 15 ATRs, 15 A319s and nine A320s – 24 are in storage. At the beginning of April, its in-service fleet comprised seven ATRs, six A319s and two A320s.
Prasarttong-Osoth is hopeful that some aircraft can be returned to the air as Thailand starts opening up – he expects a degree of normalcy to return in 2022. Nonetheless, Bangkok Airways plans to return aircraft to lessors. Last year it returned one A320-family aircraft, and plans to return another this year. In 2022 it plans to return six A320-family jets. It has no plans, however, to relinquish any ATRs.
"The ATRs play a pretty important role for us because demand is not that high and the ATR is matched to the situation at the moment," he says. "I think 70 passengers per flight is suitable and the ATRs have cost efficiencies compared to jets."
Prior to Covid-19, a major question for the airline was the replacement of its A319s and A320s. The primary consideration in the carrier's fleet planning is Koh Samui's single 2,100m runway, which is hemmed in by roads, public beaches and waterways. A320s can operate from the runway, but only with payload restrictions. This gives the A319 an outsized role in the fleet.
Prasarttong-Osoth says that discussions with airframers have gone quiet since the start of Covid-19, but that the airline could revisit its fleet renewal plans in 2023. He notes that the A220 can accommodate 140-150 passengers, similar to the airline's existing A319s. One problem with changing aircraft, however, is that values for existing jets are depressed.
"We will have to be careful to see what is the best move," he says.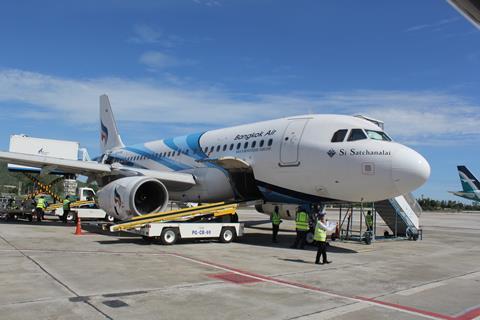 The crisis has also seen Bangkok Airways reduce staff numbers by 30%. While Prasarttong-Osoth says this was painful, it was necessary for the long-term survival of the airline. Some staff departed with "golden handshakes". Other staff members, such as pilots, are effectively on furlough, so that they can be called back when traffic picks up again. Some pilots who have been stood down are still given simulator time in order to keep them current.
In regard to capital, Prasarttong-Osoth says that the company is fortunate in that it owns property that can be used as collateral for bank loans. Cash, however, is clearly a challenge. The airline's financial statement for 2020 shows that cash and cash equivalents stood at Bt2.1 billion at the end of 2020, compared with Bt5.3 billion at the beginning of the year. The government has also stepped in to help airlines, by reducing items such as the excise tax on fuel, airport fees and other charges.
Despite the challenges that Bangkok Airways still faces, Prasarttong-Osoth is still eyeing opportunities for the future. One of these is U-Tapao International airport, the centrepiece of the country's Eastern Economic Corridor. In June, Thailand's cabinet gave its approval for the BBS Joint Venture consortium, which includes Bangkok Airways, to develop an aviation hub at the airport under a public-private partnership (PPP) agreement.
Plans call for U-Tapao to become Bangkok's third airport, relieving the strain at its other two airports, Don Mueang and Suvarnabhumi. It will be connected to the city and the other airports by a high-speed railway that could open in the mid-2020s. If all goes to plan, Bangkok Airways will manage the airport's new terminal. In addition to being an opportunity in itself, U-Tapao could also offer another point for international carriers to connect with Bangkok Airways. The new terminal is expected to open around 2025.
More immediately, Prasarttong-Osoth notes that Thailand is considering opening up Phuket to international tourists who have been vaccinated. In addition, quarantine rules on entering the country could be steadily reduced.
"At Bangkok Airways we are ready for the [return] of tourists," he says. "And at the moment we have started planning for resumption of international flights."