Canada's airlines have spent the past 10 months struggling to make ends meet, and as the global coronavirus pandemic heads into its second year, carriers are further trimming their operations as new, more-stringent travel restrictions take effect.
In response, a broad swath of the Canada's aerospace industry is pleading for Canada's government to ease restrictions and provide sector-specific financial aid.
In the past two weeks, the country's top two airlines, WestJet and Air Canada, announced plans to further reduce capacity and headcount, saying new restrictions make them unable to maintain their already slimmed down operations. This comes on top of major cuts the airlines already made last year.
Both carriers attribute new reductions to the country's travel restrictions, including a new pre-departure testing requirement for all inbound passengers – in addition to a mandatory 14-day quarantine – that took effect on 7 January. Customers travelling to Canada will need to prove a negative test result that is less than 72h old.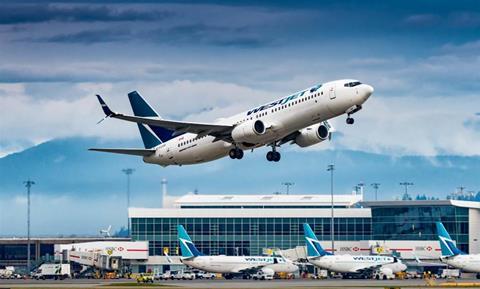 Six days in, airlines have already reportedly turned away hundreds of passengers who were unable to fulfill this requirement.
The new measure comes at a time of year when winter-weary Canadians usually look for relief from the cold. In normal years, thousands of so-called "snowbirds" make their way to southern USA, Mexico and Caribbean destinations for a warm-weather break. In 2021, however, many have cancelled plans due to the complexities of pandemic travel.
The longest peaceful border in the world, between Canada and the USA, has been effectively sealed for non-essential travel since 21 March. That closure has been repeatedly extended, and is currently scheduled to end on 21 January. But with exploding case counts on both sides of the frontier, that seems unlikely to happen.
While airline leaders have blasted the government for maintaining restrictions that have made forward planning near impossible, unions are now voicing similar concerns. One analyst sees "an economic horror show".
NO GOVERNMENT SUPPORT
Unlike in other countries, the Liberal government under Prime Minister Justin Trudeau has not set aside sector-specific financial aid, similar to the USA's CARES Act, which could maintain jobs and prevent a reduction of networks and capacity across the vast country that spans six time zones.
As a result, the industry's collapse continues unabated.
"The entire Canadian aviation system is going to financially crater – and soon – unless there is some approach beyond demanding that people hide in the house," says Mike Boyd, president of airline consultancy Boyd Group International. "Killing the economy as an unintended part of the programme is well underway, and airports and airlines in Canada are in the crosshairs."
On 13 January, Air Canada said it was reducing headcount by another 1,900 and cutting capacity by 25%. That's in addition to the more than 20,000 layoffs and furloughs it made earlier in the crisis. It now says that in the first quarter of 2021 it will be operating at about 20% of the capacity it had in the same period in 2019.
The Montreal-based carrier's outgoing chief executive Calin Rovinescu has been one of the loudest critics of the government's coronavirus-mitigation strategy in the past year, repeatedly calling on it to relax its restrictions, to no avail.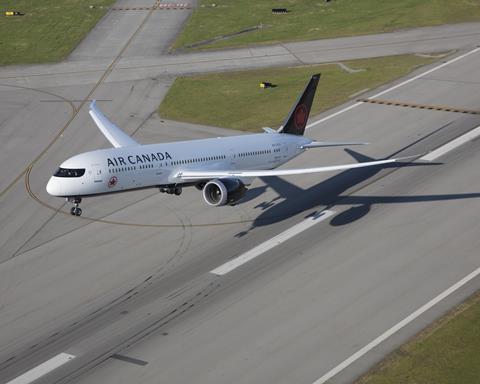 Calgary-based WestJet announced a reduction of 1,000 jobs last week, in addition to almost 10,000 job losses last year. The low-cost airline of the Canadian prairies, which had 14,000 employees at the beginning of 2020, is now about the size it was 20 years ago.
According to Cirium fleets data, Canada's two largest airlines currently have 213 aircraft in service, just 55% of the number they had flying a year ago.
Regional carrier Porter Airlines, headquartered in Toronto and with a strong presence in the eastern part of the country as well as northeastern USA, shuttered operations last March when shelter-in-place orders began, and does not plan to restart until more than a full year later.
Porter said this week that it hopes to start flying again on 29 March, but it is the eighth time the carrier has delayed its return. Some observers question if it will return at all.
Transat AT, parent of Canadian leisure carrier Air Transat, is looking to flee into the arms of Air Canada in order to save itself. Shareholders in December approved a significantly reduced offer – following the industry's near-collapse in the wake of the pandemic – for the opportunity to rescue the brand under the auspices of the nation's largest carrier. The airlines are awaiting Canadian and European Union regulatory approval of the deal.
NO PLAN
Unifor, the Canadian union that represents many aviation workers, on 13 January blasted the Canadian government, saying many jobs could have been saved if the government had stepped in.
"Today's announcement leaves airline workers with continued disappointment in the federal government's lack of action to support the industry," says Jerry Dias, the union's national president. "For months, we have been demanding that the federal government develop a long-lasting plan and provide financial support to save the industry from total collapse."
In April, the Trudeau administration enacted the Canadian Emergency Wage Subsidy (CEWS). That programme did save some positions, but funds were distributed broadly, and relief was a fraction of what the aviation industry requires, the union says.
"The harsh reality is that airlines are extremely capital-intensive operations with a high cash-burn rate and the requirement to preserve liquidity to maintain equipment, routes and staff," it writes.
On 8 November, eight months into the crisis, the Trudeau government said it was considering putting together a package that would temporarily aid the ailing aerospace industry.
The country's minister of transport at the time, Marc Garneau, mentioned the possibility of a plan to "establish a process with major airlines regarding financial assistance which could include loans and potentially other support to secure important results for Canadians".
Garneau added that the government was looking in particular to support regional routes that connect far-flung rural communities and secondary cities across the huge country of just 34 million people.
Two months later, Garneau has left his post, replaced this week by Omar Alghabra, and no such plan has materialised.
"The geographic layout of Canada, the distant locations of population pods and not a whole lot in between… makes profitable air service really tough in the best of times," says analyst Boyd. "Air connectivity is more crucial in Canada than any other developed nation on earth."
The Trudeau government, he says "has been asleep at the switch".
UNIONS 'BAFFLED'
Unifor's Dias says he is baffled by the government's silence on the "unprecedented layoffs and furloughs" that the industry in Canada has endured.
"The federal government can no longer operate as business as usual," he says. "Support for airline workers needs to be an immediate priority of the incoming minister of transport."
A day earlier, Unifor joined other unions representing a broad group of aviation workers – including the Air Canada Pilots Association (ACPA), the Air Line Pilots Association, International (ALPA), and the Canadian Airline Dispatchers Association (CALDA) – to condemn the government's inaction.
"Canada's airlines are a critical element of Canada's infrastructure, including essential travel and transport of Covid-19 vaccines and other critical items such as [personal protective equipment]," says Rob Giguere, chief executive of ACPA.
Union officials and airline executives fear the impasse on support will damage country's aviation and aerospace industry for the long term.
"Our government and airline leaders need to make a deal," says Russ Williams, president of dispatchers' union CALDA. "The longer it takes, the more our workers are paying the price – as every day more routes are cancelled, more jobs lost and any potential future recovery looks to be years away."
"It is like everything has been freeze-framed, like a stopped movie," Boyd adds. "Bringing [Canadian aviation] back after a collapse won't be easy or near-term."
"They must get out of panic mode, and start to loosen up," he adds.

Pilar Wolfsteller, Americas Air Transport Editor, is based in Las Vegas and brings a pilot's perspective to her beat. She covers airlines across the hemisphere and her interests also include future-oriented sustainable aviation technology and urban air mobility projects. Pilar began her journalism career at the global news agencies Bloomberg and Reuters, and has reported from more than 50 countries.