If the impact of the pandemic continues to be felt by both its airlines and the wider industry this year, new product investments and acquisition moves underline Lufthansa Group chief executive Carsten Spohr's determination that this should not prevent it from regaining the initiative.
"Lufthansa is back" chief executive Carsten Spohr proclaimed in early March, as the European airline group posted a sharp return to profit for 2022. While on many levels both the group and the industry still have ground to make-up on pre-pandemic highs, it is clear that in mindset and ambition Lufthansa Group has returned to the front foot after a hugely challenging three years.
Three days before confirming its return to the black, the group's biggest carrier Lufthansa had, at the imposing Kraftwerk Berlin venue, unveiled its new long-haul product. To be equipped on more than 80 aircraft deliveries, and retrofitted across numerous other widebodies, the €2.5 billion ($2.7 billion) Allegris and Swiss Senses investment will overhaul Lufthansa and Swiss' product in all cabins with an array of options as the carrier banks on choice as the next frontier in premium travel.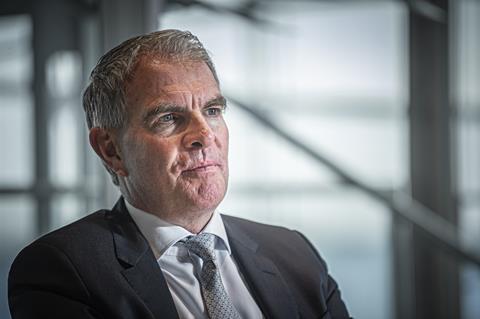 I think we have proven over the last decade that operating a multi-hub system can be a huge advantage
Two days later, the group signed off on a further 22 widebodies, including its first Airbus A350-1000s. All the while, talks continue on bringing Italy's ITA Airways into the group.
Leading Lufthansa before, through and – after a fresh five-year extension to his mandate – into its post-pandemic future is Spohr.
"Without asking for such a crisis, we have done our very best to use it as an opportunity to become a better company for all stakeholders; for our customers, shareholders and our staff," Spohr tells FlightGlobal, during an interview in Frankfurt in late February. "We have become a leaner company, because crises need to be used to optimise the structure and, once we have fully restored our service levels, I think we will be a better company for our customers as well."
STATE RETURN A 'CULTURAL CHALLENGE'
The group, as with all major international network operators, was crippled when the crisis hit in the spring of 2020. Staff levels were heavily cut – the group is back to around 110,000 people, still around 30,000 below pre-pandemic levels – and aircraft grounded. Even now, the group sees capacity about 10-15% down on pre-pandemic levels this year.
Lufhansa's €1.5 billion adjusted EBIT in 2022 came after losing more than €7 billion across the two pandemic years and provision of €9 billion in state support – of which it drew down €3.8 billion – with the German state taking a 20% stake in June 2020.
Spohr says the latter was particularly challenging given it came after the three most successful years in the group's history and more than two decades after Lufthansa's privatisation. "Nobody would have ever thought that this is not a one-way street," he says. "It was a financial and a cultural challenge for this company.
"It was our goal to get out of this as quickly as we could. That we were in the end so fast as we were, was a positive surprise to us, and we were proud of it." Lufthansa Group repaid the last tranche of the Covid-19 government aid in November, clearing the way for the German state to sell its remaining stake in the business.
WHY BUY ITA AIRWAYS?
Ending the state support was not only good for the soul of Lufthansa; it also cleared the way for it to return to acquisition mode. This is something it is actively pursuing with Italian national carrier ITA Airways.
Having initially teamed with Swiss shipping firm MSC Group on a potential bid, and seemingly lost out when Italy opened talks with a consortium with links to Air France-KLM and Delta Air Lines, Lufthansa is now in pole position after a new Italian government revamped the process. Italy's finance ministry opened exclusive talks with Lufthansa in January over it acquiring initially a minority stake in ITA with a view to ultimately taking full control – as it did in acquiring Brussels Airlines over a decade ago.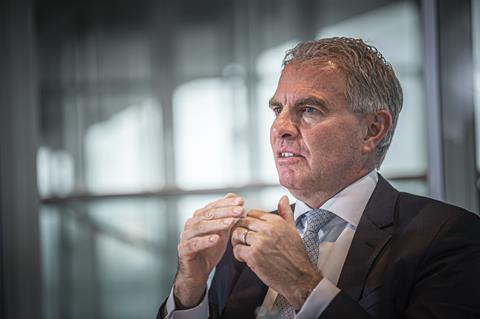 "Nobody would have ever thought that this is not a one-way street,"
Lufthansa has made no secret of its interest in the Italian market; regional carrier Air Dolomiti has been part of the group for 20 years and it briefly operated a Milan-based subsidiary. However, given the challenges – and losses – investors in ITA's predecessor Alitalia endured, the move for an Italian state-owned airline could be considered brave.
"Nobody could turn ITA into a success as long as it stands alone, it only works as part of a larger group," says Spohr. "We have proven in the last years, looking at Swiss, looking at Austrian, and Brussels Airlines, that we know how to integrate another brand, how to integrate hubs, how to integrate another airline into a success story, while at the same time allowing that airline to retain its identity.
"Those who take decisions in Italy have looked at our track record in the last 10 years very carefully. I told the Italian government if you want to hear about the upsides of being part of Lufthansa, don't call Berlin – call Vienna, Brussels, Berne."
Spohr notes ITA not only provides access to a key market, but enables Lufthansa to grow. "Lufthansa is currently number four in the world. If we want to stay in that global league, we need to grow. And that growth will to a certain degree have to come from consolidation, it will not come from our current home markets alone.
"Secondly, a market like Italy speaks for itself. It's our most important European market outside of our home markets and globally its number two for us after the US."
It also serves as an opportunity to develop in the southern hemisphere, given Lufthansa's five existing European hubs – Frankfurt and Munich in Germany, Brussels, Vienna and Zurich – are more northerly located. "Any new hub needs to bring some advantages to the group," says Spohr. "It needs to be a brand that fits into our multi-brand system. And it needs to be a hub that that brings along advantages that our existing hubs don't have.
"Brussels, the latest hub we added, added a huge competence and network in terms of Africa. Now looking at a southern European hub, we are looking at a hub perfectly located for our planned expansion into Africa and Latin America."
VIRTUES OF MULTIPLE HUBS
Notably ITA would mark Lufthansa's first airline acquisition in more than a decade. Spohr believes its model of multiple hubs and brands – it has 13 airline operations across the group – is now well proven.
"If we had had this interview 10 years ago, many in our industry would have considered having this multi-hub system a disadvantage, due to a lack of a home market like London or Paris," he says. "I think we have proven over the last decade that operating a multi-hub system can be a huge advantage – both on the production side, where we are more flexible; on the costs side, because we have competition; and offering a much wider choice for our customers.
"I think we have come a long way in being able to rebook and to use the flexibility of multi-hub to give a wider choice of network, while at the same time keep the identity of the brands especially when you are on board. We want it to feel different to fly on Austrian Airlines planes than it does Swiss planes. But when it comes to the advantages of the size of the system, we want to act as one. That is where I think we have come a long way in the last 10 years – to the point where we are able to plug in another hub much faster than we were able to do 10 years ago."
Alongside the group's established network operators, Spohr has developed Eurowings as its low-cost unit, which he credits with ensuring the airline retains a strong presence outside of its primary hubs in Germany.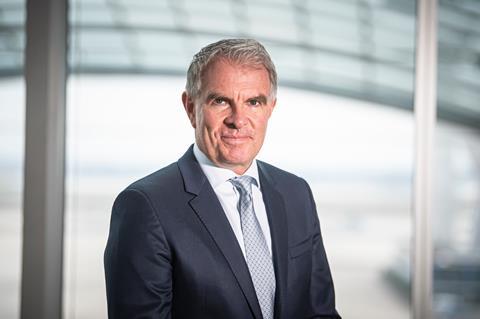 The whole system will have to live with shortage in a time of high demand and therefore this will be another year of normalisation
"The reasoning hasn't changed," he explains. "Wealth and purchasing power in Germany are much more decentralised than in any other European country. There is no Paris or London in Germany. So to make best advantage in our home market we needed to have a broader presence than just in our hubs. It's probably no surprise that we are the only former national carrier that still has retained its lead outside of its hubs.
"Now this year we are looking at the turnaround of Eurowings into profit, delayed by the pandemic. The brand is well-positioned as our second brand in Germany and markets outside of Germany. We have done our homework on the cost side, which especially on point-to-point is key to be successful."
HANDLING AIRCRAFT DELIVERIES CHALLENGE
Lufthansa has retired 110 aircraft from the group fleet since the pandemic, bringing in 57 new aircraft over the same period, leaving it with 710 aircraft as of the end of last year. Following its latest widebody commitment, it has almost 200 more aircraft due for delivery over the rest of this decade, as it prepares to phase out six different sub-fleets in the medium-term.
However, supply chain challenges mean having aircraft due for delivery is one thing, but receiving them on time is another. "The average delay of a narrowbody joining our fleet currently is half a year; that shows you where the issues are," says Spohr. "No doubt, every single aircraft coming late is a highly awaited aircraft being missed, especially running an airline group which receives a new aircraft every two weeks."
Spohr was among the first to highlight the impact supply-chain constraints will have on industry capacity, through delayed aircraft deliveries and maintenance. "I'm afraid I was more right than I hoped to be right," he says.
On the one hand this is contributing positively to a continued strong yield environment. "I think the natural reaction of our industry to high demand is to over-supply the market with additional seats," he says. "That frequently resulted in lower margins than other industries. We are not able to repeat that mistake right now. So I think for the industry there will be some healthy years ahead.
"But operational challenges are enormous, including relaunching aircraft which from an environmental point of view wouldn't need to be flying if the new aircraft would come on time."
The most high profile example is the unexpected imminent return of its A380s, which looked to have flown their last flights for Lufthansa and many other carriers in the aftermath of the pandemic. "They will be operating from Munich to for example, New York, Boston and Los Angeles. We are looking at going up to six in total," Spohr says. "The A380 is a wonderful example where customers and crew cannot wait, they are very happy. My controllers less so."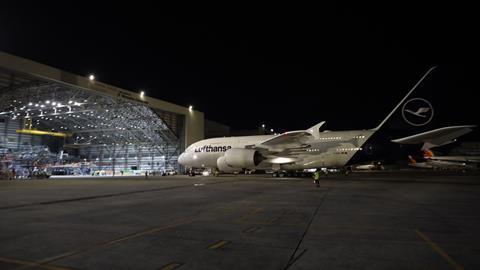 The A380 return is though likely to be short-lived, helping to fill a void created by delays in the Boeing 777-9 programme – set for delivery in 2025 – and late-arriving widebodies.
While the airline will also phase out its Boeing 747-400s in the coming years, the future is brighter for the 747-8. Boeing ended production of the iconic jet following February's final jumbo delivery to Atlas Air, leaving Lufthansa as the biggest passenger operator of the 747-8. "This aircraft works very well for us," Spohr says. "You need to have high premium share, you need to have a high cargo share to make the aircraft work for you. In our case it does. That aircraft will fly into the next decade."
NO 'NORMAL' BEFORE 2024
The continuing supply chain challenges Spohr refers to encompass the airport ecosystem in Europe as well, prompting a cautious approach to summer capacity.
"Things will not be back to normal before 2024," says Spohr. "It's a shortage across the system; shortage of airplanes, shortage of spare parts, shortage of staff of our service providers and, in some areas, shortage of staff within airlines. So the whole system will have to live with shortage in a time of high demand and therefore this will be another year of normalisation.
"Nevertheless, I think the summer of 23 will be a much more pleasant customer experience than in the summer of 22 and we are working very hard on that."
While the group has been quick to restore European and transatlantic capacity, Asia markets have been slower to reopen. However, the carrier is already accelerating its plans for China following the easing in Covid travel restrictions at the start of the year. "We had some airplanes put aside for the reopening of China. We just decided to pull additional airplanes from other markets to participate in the reopening of China, which is happening earlier than we thought," Spohr says.
"We were the number one European carrier to China. We definitely want to foster that role after the pandemic. And looking at geopolitical tension, I think it's important that our purpose of connecting people, cultures and economies around the world is not only focused on the west, but also refocuses on reconnecting other parts of the world."
Following the return to profit in 2022, Lufthansa projects a further "significant improvement" in adjusted EBIT for 2023. Much of that profit in 2022 was delivered by its booming cargo and MRO units – only Swiss and Austrian were in the black of its passenger carriers last year. While it will seek to divest its credit card business and remaining catering operations as it moves from an "aviation to an airline group", Spohr says Lufthansa Technik remains central to the group – despite plans progressing on a potential partial divestment.
"Our commitment to passenger airlines, both hub and point-to-point, our most successful cargo carrier, and Lufthansa Technik, is undisputed," he says. "There would be no Lufthansa Group at number four in the world without those four elements and they are here to stay."
SPOHR ON HIRING CHALLENGES
One of the key challenges facing the sector this summer is again ensuring the system's capacity can meet rising demand. Lufthansa in February trimmed its planned schedule for February, aiming to limit disruption for customers by acting early.
"Together with airports, air traffic control, our ground service providers, we are trying to calibrate the system for the summer on what the system is capable of delivering at high reliability and quality, and we are trying to have the right number of flights in the system that can be delivered to our customers," Spohr says.
"This is not a time for finger pointing. Everyone is wide awake, and everybody – including our partners – are doing their very best. Is their very best is going to be enough? Honestly, I have my doubts. But it is not a question of willingness, it is a situation of what is anyone capable of."
He says Lufthansa is hiring 1,000 people a month. "That is quite a strain for us. But others are not showing the same success in hiring as we do, and I think that will result in some shortages for the summer of 23."
Spohr though does not believe the industry has lost its appeal. "Which industry is more fascinating than aviation? Looking at the world, the purpose of what we do, connecting people, cultures and economies in a sustainable way is as sexy as it has ever been. The success of our recruitment proves it."