Of all the recent disclosures of airline profit returns, of which there have been many, few seem as notable as that of Cathay Pacific.
Arguably no international carrier was as hard hit by the pandemic as the Hong Kong operator. With no sizeable home market to fall back on, its passenger activities were wiped out at a stroke when Covid hit, while the territory's travel restrictions were among the strictest and longest lasting. Yet this week Cathay revealed it had swung to an operating profit of HK$3.5 billion ($450 million) in 2022 after a positive response to Hong Kong's lifting of quarantine rules in September.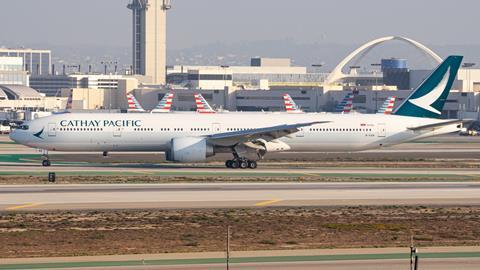 It is, of course, still early in Cathay's recovery. While revenues climbed 12% to HK$51 billion, this is still less than half pre-pandemic levels. It flew under 3 million passengers during the year and net losses widened amid losses at associate businesses. However, it is in the ascent, bringing grounded aircraft back into service, and eyeing a return to 70% of pre-crisis capacity this year.
It is another example of how the strong end to last year – and continued momentum into this year – has seen an upturn in airline fortunes around the globe.
Lufthansa became the latest of the big European airline groups to confirm a return to profit, detailing an adjusted EBIT of €1.5 billion ($1.6 billion) in 2022 and projections of a "further significant improvement" for the year to come. The result prompted group chief executive Carsten Spohr to proclaim that "Lufthansa is back".
Israeli carrier El Al and Latvian operator Air Baltic have also both in the last week confirmed returns to profit in 2022, while strong yields helped Turkish carrier Pegasus Airlines post record profits in 2022. That came a few days after Turkish Airlines had disclosed a doubling in operating profits to €2.7 billion.
In Latin America, Brazilian pair Gol and Azul both posted strong final quarters for the year. Gol cited the rise of 'bleisure' trips – a combination of business and pleasure travel – in earnings during the fourth quarter of 2022, while Azul flagged record fourth quarter and full-year revenues in its results.
Read the newsletter for free every week by signing up to the Airline Business Weekly Briefing