More than a year after a massive restructuring, Hong Kong's embattled Cathay Pacific looks to enter 2022 with its recovery in jeopardy, as the city's international borders remain tightly shut, and new competition takes shape in its home turf.
It was 21 October 2020, when the carrier announced it was slashing hundreds of jobs and closing down regional unit Cathay Dragon, all in an attempt to trim cash burn, while staying afloat amid the coronavirus pandemic.
The Oneworld carrier suffered a collapse in international traffic as Hong Kong sealed its borders amid the coronavirus pandemic. Coupled with a lack of domestic traffic, the carrier's passenger numbers from the start of the pandemic are a tiny fraction of the millions it used to carry.
Furthermore, and unlike its regional rivals, Cathay entered the pandemic beset by weakened demand from political unrest in Hong Kong in 2019.
The airline suffered its worst financial results in its 70-year history: in 2020, it plunged to a HK$18.1 billion ($2.32 billion) full-year operating loss, with revenue for the year just 2% pre-pandemic levels.
THE 'ZERO-COVID' CONUNDRUM
Cathay's home base of Hong Kong has resolutely maintained its 'Zero-Covid' stance, putting it more in line with the Chinese mainland than the rest of the world, which is looking at reopening borders after a long battle with the pandemic. Indeed, Hong Kong's quarantines of up to three weeks are among the world's longest.
Hong Kong is unlikely to open up its borders to leisure travellers to enter without quarantine any time soon, and this puts Cathay in a conundrum where its transit traffic performed better than traffic in and out of Hong Kong.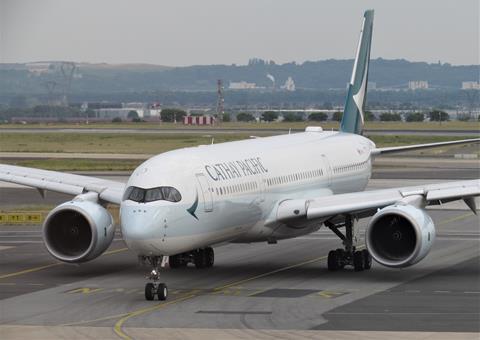 The airline alluded to this situation in its September traffic results, where it notes that transit traffic was a "key driver for demand".
The airline adds: "In contrast, passenger demand for flights into Hong Kong remained very weak due to the strict quarantine requirements."
While it did not elaborate further, it was clear the territory's tough stance on managing the pandemic was affecting Cathay's recovery prospects. Furthermore, this was not the first time it has acutely felt the impact of governmental policies.
In January, the carrier said it expected to lose more cash — months after it managed to trim its cash burn — and cut capacity further, following the Hong Kong government's decision to impose mandatory quarantine measures on all flight crew entering the city for more than two hours.
Hong Kong subsequently eased quarantine measures for flight crew, but has stood firm on its virus elimination strategy. Hong Kong chief executive Carrie Lam said in an October interview that she was, as the city's leader, "duty-bound to protect my people, so any fatality or increase in fatality will cause a major concern in society".
She also stressed that Hong Kong's priority was the reopening of borders with the Chinese mainland, before the rest of the world.
A research note points out that the airline could even take longer than its regional peers to recover and return to profitability, given a lack of domestic market and its relatively larger exposure to international markets.
Independent aviation analyst Brendan Sobie concurs, noting that Hong Kong's relatively slower reopening strategy "is a concern" for Cathay's recovery prospects.
"The lack of a domestic market is a major challenge as it will be some time before the international market starts to reopen in Hong Kong and potentially several years before it fully recovers. A much slower reopening in Hong Kong compared to other markets is a concern," he says.
However, Sobie notes that Cathay is "very well established with a very strong brand and ample liquidity".
COMPETITION ON THE HOME TURF
While an international restart might seem some time away, back on Cathay's home turf there is already indication that competition is heating up.
Backed by Donghai Airlines owner Bill Wong Cho-bau and headed by former Cathay Dragon chief Algernon Yau, Greater Bay Airlines has set its sights on serving short- to medium-haul points from Hong Kong.
In January, the carrier applied with the city's air transport licensing authority for rights to fly to up to 100 cities. It cleared a significant hurdle in October, receiving its air operator's certificate a month after it took delivery of its first Boeing 737-800.
While it is unclear when exactly Greater Bay Airlines will commence operations – it will be required to secure a business operation licence – it is certain the carrier is committed to launch, and will potentially take on Cathay.
Sobie notes that Greater Bay is less a threat to Cathay than it is to compatriot Hong Kong Airlines, itself in a dire financial position.
Like Hong Kong Airlines, Greater Bay has pitched itself as a mid-market carrier, which is a "tough space to play in", unlike the premium segment commanded by Cathay.
"The outlook for both the Cathay Pacific Group and Greater Bay will obviously improve significantly if Hong Kong Airlines fades but even then there would be numerous challenges," says Sobie.
Ultimately, Sobie believes the recovery prospects of Cathay will rest on factors "which are out of their control".
"This includes the regulatory environment, the political environment and the post-pandemic economic environment," he tells FlightGlobal.