The year has kicked off with a stark reminder of the dichotomy in airline fortunes around the world as the Covid-19 pandemic continues.
In Hong Kong, Cathay Pacific has slashed an already threadbare flying schedule, citing tightening quarantine restrictions for air crew. That reduction in operations notably affects cargo flights, which were something of a revenue lifeline for the carrier.
The move comes as Hong Kong continues to mirror China in its pursuit of a 'zero-Covid' strategy, despite the heightened transmissibility of the Omicron variant making control of the disease much more challenging.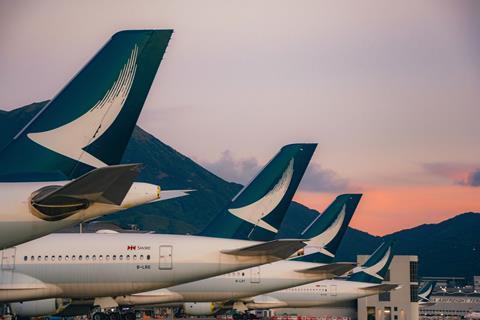 Amid that policy, the Hong Kong government this week banned flights from Australia, Canada, France, India, Pakistan, Philippines, the UK and the USA for nearly two weeks.
At the other end of the spectrum, US carrier Allegiant this week ordered 50 Boeing 737 Max jets as the domestic-focused operator plans to expand well beyond its pre-pandemic capacity in the coming years.
The order includes 30 Max 7s and 20 of Boeing's high-density 737 Max 8-200s – the latter being the configuration taken by Ryanair.
Aircraft availability and "attractive purchase terms" gave Boeing this timely order win, after it ended 2021 with the disappointment of big Airbus orders from both Air France-KLM and Qantas.
"Boeing had an enormously creative package solution for us, which offers a family of aircraft," Allegiant treasurer Robert Neal tells FlightGlobal. "They had near-term availability, which is something that is pretty rare."
Elsewhere, there was good news for UK airlines, as the government removed the travel restrictions introduced when the Omicron variant was first identified.
"This is a long overdue and welcome step by the UK back to its pre-Omicron regime," said IATA director general Willie Walsh. "It's clear that the extra measures had little or no impact on the spread on this new variant."
Amid these developments, the first week of 2022 has already shown that the industry should brace for another year of ups and downs.
Subscribers to the Airline Business newsletter receive the Weekly Briefing first every week. For more information, click here.