Two giants of the industry have announced they will step down in 2020 – both will be a tough acts to follow
The coming year will see the retirement of two huge names within the airline sector who have been at the heart of some of the global industry's most significant developments: IAG's Willie Walsh and Emirates Airline's Tim Clark.
In the case of Walsh, his major impact on the industry has been as a consolidator in Europe over the past few years, whereas Clark's influence has been felt over several decades and at a single airline.
In both cases, however, they have created successful business models that others have tried to replicate – not always successfully.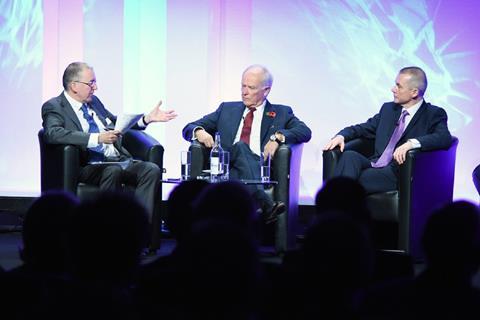 The 2011 formation of holding company IAG as part of the merger of British Airways – which Walsh was leading – and Spanish flag carrier Iberia heralded a new era for commercial aviation in Europe as operators scrambled for a sustainable future following the global financial crisis.
The odds were arguably stacked against Walsh as he stepped up to lead IAG, with Air France-KLM and Lufthansa both having already made consolidation moves.
But he would go on to earn plaudits for ensuring IAG's legacy flag carriers adapted to new competitive challenges, and for successfully adding low-cost operators to the group structure. The holding-company concept would become the envy of peers amid a clamour for further consolidation in Europe.
Following IAG's formation, the group went on to absorb Walsh's former employer Aer Lingus and Spanish low-cost carrier Vueling. Then, in 2018, Level was launched as a response to competitive pressures from the likes of Norwegian – who IAG attempted, and failed, to purchase – in the long-haul low-cost segment.
WILLIE WALSH'S DEPARTURE MAY HAVE BEEN HASTENED BY AIR EUROPA PURCHASE
Walsh's retirement is no surprise – but the speed with which he is leaving IAG arguably is.
That is at least partly explained by IAG's pending purchase of Spanish leisure operator Air Europa.
The acquisition is expected to close later this year and IAG would have been mindful of Walsh's departure being a distraction. The choice of Iberia chief executive Luis Gallego as his replacement also appears logical as IAG's immediate challenges and biggest opportunities are around its Spanish operations.
Proving that imitation might be the sincerest form of flattery, Walsh's legacy at IAG was perhaps best summarised by fellow Irishman Michael O'Leary, speaking last year when Ryanair announced that it was adopting a group structure similar to IAG's.
"I have always been impressed with the way Willie [Walsh] has managed IAG – the turnaround, for example, of Iberia using different brands such as Vueling," O'Leary said. "He has driven a lot of cost efficiency in Iberia and in BA… And looking at [a] kind of management succession, again, I think the way that Willie has taken care of Alex Cruz – [to take him] out of Vueling and put him into BA… There's much more mobility between the management teams."
O'Leary added that adopting a holding-company structure would allow Ryanair Holdings to allocate capital across its subsidiaries and "encourage each of the airlines to compete actively for capital and aircraft" – a key feature of IAG's strategy.
IAG announced on 9 January that Walsh will step down on 26 March 2020 and retire completely on 30 June.
HOW TIM CLARK BECAME A PIONEER OF THE GLOBAL NETWORK CARRIER CONCEPT
Meanwhile, Clark – a founder member of Emirates in 1985 – will retire at the end of June 2020, with his successor yet to be identified.
Intriguingly, he will step down at a time when Emirates is becoming accustomed to slower growth, following years of double-digit increases in passenger numbers that began to moderate towards the end of the decade.
Speaking to FlightGlobal for the November 2019 issue of Airline Business, Clark noted that global economic pressures are ratcheting up in tandem with Emirates impersonators emerging across the region "that have the single-minded attention to taking us down because we're so dominant in their markets – Africa, Middle East etc. It's like the champion boxer".
But like most champion boxers, Emirates is an incredibly tough opponent, even in its relatively old age.
Under British national Clark and backed by Emirates chairman Sheikh Ahmed bin Saeed Al-Maktoum, Emirates grew from a fledgling operator, fighting an initially lonely battle to prove the Gulf hub concept, to a carrier that is now among the world's top 10 in terms of both income and revenue passenger kilometres (RPKs).
Clark has become known as a pioneer of the global network carrier concept in building that formidable competitive force.
And as an airline brand, Emirates under Clark is almost unrivalled with its penetration across the world, even as local competition grew through carriers such as Etihad Airways and Qatar Airways, and market forces prompted a tie-up with low-cost carrier Flydubai.
To achieve such impressive growth, Clark has pushed the big manufactures to develop ever-better aircraft, as Emirates sought the optimal metal to connect any two cities in the world via a stop in Dubai.
Notably, Clark steps down having been the only airline chief to make the A380 an integral part of a carrier's strategy, as he put the superjumbo front and centre of Emirates' expansion plans. Emirates currently operators more than 100 of the type, alongside more than 150 Boeing 777s.
Once seemingly immune to fluctuations in global economic conditions, Emirates will continue adjusting to its new normal without Clark's reassuring hand on the tiller – but all the stronger for his three decades guiding the business.