Industry consolidation and years of profits have left US airlines more prepared than ever to weather the falloff in demand created by the coronavirus outbreak, say industry analysts.
"All this is hitting badly, but we have never had an airline industry that has been this financially sound," says Mike Boyd, president of aviation consultancy Boyd Group International. "Cash is available to every airline. They can weather this."
Others agree.
"North American carriers should be in a stronger position than airlines in other regions to withstand implications from coronavirus," says a 12 March report from Fitch Ratings. "North American airlines have gone through significant consolidation, restructured through multiple bankruptcies and experienced a change in operational focus toward profitability."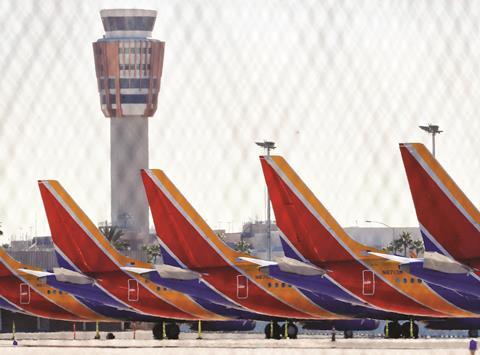 The full scale of the virus' impact on US airlines became more evident on 13 March when Delta Air Lines announced it will ground 300 aircraft – about one-third its fleet.
Delta and other major carriers have lobbed huge chunks of flights off their schedules in recent days, responding to tumbling domestic travel demand and the US government's European travel ban, set to take effect tonight.
The 30-day ban prohibits travellers who have visited 26 European countries, excluding the United Kingdom, from coming to the USA.
Fitch says smaller regional carriers are likely to face more "financial distress" than others, as may carriers in Europe, where competition is more acute and margins thinner.
Among US airlines, Fitch thinks American Airlines, Hawaiian Airlines and Spirit Airlines face greatest virus risk. Fitch cites Hawaiian's limited "geographic diversification" and American's and Spirit's relative high debt levels. Alaska Air Group also faces particular risk by virtue of being based in Seattle, a US coronavirus outbreak hotspot.
Teal Group aerospace analyst Richard Aboulafia suspects discount carriers like Spirit and privately-held Frontier Airlines might face more threat due reliance on leisure travellers, whose plans might be more "discretionary".
"Everyone else is probably OK," in the USA, he adds.
Spirit and Frontier did not immediately respond to requests for comment.
But Boyd thinks carriers like Spirit, Frontier and Allegiant Air might actually fare batter. He notes many US companies have implemented travel bans, but says perhaps vacation travellers will keep flying.
"It may be the Allegiants and Frontiers are going to get hit less than others," he says. "What we don't know is what segments are getting hit the worse."
Also, while Spirit has relatively more debt, it has used that money to improve its efficiency, Boyd adds.
Fitch concurs.
"Assuming coronavirus only has a short-term impact on consumer demand, leisure-focused carriers, such as Southwest, JetBlue Airways and Spirit, could fare better than network carriers," its report says.
JetBlue has "a solid balance sheet and good liquidity", while Southwest Airlines has a mostly-domestic network, Fitch notes.
"In general, we believe more-domestically-focused carriers could fare better than those with heavy exposure to international traffic," Fitch says.
Boyd commends US airlines for responding quickly to the demand drop, noting carriers have slashed schedules and grounded jets.
"The airline industry has been pretty aggressive. They have not been behind the curve on this," he says.
And while the Europe-US travel ban will hammer the transatlantic market, Boyd expects a rebound.
"The US industry to Europe – I think it's going to return to normal," he says.