While the coronavirus pandemic has had a wide-ranging impact across African carriers, the timing of the crisis has been particularly calamitous for South Africa's struggling airline sector.
The country's carriers, notably its two state-held operators, were already in the mire even before the coronavirus pandemic prompted the halting of passenger services and vital revenues.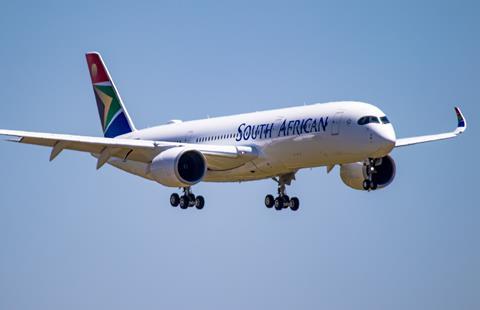 Now it appears long-struggling national carrier South African Airways could be approaching an endgame after wide-ranging reports suggest the government has told administrators running the airline that it is not able to give it any more funds towards its rescue.
Debt-ridden SAA was put into formal restructuring last December shortly after a crippling strike added to the carrier's woes. Business-rescue practitioners have since embarked on major restructuring and cash-saving measures, including streamlining its network and, in March, launching a consultation on potential job cuts.
The restructuring was already proving complex – with government officials outlining opposition to some of the network cuts – and finalisation of SAA's restructuring plan had already been pushed back from the end of February to the close of March.
But in the interim, SAA – in line with the implementation of travel restrictions implemented by South Africa to counter the spread of coronavirus – ultimately halted scheduled passenger flights as of 24 March.
Media reports in South Africa cite a 14 April letter from SAA's business-rescue practitioners Les Matuson and Siviwe Dongwana to affected parties, saying they received a response from government that it "is unable to provide additional funding to sustain the business rescue process".
"Neither will lending guarantees be provided in respect of the business rescue process," the letter is cited as saying, noting the administrators are still assessing the impact of the development on the business rescue process.
South African media also report that a copy of finance minister Tito Mboweni's speaking notes, circulated by the National Treasury during a briefing yesterday, said part of the government's fiscal response to the coronavirus crisis included closing SAA.
South Africa's public enterprise ministry is quoted as saying it is still exploring options for SAA.
Struggling SAA has required a series of state bail-outs over the years, as it has battled with its historic debt burden. The airline has also struggled for boardroom continuity, and acting chief executive Zuks Ramasia retired on 14 April, less than a year after assuming the position.
Last October South Africa's public enterprises minister informed the country's parliament that SAA and state-held regional operation SA Express are not going concerns, in a letter explaining delays in the carriers' annual report submission.
SA Express too was forced into formal restructuring in February – a ruling the airline initially challenged. On 18 March the regional carrier suspended operations until further notice. While it mentioned the impact of the coronavirus outbreak, SA Express indicated this was only one consideration behind its decision, attributing the suspension to "adverse recent developments".
South African media, citing court papers, report that business-rescue practitioners have complained that the department of public enterprises has withheld required funding and have applied for the liquidation of SA Express. But the ministry said allegations that the government "deliberately withheld financial support to the rescuers, and that the department's approach to the process was unconstructive, are baseless".
Interim chief executive of SA Express, Siza Mzimela, left the carrier at the end of March. Former SA Express boss Mzimela had returned as part of a state intervention team initially tasked with helping the carrier through operational difficulties, which had resulted in its being grounded in May 2018.
While South Africa's cash-strapped state-owned carriers are feeling the brunt of the crisis, conditions in the country – including tough economic conditions – were also causing problems for private operators.
Privately-owned South African carrier Comair earlier in April called off its planned acquisition of aircraft leasing specialist Star Air Cargo and Star Air Maintenance as it battles mounting challenges.
While no reason was specified for the purchase being abandoned, the airline had been dealing with the impact of the coronavirus crisis on top of a series of existing challenges, including a difficult economic environment, the grounding of the Boeing 737 Max, and additional costs while it transitions to a new maintenance firm.
"Despite our efforts over the last few months to preserve cash, maintain liquidity; divestment from non-performing acquisitions; aggressive cost reduction across the group; taking back control of the fleet; and unlocking further operational efficiencies, more remains to be done," said Comair chief executive Wrenelle Stander in a trading update on 23 March.
Comair has initiated a formal labour restructuring process as part of further efforts to reduce its costs.
What challenges are airlines facing through coronavirus grounding by region
1

2

3

4

5

6

7

Currently reading

Coronavirus crisis threatens to push South African carriers over the edge

8