While IATA stopped short of issuing any fresh forecasts for the year in its latest media briefing, the airline trade association left little doubt regarding the extent to which the coronavirus crisis will drive the industry's unprecedented run of profits to an abrupt end.
On 5 March IATA outlined two potential scenarios for the impact of the coronavirus outbreak on the airline industry, the worst of which suggested $113 billion could be wiped off airline passenger revenues in 2020. That is based on projected passenger revenues of $581 billion in 2020, and total anticipated airline revenues of $872 billion.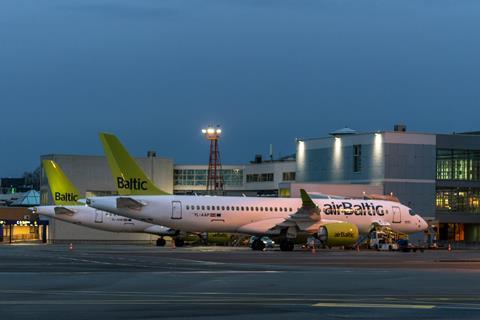 "Undoubtedly it's too low," IATA chief economist Brian Pearce said on 17 March during a media briefing when asked whether the industry outlook had worsened.
"The virtual closure of the US transatlantic market – which is a $20 billion a year passenger revenue market – immediately changed that. The assumptions we made were airlines would face a Chinese-style fall in demand of the same scale, but not the closure of borders and fall to zero in many markets.
"We can't say at this stage by how much that is an under-estimate, but the situation is worse than we thought it would be," he says.
Airline profits run is over
With an increasing number of airlines grounding swathes of services or – in some cases – suspending flights altogether during the crisis, it is clear that with the impact of lost revenues and limitations on the costs that can be pulled back, the bottom line of the industry is going to be heavily hit in 2020.
IATA had back in December been hopeful industry profits could improve in 2020 to reach $29.3 billion, as fiscal measures taken to counter weakening global trade in 2019 provided indications of an improved economic backdrop.
That was based on a projected 4% increase in passenger numbers in 2020. In its 5 March worst case scenario, IATA projected a roughly 16% contraction in passenger numbers. "Given what we have seen recently, it is going to be significantly further from that," says Pearce.
IATA has not issued a new financial forecast, but Pearce hints at the scale of potential losses for the year ahead. "I would point to the global financial crisis, where the industry in 2008 and 2009 lost about $30 billion – we are looking at, I would have thought, something of that scale," he says.
Most of those industry losses were incurred in 2008 – and while the industry remained in the red in 2009, it was followed by an unprecedented run of profits. This marked the airline industry's most profitable period ever, as well as an era where above-trend rates of passenger growth became the norm.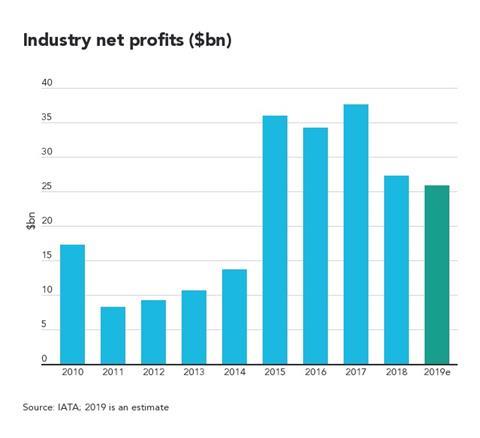 Can vulnerable carriers survive cash crisis?
Crucially though, the bulk of those profits have been delivered by a relatively small portion of airline groups. Notably there has been a consistent group of 15-20 airline groups – in many cases those that have been leading or benefited from consolidation in their regions – that have over the past five years delivered operating profits in excess of $1 billion.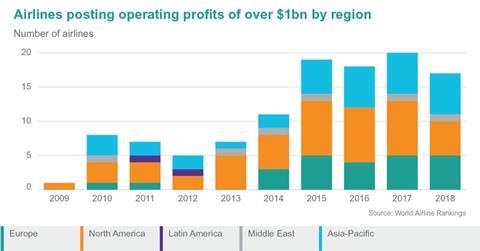 Theses groups will have a larger buffer than others, but many other carriers have struggled to make the same kinds of gains over the last decade – already evident in the relatively high number of airlines failures over the past two years, even before the coronavirus outbreak.
"It is clearly a risk," says Pearce, asked about the potential for more airline failures. "Airlines are running out of cash, they won't be able to sustain operations. Obviously there are a number of airlines that do have credit lines and access to cash who will be able to survive, but there is a large number in a much weaker position.
"Many of those airlines were quite profitable before this crisis – so this is not necessarily a solvency crisis, it's a shortage of cash – which is why Alexandre [de Juniac] is calling on governments to provide various mechanisms to provide cash for a temporary period."
The main thrust of IATA's media briefing was to highlight the urgency with which governments would need to act to counter the imminent liquidity crisis. The association notes airlines, on average, at the start of the year had around two months' worth of cash.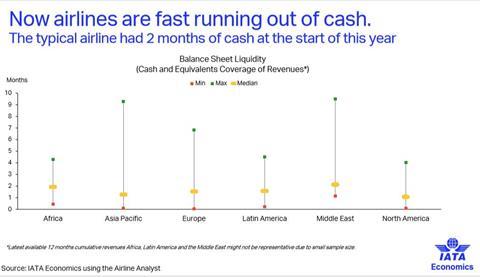 Against this backdrop, IATA is urging governments to help with loans, loan guarantees or in the corporate bond market, with director general de Juniac suggesting the required financial assistance could be in the region of $150-200 billion.
"It's a pretty early stage, but they are really in a listening mode, they are understanding this industry is in a very, very bad situation," de Juniac says of talks with governments. "And we have had, from many governments, significant opening."
But even if governments step in with guarantees to tide airlines through the liquidity crisis caused by the grounding of flights, there remain many carriers that were already struggling to secure sustainability. For some operators, surviving the crisis period while flights are grounded will be the first of many challenges ahead.
What hopes for recovery?
"All past pandemics have seen air travel and air cargo follow a V-shaped recovery," says Pearce. "So six to nine months past the outbreaks we have seen travel demand return to where it was before the crisis.
"In principle I think there is no reason to doubt that will happen again, [but] I think the challenge for the airline industry – and I think what is different this time – is this has spread globally. And as it spreads we are getting different profiles and it's going to take longer.
"So as some regions recover others are not, and that will extend the period of recovery out," he says. "In China we are seeing a return to work and the air travel market. So we are seeing a recovery phase in China, but that certainly is not the case in Europe and North America, and the spread into the Americas, the Middle East and Africa where the situation is deteriorating very rapidly."
Lower oil prices are one benefit for airlines. "We have seen something like a $20 per barrel fall in the price of oil and jet fuel since the start of the crisis, down to a range of $30 per barrel. In a full year that would save the industry something like $28-30 billion from its fuel bill.
"But the revenue losses are way in excess of that for airlines – particularly in Europe with high hedging ratios – they aren't in a position to benefit from that fall in the spot price of fuel. Some airlines are, but this is exacerbating the liquidity crisis in Europe."
De Juniac also argues keeping airlines in business will provide governments with their own rewards, in terms of the speed of supporting the recovery.
"We are not claiming to be the only sector to be supported – other sectors are in [significant] trouble. The reason we ask governments to focus on airlines is because connectivity is absolutely essential to the economic development in general and the potential incoming economic recovery.
"If we want this crisis to come to an end quickly from an economic perspective, the need for a strong sector to transport business people, goods and tourists is absolutely critical for the intensity and speed of the economic recovery."