With a small fleet and tough geographic challenges, Air Seychelles has found itself in a completely new world during the coronavirus pandemic.
Prior to Covid-19, Air Seychelles operated a tight network with its two Airbus narrowbodies – a pair of A320neos recently replaced its A320ceos – serving destinations such as Mumbai, Johannesburg, Mauritius, and Tel Aviv. It also has five Viking Air DHC-6-400 Twin Otters for regional work from its base at Seychelles International Airport, which serves the island republic's capital, Mahe.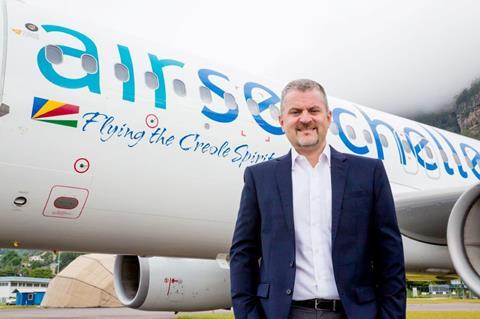 The carrier's chief commercial officer Charles Johnson lists a number of geographical challenges. Because Mahe's single runway is the only one in the country capable of handling jets, arriving flights must carry sufficient fuel for a two-hour diversion to Madagascar's Nosy Be. This also means the airline's A320neos are equipped for 180-minute ETOPS (extended-range twin-engine operational performance standards).
The Twin Otters mainly serve the country's other major island, Praslin, a fourteen-minute hop. Pre-pandemic, the airline could operate up to 30 services daily. While this route could use a bigger aircraft, the short sector length rapidly adds cycles, increasing wear and tear and maintenance costs. Further, the Twin Otters also serve resorts on more distant islands, some with rough strips. High seas during certain times of the year mean seaplanes are out of the question.
Traditionally, there is also significant competition into the Seychelles owing to its open skies policy. Key markets for visitors were previously France, Germany, and the United Kingdom, but average load factors across all carriers serving the islands were just 50%, with the country focused on attracting high-end and not mass tourism.
Before Covid-19 Air Seychelles had found a good niche, however. One successful route was flying transfer passengers between Mumbai and Johannesburg with one stop at Mahe, complementing tourist traffic to the Seychelles. The airline also flew transfer traffic from India to Mauritius.
The pandemic saw these markets evaporate. International airlines also stopped flying to the Seychelles.
"During Covid, basically all the other 14 airlines that flew into the Seychelles disappeared," says Johnson. "We became sort of the lifeline for the country for a number of months, especially for the importation of food and critical items."
The carrier received its first A320neo in late 2019, and its second in March 2020. Taking delivery of the second jet in Germany was especially challenging given that Europe was headed into lockdown at that time. The jets, with brand new passenger cabins, found themselves hauling personal protective equipment, medical gear, vaccines, and even seafood.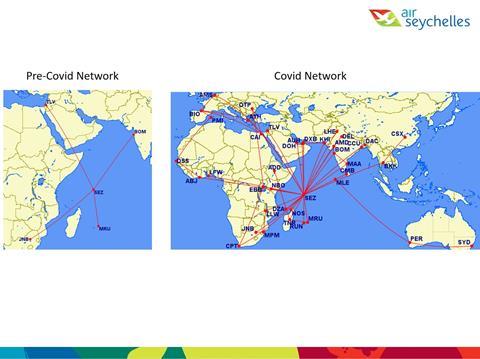 The airline also got serious about charters. Johnson says the airline had two priorities as Covid-19 crushed the world travel market. The first was covering its variable costs, the second was keeping pilots current. With no simulators in the Seychelles, the airline is obligated to send pilots for simulator work overseas.
Charter work included flying American missionaries working in Madagascar or on the East Coast of Africa to the Middle East, where they could catch flights back to the USA. The airline also operated charters for Indian and Sri Lankan workers, and for the crews of tuna boats stationed in the Seychelles.
Using its new A320neos, the airline operated at various times to over two dozen destinations, ranging from Amsterdam to Sydney.
Tourists have since started returning to the Seychelles. One early success was Tel Aviv, which opened in November.
"Tel Aviv was one of the first parts of the network to come back," says Johnson. "Within a couple of hours it was sold out, so we added another flight another, and then we were up to five or six flights a week. So we had we had great November and December last year."
This market has deteriorated somewhat, however, and depends on what's happening with Covid-19 in either country. Moreover, Air Seychelles faces competition in the form of El Al and Arkia Israeli Airlines. El Al, in particular, has added significant capacity, using Boeing 787s to the Seychelles.
While tourists from Western Europe have disappeared for the time being, Russia has come forward as a key source of tourist. For Air Seychelles, the United Arab Emirates and Eastern Europe are also important markets for the time being. While restrictions preclude South Africans from visiting the Seychelles, they can visit the Maldives. Air Seychelles is tapping this market with a Johannesburg to Male service that stops at Mahe.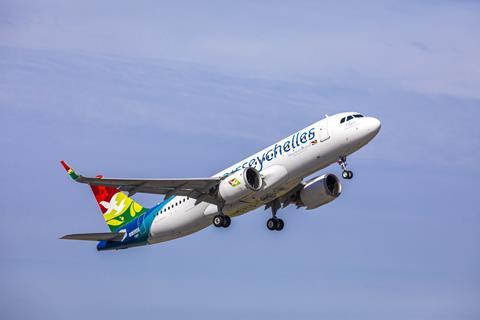 The airline – fully-owned by the Seychelles government following Etihad's divestment of a 40% stake – does not see its normal markets stabilising in the next nine months to one year, says Johnson. So, for the coming winter it aims to fly in passengers from Eastern Europe with a technical stop at Cairo. Other markets it is aiming for are Kazakhstan and the Ukraine, which would require technical stops in Dubai or perhaps the Maldives.
The carrier is also looking at a potential replacement for its Twin Otters, but Thomas says that the variability of the country's airstrips makes this quite challenging.
"Some are grass strips, some of them require short takeoff and landing modifications…this is not an easy area for all aircraft to fit in," he says.
He notes that the high cycles generated to flying to Praslin make maintenance "extremely expensive," and that retractable landing gear is not preferable for such a short flight. A larger turboprop such as an ATR could work for Praslin, but it would be less suitable for other parts of the island network.
Air Seychelles is also not interested in widebodies. Cirium fleets data shows that it operated a small number of Boeing 767s until 2012, and a pair of A330-200s until 2018. Johnson says that the carrier had a number of issues operating widebodies on long-haul routes, particularly given the competition from other carriers.
"The sole focus for the airline at the moment is profitability, and it's easy to get seduced into going back to widebodies and more of a long-haul operation."
Johnson adds that its pair of Pratt & Whitney PW1200G A320neos are a significant upgrade for the airline, and he gives the type high marks for reliability.
He points out that operating just two jets leaves no room for error. Aircraft-on-ground incidents can be extremely challenging, owing to the distance replacement parts must travel to reach the Seychelles. There is also the high cost of putting passengers up in an expensive hotel, with room rates of $300-350 a night.
"That's one reason why I always say if anybody's running a small airline for an island, you need to make sure you've got the best aircraft because you need reliability," he adds.

Greg Waldron is the Asia Managing Editor of FlightGlobal, responsible for the team's airline, aerospace, and defence coverage across the region. He has worked at the company since 2009. In the airline space, Waldron has conducted dozens of interviews with airline leaders in the Asia-Pacific. He also covers areas such as MRO and safety. On the defence beat, Waldron has written extensively about the rise of Chinese airpower, as well as broader airpower developments around the region, such as indigenous fighter programmes, and regional acquisitions of foreign equipment. In addition, Waldron writes about commercial helicopters in the region and business aviation. Waldron worked has a freelance journalist with his work appearing in several business publications.