Many of Europe's airline chief executives gathered in Brussels last week for the annual A4E Aviation Summit.
A4E – or Airlines for Europe – which represents carriers and groups including Air France-KLM, EasyJet, IAG, Lufthansa and Ryanair, took the opportunity to highlight its calls for action on topics including Single European Sky, airport charges, taxation and sustainability.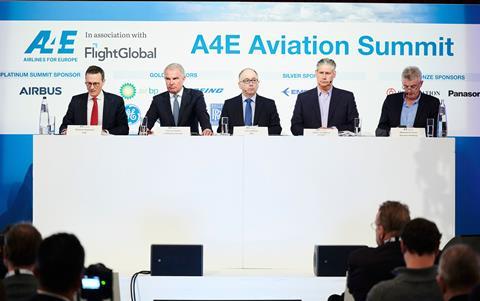 That reflects a return to something like normality. EasyJet chief executive Johan Lundgren, for example, was particularly vocal on Dutch plans to increase air travel taxes.
And Lufthansa Group chief executive Carsten Spohr warned that Europe's actions on sustainability should not come at the price of its ability to compete with carriers within and outside the region.
The wider comments from the airline leaders at the event reflect an industry in an awkward phase; the Covid-19 crisis appears to be easing, but war in Ukraine has offset that positivity to an extent. At the same time, costs are rising for businesses and consumers alike in the region, with everyone wondering whether that will eventually hit demand for air travel.
Some carriers are feeling the effects of the Ukraine situation more than others. In Air Baltic's case, chief executive Martin Gauss explained how Latvia's emotional connection to Ukraine's plight and its physical proximity to Russia put the carrier in a unique position.
Finnair chief executive Topi Manner was also at the meeting, as his carrier continues to adjust its network following the loss of access to Russian airspace.
But elsewhere, the mood regarding the summer demand outlook was still positive. Crucially, as we have previously reported, the three big European carrier groups were not relying on Asia-Pacific to drive their recoveries this year, even before the economic case for such routes was challenged by Russian airspace closures.
And when it comes to low-cost carriers, EasyJet's Lundgren said his carrier was seeing few demand impacts from the Ukraine war – "the further to the west your network is, the less you are effected" – while Ryanair continues to guide for passengers numbers to exceed pre-crisis levels.
An emerging theme is, however, what comes next? Get summer out of the way, for example, and a potentially challenging winter is ahead, if the cost environment endures.
Few stakeholders have any illusions that the post-pandemic normality will give airlines an easy ride.