The airline industry could have been forgiven for concentrating on immediate challenges around its very survival during the Covid-19 crisis.
But it is a mark of how sustainability has become central to what the European Commission and others have referred to as the sector's "licence to grow" that already this year, several airlines and industry groups have moved to the front foot on the issue.
And it is increasingly evident that while the Covid-19 crisis has often brought airline operations to a virtual standstill, the pre-coronavirus momentum around addressing the industry's environmental footprint has, if anything, intensified.
Indeed, rewind to early March 2020 and Europe's airlines were gathering for the annual A4E Aviation Summit in Brussels. With the scale of the coming crisis yet to become clear, the European airlines association identified sustainability as the main talking point and announced the launch of a project to identify what the sector would do about it.
During the months leading up to that gathering, it was not uncommon to hear airline chief executives express surprise at just how quickly sustainability had rocketed up the industry's agenda, amid political and public pressure, including from high-profile voices such as Greta Thunberg.
Almost a year later in February 2021, A4E and a group of industry associations laid out their promised blueprint for European aviation achieving net-zero CO2 emissions by 2050, as they released a report titled Destination 2050.
Today, the industry recognises – more acutely today than it did pre-pandemic – that a failure to take the initiative on sustainability would cause governments and regulators to do it for them, and the travelling public to take an ever dimmer view of its credentials.
The crisis has already provided examples of how airlines could lose control over their destinies through attritional measures alone.
The government bailouts for many of Europe's big carriers, for example, have come with environmental conditions attached.
And on 11 February, airports operator Groupe ADP said it will work on a new development plan for Paris' Charles de Gaulle airport after the French government scrapped its existing Terminal 4 project, partly on environmental grounds.
Around the same time, reports suggested the UK government's Climate Change Committee had proposed capping the number of flights within the country's airspace, with emissions reductions in mind.
Furthermore, in terms of public sentiment towards the industry, the Covid-19 pandemic has undeniably raised consciousness of how fragile 'normality' could be in the face of the even bigger challenges that climate change might eventually bring.
Ultimately, therefore, there is little point in the airline sector eventually emerging from the crisis only to have its wings clipped by the fallout from restrictions and taxes being imposed in the name of lessening its environmental impact.
That is why the Destination 2050 report and its implementation have taken on even more importance.
The report itself is ambitious and has been welcomed by the European Commission.
Proposals cover four key areas: aircraft and engine technologies; sustainable aviation fuels; economic measures; and air traffic management (ATM) and aircraft operations.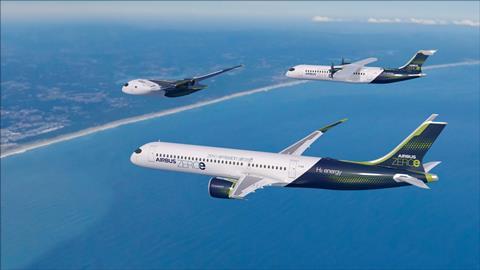 Among the recommendations, it is notable that the impact of emissions offset schemes such as ICAO's CORSIA is relatively small. Much more important are new technologies such as improved propulsion systems and hydrogen-powered aircraft, alongside industrial-scale production of sustainable aviation fuels.
The implementation of the plan would better align the sector with broader environmental goals such as those under the Paris Agreement, said Montserrat Barriga, director general of the European Regions Airline Association (ERA), during a briefing.
The challenge now is to get the European Commission and national governments to implement the policies and financial support that could make the proposals a reality.
Beyond Destination 2050, action on the issue of sustainability has been seen elsewhere in recent weeks.
In the USA, where a step change on the environment has become evident with Joe Biden's arrival in the White House, United Airlines is positioning itself as a global leader in terms of environmental action.
"When I became United Airlines' new CEO at the beginning of the pandemic, I did so with a grand vision for our company: to make sustainability the new standard in flight," says a statement from Scott Kirby on the carrier's website.
Early in January this year, United pledged to completely eliminate greenhouse gas emissions by 2050.
More recently, air taxi developer Archer Aviation secured a $1 billion aircraft commitment from United for 200 of Archer's in-development electric vertical take-off and landing (eVTOL) aircraft.
Elsewhere, in late January, Qantas and fuel giant BP said they will explore carbon emission reductions and sustainable aviation fuel development together.
Back in Europe, British Airways became the latest carrier to tie up with a sustainable alcohol-to-fuel initiative established by carbon recycling and biotechnology firm LanzaTech.
And KLM in January carried out a commercial passenger flight partly flown with sustainably produced synthetic kerosene.
With the devastating Covid-19 crisis also creating an unexpected opportunity to clear fleets of the most-polluting aircraft types, the airline industry has a unique opportunity to come back fighting on its most pressing long-term challenge.