Ultimately it perhaps is not that surprising that the stepping down of IAG's long-term group chief executive Willie Walsh should be followed by the departure of British Airways chief executive Alex Cruz.
Walsh stepped down as leader of BA parent IAG in September, after delaying his initial departure to help steer the group through the height of the pandemic.
Today IAG has announced the more hurried depature of Cruz, who will be replaced by Aer Lingus chief executive – and former BA executive – Sean Doyle. IAG says the move takes immediate effect – leaving corporate affairs chief Donal Moriarty in temporary charge of the Irish carrier while a successor for Doyle is found.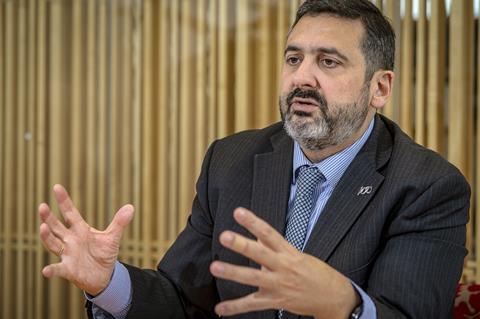 Walsh was a strong backer of former Vueling chief executive Cruz, whom he chose to succeed Keith Williams at the helm of BA in late 2016. Cruz came with a strong reputation as a modernising leader having successfully developed Vueling – IAG having completed the acquisition of the part-Iberia-owned arline under Walsh – as a profitable operator in the low-cost carrier segment.
"I think [Cruz] is going to be a great leader at British Airways," said Walsh in late 2015 ahead of Cruz taking up the new role. "He's a very structured guy – very passionate, driven around cost efficiency and good service."
Vueling was always pitched beyond the ultra-low-cost carrier model – somewhere in that hybrid hinterland where service was available onboard but only if it did not add unnecessary cost. The carrier was seen within IAG as a template for subsequent lower-cost projects, such as Iberia Express and Level.
But in many ways those low-cost carrier roots dogged Cruz during his time at BA. That he was the pick of Walsh, unashamedly confrontational in tackling costs, added to the perception – rightly or wrongly – that Cruz's focus was cost control rather than premium service.
NO SUCH THING AS A FREE LUNCH
That was certainly the perception of the move to axe complimentary meals on short-haul flights, the first of several moments that were to define Cruz's tenure at BA.
The move itself had an essence of the Vueling playbook under Cruz. It took an industry-wide trend of dropping the free meal service on short-haul flights, evident across the competitive offerings of rival carriers, and pitched it with a strong paid-for service offering – in this instance capitalising on the established M&S brand.
But the backlash to the move illustrated the different beast an established national carrier like BA is compared with an upcoming new market entrant like Vueling.
"I had a chance to learn a lot of stuff in terms of how to manage the brand, or how to manage crisis situations or opportunities at Vueling," Cruz told FlightGlobal in a wide-ranging interview in February 2019.
But he acknowledged: "I am in a different market, I'm in my home – this has been my home the last 25 years – I know the market well and it's the BA brand, which has been around 100 years. It's part of everyone's fabric, and yes, it's different, because the age and size amplifies it a tremendous amount."
Fallout from the ending of free meals on short-haul, together with moves to densify cabins to better compete against emerging low-cost competition on long-haul in the shape of Norwegian, meant headlines around the cost side of the business dominated the narrative of his first year in the role.
Cruz was also thrust into the public eye early in his tenure by the power supply outage which brought BA's network to a standstill in May 2017.
The airline was criticised for the handling of the communications around the subsequent disruption – and Cruz parodied for his appearance wearing a high-visibility jacket indoors in his messages.
Though speaking in June 2017, Walsh was quick to defend BA's communications during the crisis. He argued "it would appear that the traditional media do not like social media" because the carrier was given no credit for its use of platforms such as Twitter and Youtube to communicate with passengers.
SHIFTING THE NARRATIVE TO PREMIUM
This completed a baptism of fire for Cruz, which continued to dominate headlines even by the time the airline was ready to start talking about fresh investment in the premium end of the cabin.
Given the focus on product from Gulf rivals in particular over recent years, the airline had work to do to regain the initiative on its premium product. But overhauling product across as large a fleet as BA's takes time, and while investments around the fringes of the service offering were made, it was not until last summer that it was able to make a splash with the debut of its new business-class seat on board its new Airbus A350-1000s.
Rolling out the new business-class product – the carrier's most significant product development for two decades – was always a sizeable task, set to take two to three years to complete. The roll-out of that investment now comes amid the biggest crisis in demand the airline industry has ever faced and one in which corporate business travel is expected to be the last of the markets to return.
Before the global pandemic blew a hole in the financial fortunes of all airlines, British Airways had continued to show financial strength in what had remained a purple patch for the airline sector. BA has posted operating profits of between £1.8-2 billion ($2.3-2.6 billion) in each of the last three years – the highest profits in its history.
Passenger numbers have steadily climbed from 44 million in 2016 to almost 48 million last year.
During that period the airline has bolstered its North American network and rediscovered its interest in London Gatwick airport.
The latter was in part a defensive move amid the growing role of Norwegian – an airline IAG made an unsuccessful attempt to buy – and its development of long-haul low-cost routes. Both carriers though had, even before the pandemic, subsequently amended their long-haul networks from Gatwick, with Cruz last year saying that the viability of long-haul low-cost operations remains unproved.
AIRLINE'S LABOUR PAINS
But the gloss has been taken off the carrier's progress, and indeed its 100-year anniversary celebrations last year, by pained labour relations.
A pilot strike on 9-10 September last year – and threatened action for later that month – wrecked the carrier's schedules. IAG attributed a cost of more than £130 million to the industrial action.
Those tensions continued into this year as the airline was further criticised for the scale and manner of restructuring measures after the pandemic hit. In late April the airline notified unions it was proposing a restructuring programme which it warned could result in up to 12,000 redundancies.
Cross-party parliamentarians in the UK in June criticised the carrier's restructuring measures, accusing the airline of a "calculated" attempt to use the crisis to weaken employees' terms and cut jobs.
Cruz himself told a subsequent UK parliamentary committe in September that the airline had thrashed out agreements or agreements in principle with all its union groups. The move effectively removes a threat to "fire and rehire" staff on reduced terms and conditions – an ultimatum previously condemned by MPs and unions alike – instead implementing the changes via revisions to existing contracts.
In addition to the changes to pay and conditions for 30,000 remaining staff members, BA is cutting around 10,000 positions across the company, down from a previous forecast thanks to workforce concessions.
Despite that progress, relations with unions have been scarred. Howard Becket, assistant general secretary of Unite, says: "It's unsurprising that Alex Cruz has suddenly left British Airways. The handling of industrial relations through this crisis has been unnecessarily confrontational and at times heartless.
"It is only because of the dedicated work of Unite and in particular our shop stewards that widespread industrial action has been avoided so far," he says. "We hope that the incoming CEO Sean Doyle will begin a new chapter of constructive relations with staff and unions, repair the reputation of the airline and boost the morale of staff. Unite stands ready to work with the new CEO."
FACING WORST CRISIS EVER
"I want to thank Alex for all that he has done at British Airways," new IAG group chief executive Luis Gallego said in announcing the management changes.
"He worked tirelessly to modernise the airline in the years leading up to the celebration of its 100th anniversary. Since then, he has led the airline through a particularly demanding period and has secured restructuring agreements with the vast majority of employees."
Gallego adds: "We're navigating the worst crisis faced in our industry and I'm confident these internal promotions will ensure IAG is well placed to emerge in a strong position."
Cruz last month said that BA is currently operating around 25-30% of its normal flight schedule, a figure he said is unlikely to improve over the winter season. The airline is burning cash at a rate of £20 million ($26 million) per day, he noted.
The airline posted an operating loss of just under €1.1 billion ($1.3 billion) after the first six months of 2020 – and of almost €2.5 billion after extraordinary costs are factored in.
The scale of the challenge the carrier – and industry as a whole – is facing has prompted significant action and a change to plans. Notably on 8 October BA bid farewell to its last remaining Boeing 747-400s – a victim of the crisis as the airline hastened its planned retirement of the type. Just a few days later, Cruz has now joined the type in departing the airline.